Back from NCTE 2012 Convention
Back from NCTE 2012 Convention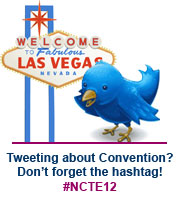 I'm back from a 5-day trip to Las Vegas, host site for the 2012 NCTE Annual Convention: Dream, Connect, Ignite. The opportunity to hangout with and learn from NWP and NCTE colleagues more than made up for having to traverse the ultra smoke-filled, incredibly noise-filled casinos that lay between the MGM Grand rooms and convention center.
I arrived in time for Thursday's NWP Plenary session, where I joined a room full of educators "writing together, writing in the moment." What better way to start a conference than with Tanya Baker's words, which came to life each of the five days, that "I am smarter and better because of the many NWP mentors who continue to push me ahead, as a writer and as an educator."
A few take-aways:
Thursday
Friday
Saturday
Sunday
Sunday (ACE workshop)
There is nothing like the power of five days spent with 9,000 English teachers to truly "push me ahead."  What I learned in Vegas will be reflected in my upcoming workshop.
I'm already looking ahead to next year's event…in Boston!