Kathy Yancy is the opening speaker for NCTE's Institute for 21st Century Literacies.
First task: Define literacy
Second task: Define 21st century literacy
Third task: Identify 10 key terms that define 21st literacy
Fourth task: Put key terms onto chart paper in some form. Here's what our group of 4 came up with (using Wordle.net)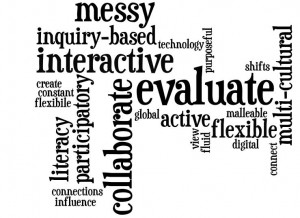 Bonus of opening session: Kyene Beers' explanation of "dip in/dip out" approach to Holt Language Arts program – very different than the scripted approach! I'll be doing a podcast with her later in the conference.