I've blogged about Mathew Needleman before. Since attending his CUE 08 presentation, I've been following his blog and have even written videoconferencing sessions with Mathew into my district's current EETT grant. But if you haven't had the pleasure of meeting face-to-face with Mathew in real time or virtual time – or even if you have – you now have the opportunity to watch the amazing video he created for his recent K12Online Conference presentation Film School for Video Podcasters!
Mathew's explanation of the storyboarding process will make you rethink those storyboarding templates (that I've been giving students). I also have a much better understanding of the Rule of Thirds now. He touched quickly on lighting too, an area I haven't a clue about setting up, so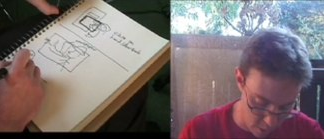 I'm hoping maybe Mathew has an upcoming session on that topic.
What a strong case for media literacy in the elementary curriculum! Just wish I had joined Mathew live for his K12Online Conference session. Next year for sure!