I choose my battles carefully. But I'm definitely jumping in on this one:
On February 1, the Obama administration released its 2011 budget proposal. In this proposed budget, funding for the NWP is consolidated with five other literacy programs under a new states-based competitive grants program that provides money for improving literacy. The NWP as a national network would not be eligible to compete for funding.
http://nwpworks.ning.com."
If you visit the National Writing Project ning and scroll to the bottom, you'll find examples of how the NWP supports local Writing Projects in building professional learning communities that empower teachers to make a difference in their students' lives.
I'd like to share an example from the Area 3 Writing Project, my local project – a group that has profoundly influenced my commitment to support teachers in their efforts to structure a writing program and environment where students find their voices and write for change.
In my current role as coordinator for my district's EETT grant, I've had the opportunity to view first-hand the impact of the A3WP partnership on student performance on the California Standards Tests (CSTs) in English/Language Arts, which includes a writing prompt. Of the three elementary schools in the grant, two are Title 1 and both are in "Program Improvement."  At all three sites, students raised their E/LA CST scores.
Typically Program Improvement = drill, drill, and more drill, with little opportunity for students to take ownership of their learning. Thanks to our EETT/A3WP partnership, "drill 'n kill" is not what you are likely to see when you when visit 4th and 5th grade classrooms at our targeted sites. Let's take, for example, the 4th grade team at Prairie Elementary and let them show you what can happen when effective writing strategies are combined with technology:
Lutrica Hardaway will share that "In over 30 years in the district, the A3WP sessions were the most valuable writing workshops I've ever participated in."  If you visit Lutricia's class blog, and listen to her students' Tree House podcasts or Barack Obama VoiceThread, you will have a window into the rich, multimedia writing environment her students have the good fortune to experience every day.
Lesley McKillop, with 20 years teaching experience, will tell you "I cannot emphasize enough the impact of the Writing Project on how I now weave the teaching of writing into my classroom practice, and, in so doing, empower my students as writers and as members of our classroom and school community in ways not possible with canned programs." Her students have taken writing into a script-writing and movie-making venue, transporting their voices beyond the confines of community and poverty – and on to a major regional video competition for K12 students.  I'm betting you will be able to follow this movie made on the fly and to also understand why Lesley's students were thanking their principal for driving them to the SEVA Awards Ceremony.
Halle Ferrier, a newcomer to teaching with four years of classroom experience will add to her colleagues' comments: "Thanks to the strategies, lessons, and resources shared by Angela and Heather (two A3WP Teacher Consultants), I returned from each EETT workshop with ideas I could implement the next day. Although I've pretty much shied away from technology, when I saw how my students were growing as writers, I knew their voices deserved a larger audience than just me." And a larger audience they indeed now have for their Letters from the Internment Camps VoiceThread, a piece that has merged genres, inspired other educators, and, at current count, has had over 20,000 viewers.
Teachers come into the Writing Project at a local level.  Wherever on the map their project might be, this is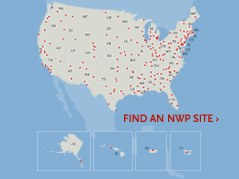 where they begin membership in a community that for most will remain a lifetime connection. Local sites, as dynamic and amazing as they are, do not operate in isolation. Newcomers, understandably,  do not always have an immediate understanding of the many ways the National Writing Project  supports all local sites. Continued funding the the NWP is integral to the heart and sole of each local site.
As for myself…My first direct connection to the NWP happened eight years ago, when I traveled to Baltimore for my first-ever NWP Annual Meeting. It was there I joined the Technology Liaisons Network. Becoming a TL has provided me with a vision for teaching and writing in a digital age – and with the support to help transform that vision into a reality within a growing number of classrooms.
There is simply no other technology training or network that equals the vision and collaborative energy and reach of the NWP TL Network. It is wholly due to the ongoing input of the TL community, that I was able to craft the above-mentioned EETT proposal and to firmly ground the technology components of the grant in sound practice.
I hope that the thousands of teachers who have benefited from the NWP will join the effort in letting our politicians know that the National Writing Project is clearly an example of something that works in education.