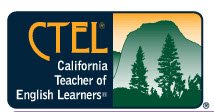 I won't know for about 6 weeks if I passed the California Teachers of English Learners (CTEL) test , which I took yesterday at CSU, Sacramento. Taking the CTEL is an all day affair, if you're planning to take all three sections. I signed up for all three.
From the parking lot, I joined a few other teachers also on their way to the test. Two were PE teachers, who were questioning the value of having to know the difference between a diphthong and a digraph; the other two were returning to retake the two sections they had previously failed and were fairly frustrated by both the certification requirement and the testing format. I kept my mouth shut.
What I did not share with my fellow CTEL test takers was how deeply interested I am in the topic of English language learners (ELs). Nor did I share my frustration at not being able to find some affordable workshops on the topic.  Our local COE canceled their CTEL workshop series based on low enrollment (with close to 300 of us showing up for Saturday's event, that seems puzzling). And I also did my best not to get in a huff over the fact that I am permanently out $303 (something, admittedly, I could have avoided had I opted to take the test a few years back), whereas my four walking companions mentioned they will be reimbursed for the exam fee as soon as they have proof of passing.
But I'm not writing this post to complain about the CTEL exam. I'm writing to acknowledge four people who helped me prepare for the test, either in print, online, or face-to-face.  The first three people I've not yet met f2f; the 4th person, I know well:
If you also spent Saturday taking the CTEL, I hope you passed!
And if you have CTEL stories and/or resources to add to this post, I'll hope you'll add a comment.