My four-day excursion to San Diego for the ISTE 2012 Conference has been jam-packed with awesome sessions, great conversations, and  fun!  Here are some highlights from Monday:
Ignite sessions– "5 mi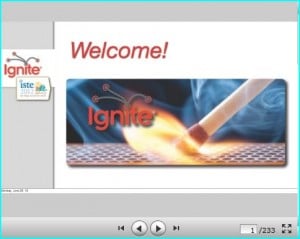 nutes and 20 images to tell your story, share your tool, and inspire an audience of your peers!" Such an energizer and a great model to take back to students, teachers, and administrators! The slideshow, unfortunately, does not include the speaker notes, so I've included a short description of each:
Chris Walsh –  Fast Five for Infinite Thinkers – Loved his 2-minute rule: "If you can find it online in two minutes or less don't TEST on it!"
Mary Ann Domanska –  Publishing Kids' Creative Podcast Stories Online Using Haiku – Primary grade teachers, you will love this one – a celebration of young writers honing their craft via technology.
Traci House – In Record Time: Disruptive Innovation to Say the Least – The August tornadoes that devastated Joplin, MO, could not stop Traci's determination to open school on time, tapping into local and international aid and fast-forwarding into 21st century learning – textbook free.
Rushton Hurley – How Digital Video Changed One Teacher's Life – Rushton is a master at combining humor and content – and in 5-minutes inspiring the crowds to consider the power of movie making to empower students and teachers.
David Jakes – What If? Five minutes was not enough for David Jakes' message.  I recommend watching his 2011 K12 Online Conference presentation if you are striving to create culture to support change.
Vince Leung – The Evolution of Learning: Past, Present, Future – A compelling argument to bring real world examples (e.g., sports and video games) into the classroom – because those are the areas that students are willing to fail – and then continue on until they succeed.
Lisa Parisi – Jump Off the Testing Train – "Testing is not teaching."
Justin Reich – Will Free Benefit the Rich? Fighting for Technology Equity – A call to provide ALL students with the same opportunities for challenging and meaningful use of technology within the school day.
Will Richardson – 19 Bold Ideas for Change – I've heard Will Richardson speak before, but not with this much passion. The 19 bold ideas for change are listed on the slideshow (you'll have to scroll through), kind of like very compelling thoughts for the day. For example, Idea #11: "Repeat after me …'I want to be found by strangers on the Internet.'"
Alfred Solis – What is 1,000,000? – A High Tech High teacher… who has had Bill Gates and Oprah Winfrey show up in his classroom to acknowledge his roll out of project-based learning.

Selena Ward – Igniting Creativity with Movie Making – "Movie making with kids is not about creating Hollywood films."
Using Music and Images Ethically in Multimedia Writing – NCTE's Sandy Hayes provided wonderful historical context, resources, and tips for helping students learn to "flex their fair use muscles."  Sandy's one-page, double-sided handout lists her resources and includes the chart she uses with her 8th graders to help them development their analytical thinking skills.
Partnership for 21st Century Skills Birds of a Feather Session – I went to this session with a small but burning question: Has P21 considered adding a 5th C to their current list (communication, collaboration, critical thinking, creativity): citizenship……the answer was "yes." Whoohoo! (Digital) Citizenship will soon be the 5th C…so be on the lookout for a revised P21 poster🙂
Will post highlights from Tuesday and Thursday sessions later today:-)