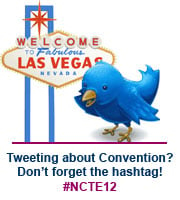 I'm back from a 5-day trip to Las Vegas, host site for the 2012 NCTE Annual Convention: Dream, Connect, Ignite. The opportunity to hangout with and learn from NWP and NCTE colleagues more than made up for having to traverse the ultra smoke-filled, incredibly noise-filled casinos that lay between the MGM Grand rooms and convention center.
I arrived in time for Thursday's NWP Plenary session, where I joined a room full of educators "writing together, writing in the moment." What better way to start a conference than with Tanya Baker's words, which came to life each of the five days, that "I am smarter and better because of the many NWP mentors who continue to push me ahead, as a writer and as an educator."
A few take-aways:
Thursday
Natalie Merchant's Thursday Night Opener – My first conference take-way will actually go to my niece: Leave Your Sleep– Natalie Merchant's collection of classic children's poetry – put to music – which Natalie played for a delighted conference hall of English teachers, as she strolled through the gathering.
Friday
Sir Ken Robinson's Friday Keynote – Being a big fan of Sir Ken's TED talks, it was a treat to see and hear him live. Three quotes I now carry with me:

on empathy (which is usually defined by what it is rather than its absence) "When you don't have it, unimaginable things can happen."
"Imagination is the heart of human life – from it springs set of competencies. Creativity = applied imagination."
"Our resumes don't come at birth – we earn them – we create them."

Will Richardson's (20 minute) Ignite Session – "Networks are the new classrooms…The network is more powerful than the node (e.g., Twitter)… The literacies, skills, dispositions have changed – we have to change too (from analog to digital). Connected teacher network graph by Sheryl Nussbaum-Beach makes visible the need for us to stop being teachers and to start being learners. Our students need to see us as learners"
Stop the Bullying – Although I am deeply involved in this topic as a stepping stone into positive digital citizenship, I knew with this outstanding panel, I would walk away with new insights and resources.

Ferial Pearson – Reminded us of the power of pro-active vs. re-active  – and the value of spending the 1st week of school building community – with the result that students will understand what "respect" looks like.
Kevin Hodgson – I know that back at my district, I'll be pulling from Kevin's When Bullying Goes Digital Prezi, including his reference to Our Stories Count.
Kylene Beers – For all the times I've talked with students and staff about the need to "google well," I can't believe I haven't also walked them through the steps for setting up a "Google alert" to notify them instantly when their names pop up in cyberspace. Great tip!
Lester Laminack – I can't help thinking about the impact Lester's Sticks and Stones Break Bones but Words Can Really Hurt You presentation could have on a faculty or student body as they plan their own anti-bullying campaigns. Such a compelling, gripping story.
Chris Crutcher – So sorry I couldn't stay for Chris's presentation.
Saturday
Meenoo Rami's #engchat Tech-to-Go  session – If you haven't been able to participate in the synchronous Twitter session, the good news is Meenoo is archiving the sessions. Meenoo recommends TweetChat for easy following and adding to #edchat discussions.
Chad Sansing and Andrea Zellner's Hackjam Tech-to-'Go session – So glad I was able to catch the last 10 minutes of their high-energy presentation, just in time to learn about Mozilla's Popcorn Maker, a great free tool to "enhance, remix and share web video."
Sunday
Reports from Cyberspace – It's definitely worth getting up early on a Sunday morning when the session is co-hosted by Sara Kajder, Troy Hicks, and Bud Hunt!  Here are a few gems from each:

Bud – "If you don't have a rationale for the (tech) tool, don't use it"
Sara – In addition to exploring ways to use a Livescribe pen (to create "pencasts" of notes and audio, which can then be sent on to Evernote), SoundPaper (lets you create "talking labels"), and WeVideo (for book trailers), I'll definitely be checking out Subtext (currently available as an iPad app, but scheduled to go live to the cloud), described by Sara as the "game changer" for having students collaboratively close read texts.
Troy – Five Ways to Destroy Digital Literacy:

count slides, images, links – with a rubric reflecting that
blog without blogging (wikis, docs, wiki) – instead of recognizing and tapping into the power  of connective writing.
criticize "digitalk"  – instead of recogning the benefits of students "code switching" as described by Kristen Turner  – these kids are more digitally aware.
ask only "googleable" questions – For example: Let me google that for you – http://lmgtfy.com/
always be thinking about the "coolest" website app, or gadget – when instead, you could use Google docs to read, confer, respond with students).
Sunday (ACE workshop)
I wish Katherin Garland's session on Prezi had been filmed.  In the Prezi workshops I'll be doing back in my district, I will definitely draw on Kathrin's reminder to "think conceptually" as I attempt to model her simple, elegant creation of a favorite author Prezi.
Thanks to Carey Applegate's session on Storify, I'm now on board with this free tool for telling our stories. Carey posed the question, "How would your story change if you could bring in images, film, etc.?"  Carey's example illustrates her question: http://storify.com/careyapplegate/breaking-canon.
There is nothing like the power of five days spent with 9,000 English teachers to truly "push me ahead."  What I learned in Vegas will be reflected in my upcoming workshop.
I'm already looking ahead to next year's event…in Boston!