I knew when I headed to Mountain View for my two days at the December Google Teacher Academy (GTA) that I would be in a continual state of amazement and that the two days would move at the speed of light. Four weeks later, with the distraction of the holidays over, I'm revisiting my notes and ready to start sharing my favorite GTA take-aways, one gem at a time.
Gem #1: Webpage Screenshot – Jennie Magiera, my fabulous team leader (of the fabulous Team Heinlein) jumped right into the opening round of "Demo Slams" with an introduction to the Chrome extension Webpage Screenshot. Richard Byrne (Free Technology for Teachers) has created a great video that explains the cool features of this free tool, including the option to capture an entire page, not just what's showing on your screen.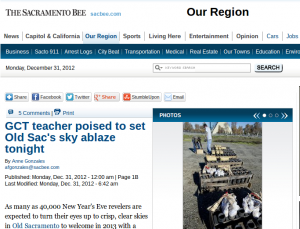 I love the ability to edit the text in the screen capture (even though your edits do not impact the original web page).  What a great option for challenging students to question information or to kick-start a lively faculty meeting! Capturing a front page item from our local Sacramento Bee, for instance, and giving myself credit for the upcoming New Year's fireworks celebration took less than a minute to capture, edit, and save.
I'll be back tomorrow with a Google Search gem.