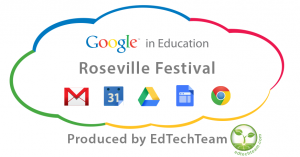 A week later, I'm still thinking about the Roseville GAFE Summit. What an amazing gathering of innovative educators! Here are some of my takeaways:
Dan Russell's Opening Keynote – I'm a huge Dan Russell fan. Many of the tips I include in my Just Google It! workshop come from Dan. From his session, I've added a new word to my 21st century teaching and learning glossary: informacy

– to use and interact with the  information. I'm also adding to my workshop Dan's reminder of the power of Photo search, which allows you to search by image  and then drag that image into search image box. Or even more awesome, take photo of something (e.g., a caterpillar) and drag image into search image box.

Ken Shelton's Google Sites Session – Ken demonstrated how to make a Google site not look like a Google site by encouraging students to take advantage of screen real estate and switching  navigation from vertical to horizontal. His great tips for selecting or creating a color palette are posted to his Site Design[ed] site. Loved learning about ColourLovers.com and You're a Comic Sans Criminal.
Trevor Mattea's Digital Photography for Elementary Students – I recommend going through Trevor's slideshow, including his external links, to find great tips such as Mike Browne's YouTube Channel and to be inspired by the work Trevor is doing with his 3rd graders.
Michael Wacker's Even More Googiciousness – Wow, so many Google tips, I need to go back through his slideshow a couple more times. Glad to learn about Remote Desktop, which allows you to take over another person's computer during a hangout, and Auto Awesome – if you take 5 or more images, it creates the animate "chip" for you.
Rachel Wente-Chaney's Trees & Branches – Wish you had an easy-to-follow video tutorial to walk staff and students through the process of of creating "choose your own adventure" style Google forms? Checkout the link to Rachel's Trees & Branches "screencast walk through."
Megan Ellis's Doctopus & Goobric – Beautiful job of bringing a packed room of eager educators on board with the power of Doctopus and Goobric! (Very proud to have been in the same MERIT cohort with Megan;-)
Based on the Roseville Summit, I'm pretty sure I'm on my way to becoming a Google Summit groupie.