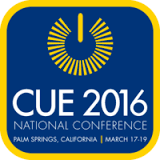 Just returned from the #cue16 conference. It's a long drive from Sacramento to Palm Springs (9 hours), but so worth it! I was fortunate to travel and room with Elk Grove teacher extraordinaire Cathe Petuya, so the drive was as an integral part of the #cue16 experience. On the way down, we envisioned how to transform three of our elementary sites into demo schools to model powerful integration of technology onto the core curriculum – and beyond the classroom walls. With that purpose in mind, we discussed sessions likely to help us transform our vision to a reality. And, of course, other sessions that were just plain grabbers.
Below are a few of my favorite #cue16 takeaways:
eABLEing All Learners: Mobile Devices as Transformational Technology – This was my first time to hear Luis Perez. I actually stumbled into his session by mistake … and was immediately drawn into his passion for opening a world of learning and possibilities for special needs students through new technologies. Luis started with a Thinglink infographic on the SAMR model, and then moved on to awesome apps, such as Voice Dream Reader + Writer, an app that offers text to speech and more (checkout this review to see how this app allows for importing books for students with dyslexia – and it then does line and word highlighting.)  For some app-smashing, Luis suggested teaming Touchcast (a free app that mixes video with web content) and telligami (a great app for creating animated avatars). Start by creating your avatar with telligami; then record you voice via Touchcast – and watch your audio sync with your animation. Very cool!
Can I Use That? Fair Use for the Remix Generation – Yes, this was the session I co-presented with Jane Lofton, a treat in itself, but, oh my, what a great audience. Loved continuing the conversations as I crossed paths with participants throughout the conference.
I also loved the opportunity to showcase an outstanding resource, filmed an produced by Jim Bentley's 5th graders, for teaching Creative Commons. Love the model of students teaching students!
Transliteracy/Metaliteracy: An Unintentional Film Festival or 10 Big Things We Should be Teaching in 2016 – Thank you again, CUE, for bringing information literacy rock star Joyce Valenza to #cue16. The session description was right-on: "From a better understanding of intellectual property to best tools for telling stories and communicating new knowledge, Joyce counts them down and reveals granular strategies for delivering instruction, using illustrations from classic film."
Takeaways and tips from Joyce's session included:

Curation – a must-have skill for our students. Using tools like EdShelf, you can model how you curate and organize your information world.
Knowing that "truth is fuzzy and contextual," how can students test for credibility? Annotations – via tech tools (ie.g, Thinglink, youtube)
To help students build their awareness of Creative Commons licensing, include a link to the CC Search link on school/class websites.
Teachers can/should guide students in the transition from "digital citizens" to "digital leaders," illustrated by Sylvia Duckworth's infographic.
Choose Your Own Edventure: Creating Interactive Google Forms – Although I'm pretty familiar with familiar with Google Forms, I thought it would be a treat to watch Nicole Delasio and Bill Selek co-present. It was! Their resources were great! But equally important was their warm, humorous delivery style. I think my biggest takeaway from this session was a reminder that, when possible, always team with someone you clearly enjoy working with.
So many great #cue16 sessions and so little time! For every session I attended, there were at least three – five offered at the same time I would have loved to have attended. And the learning and fun extended beyond the conference into the evenings …
… and the 9-hour drive back home pretty much flew by, with not nearly enough time to reflect on all that we were taking away from #cue16.
Heading into Twitter to see if I can find blog posts and resources from the sessions I missed. Thank you again, CUE team, for an amazing 3 days!