We are a nation of immigrants." Franklin D. Roosevelt, John F. Kennedy, Bill Clinton, George W. Bush, Barack Obama, Mark Zuckerberg, etc.

The greatest gift we can give someone is the gift of their history." HmongStory40
Yes, we are a nation of immigrants. I am fortunate to work in a school district that is yearly enriched by its history of cultural diversity. Last year, in recognition and celebration of the experiences, challenges, and contributions of those who have come to America, I collaborated on the Coming to America – Small Moments, Big Meanings Lesson and Teacher's Guide. This year, I am adding another resource: On Coming to America Hyperdoc.*
Both these online lessons are invitations to your students to interview, document, and publish the story of an immigrant or refugee, with a shared goal of:
Introducing students to the differences between an "immigrant" and a "refugee"

Providing a collection of primary source interviews (videos) with recent refugees

Providing guidelines for students to step into the role of oral historians by conducting an interview

Encouraging students to publish their Small Moments, Big Meanings projects to an authentic audience via several online options.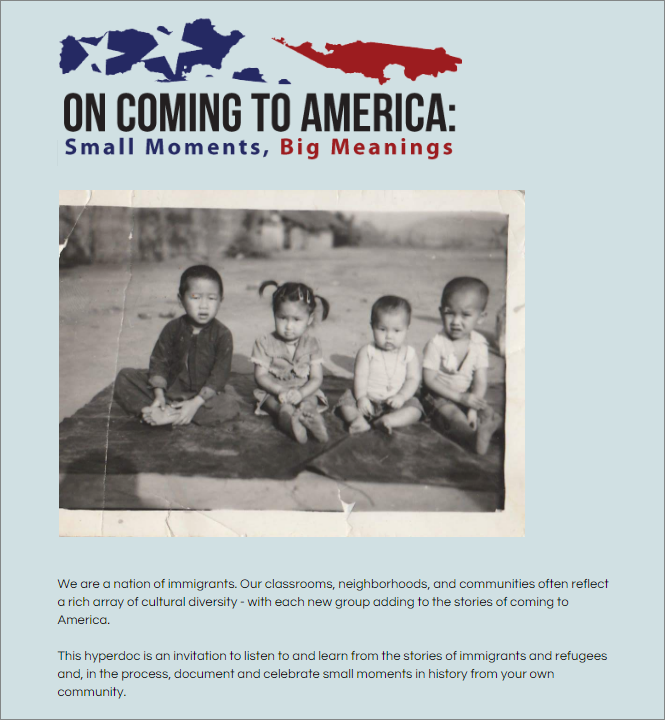 I have posted before about the Time of Remembrance Project's recently added Student Gallery. The Student Gallery is one of the suggested publishing venues for On Coming to America – Small Moments, Big Meanings, especially via the hyperdoc.
How about your school or district? Have your students had the opportunity to roll up their sleeves and do the work of an oral historian? If not, I can promise that in the process of interviewing an immigrant or refugee, they will discover what I have learned: history happens one story at a time. It would be an honor to showcase your students' On Coming to America projects.
Questions? Suggestions? Please leave a comment. Let the conversations begin!
*Note: The term "hyperdoc" stems from the ever-amazing Lisa Highfill's commitment to use tools (such as Google Docs/Slides/Sheets) to create lessons with access to "instructions, links, tasks… to get kids thinking."