San Antonio's River Walk + the ISTE 2017 Conference = a winning combination. Three weeks later, at last I have a little time to reflect on some memorable takeaways:
Day 1 – Sunday
Global Education Day – Joining Steve Hargadon and Lucy Gray for this 3-hour, highly interactive forum was an awesome start to my #ISTE17 experience. Check out the Agenda for an overview of the event.
Below are links to Ignite Talks, each one from an innovative global leader:
And the Round Table discussions were a great opportunity to make connections, as you can see from Table 6's  "Breaking Barriers & Building Bridges: Why Global Collaboration is Vital" Google Doc.
A few more notable resources from the closing speakers – who were winners of the Great Global Project Challenge:
Laurie Clement, Educator

Amazing Race – Global Students/Global Perspectives – Can't wait to share Laurie Clement's invitation to teachers: "Join us for the Amazing Race Project and allow your students to update their passports and travel the world as they learn about different places across the globe."

Ruth Valle, Educator
Reynaldo Duran, Educator – A writing project for kids in juvenile hall
And a few more outstanding resources/projects:
So glad I made my way through the wait list and was able to attend Global Education Day.  Am feeling empowered to bring global education/citizenship into the new school year – and proud to be a member of the Global Education Network.
---
---
Day 2 – Monday
Monday started with another gold mine:  Susan Brooks-Young's timely Recognizing Lies: Literacy in a Post Truth Era. The session description was a grabber for me:
The spread of misinformation is nothing new, but websites and social media make it far easier to distribute and more difficult to detect. This session explores strategies educators can use themselves and with students to effectively evaluate the truth in what they read, see, and hear.
Susan's session was a reminder that today, "in a time when blatant falsehoods are being put out there," digital citizenship programs need to include digital literacy.
Here's a brief recap of her content-rich, engaging Agenda;
Where to begin:
How you look at numbers – Here's where you can integrate media literacy across the curriculum. Math teachers, you have a treasure trove of resources to connect your lessons on computing mean, median, and mode to the world of advertising and current events.  As  a non-math person, I really appreciate Susan's reminder that averages involve three different ways to look a numbers. In the world of media, if you want to show growth – give median, not the mean. If you want something to look lower, give mode. Love the Statistics – How to website page on Misleading Graphs. And remember: Pie charts have to add up to 100%.
How you look at words – Let's start with "post-truth," the Oxford Dictionary's 2016 word of the year: "Relating to or denoting circumstances in which objective facts are less influential in shaping public opinion than appeals to emotion and personal belief." As Susan shared a range of resources, I starting thinking about the importance of her opening message:" We need media literacy as much as our students do. We need a Common Sense Media resource for adults." Although last December's Pizzagate  Conspiracy Theory story (a media hoax created by a kid in Macedonia) seemed like an extreme example of an adult lacking discriminatory skills, when Susan showed Nathan for You, the Petting Zoo Hero (below), I wondered how often my media literacy skills are influenced by what I would simply like to be "true."
In a "post-truth era," we all need to skeptical; we all need to do our fact checking, Three top sites for fact checking are:
Snopes – makes money if truthful – not for clicks.
Susan closed her session by referencing three great quotes …
"There is badly written news, there is news I didn't get, but there is not such a thing as fake news – it's lies." Even NPR will now say it's lies – no "alternative facts." Sir Harold Evans

"There are not always two sides to a story. Sometimes the truth is obvious. Sometimes it's right in front of your face." Bob Simon, CBS 

"We've spent so much time focusing on math & reading. We've abandoned taking the time to teach critical thinking skills." Daniel Levitin, Weaponized Lies – How to Think Critically in a Post-Truth Era
… and an excellent TED-ED Talk from Damon Brown – How to Choose Your News …
… as well as Susan's LiveBinder Digital Citizenship resources.
So glad to have attended Susan Brooks-Young's #ISTE17 and greatly appreciate her invitation to share out her tips and resources. Thanks to the layout and content of her agenda, I feel ready, organized, and inspired to offer a Recognizing Lies workshop in my district and region.
---
Digital Consumption & Creation in a Changing Landscape – Steven Anderson & Shaelynn Farnsworth's session was the perfect follow-up to Susan Brooks-Young's session. I appreciated the reminder that "every educator is an educator of literacy, regardless of subject area" and the importance of viewing technology tools as verbs, not nouns:
"Don't focus on the tools without asking how to use them. We can't focus on the tools (nouns); we have to think of the  functions (verbs)." Marc Prensky
In teaching students how to be curators of information (able to find, vet, organize, and share information), Steven suggests three questions (from Common Sense Media) for students to ask as part of the curation process:
What story are you trying to tell? What is your goal with this resource? What will I use it for?
When will you use? "We live in an age of rapidly changing info"
Just how good is it? Is it reliable and valid?
I appreciate Steve's Fictitious Websites doc, which also includes a link to California State University, Merced's, CRAP Detector, as well as "Resources for Developing Healthy Skeptics." Nice to have a 1-pager for students.
---
---
Day 3 – Tuesday
The Untold Story of Limitless Potential – Very possibly the most inspiring keynote I've ever heard! In 2012, I attended the Google Teacher Academy in Mountain View. For sure, a highlight of the GTA experience was being in Jennie Magiera's group. If you listen to this short clip from her keynote, I think you will have a window into her passion for teaching, her leadership in educational technology, and her infectious humor.
From recounting her mother's immigration story, to the teacher who made a difference, to Jennie's own personal struggles, every minute of this keynote was quote-worthy and inspiring. Drawing from Chimamanda Ngozi Adichie's TEDTalk The Danger of a Single Story, Jennie made a compelling case for educators and students to find and tell our own untold stories.
---
Feedback Tools for Google Docs – I am a huge fan of Eric Curts and stand in awe of the wealth of resources and tutorials he regularly creates and freely shares on his website.  So being able to actually meet with him in person was definitely a favorite #ISTE17 takeaway. The best way to follow every step of his session is to read through his Four Fantastic Feedback Tools for Google Docs. Be sure to read the comments too.
And thank you, MERIT11 colleague Karen Larson, for taking our sort-of-selfie with Eric.
---
Traditional, Transitional, Transformational –  Dang! Lost track of time and only made it to the last 5 minutes of Will Richardson's session. If you haven't yet subscribed to Will's Modern Learners' white papers, you should! Only 5  minutes with Will, and still some takeaways:
A live-from-ISTE17 podcast
AR, VR, AI, and BS: The Modern Learners Podcast, ISTE17 Edition
A couple of great quotes:
"Technologies come and go, so we need a culture that allows you to constantly renew yourself."

"Get connected. Read widely."
---
Tools to cultivate connections and deeper learning – I missed the first half of this panel discussion (got waylaid in the Exhibit Hall), but fortunately arrived in time for Kyle Pace's presentation on the Google Arts & Culture Center. I loved: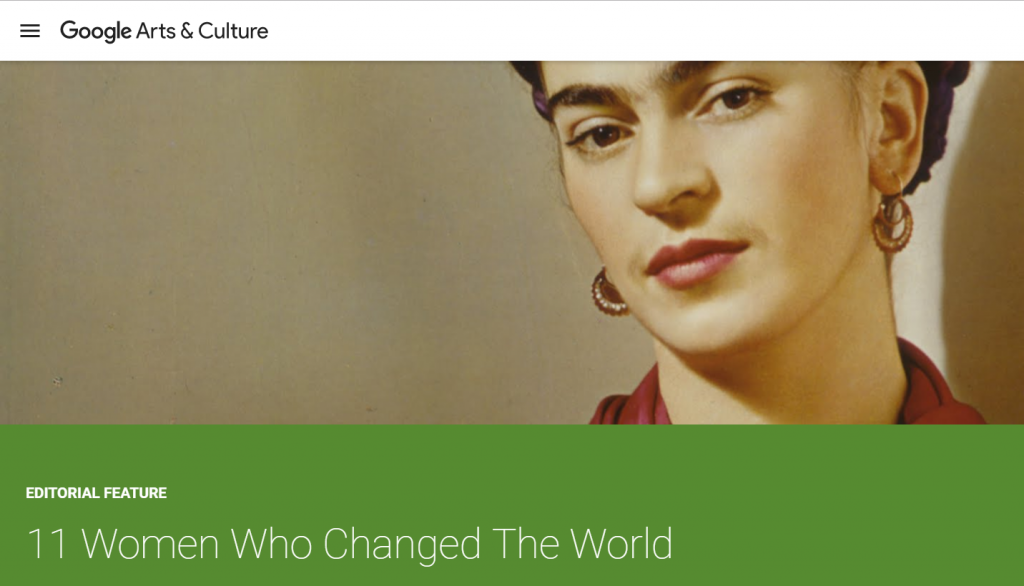 I recommend pouring yourself a glass of your favorite beverage before you start exploring Google's Arts & Culture Center. It's like falling down the rabbit hole. Right now I'm exploring Stories from the Holocaust and will head next into Cuban Arts & Culture.
---
Day 4 – Wednesday
The Power of Pivot Tables –  What a well-crafted hands-on session!  To teach a packed room of educators how to create and use pivot tables – in  60 minutes – really requires some serious prep time! Clearly Todd McDonald and Joel Handler thought through the scope and sequence of their presentation, with a perfect balance between instruction, tips, and hands-on time. Learning about pivot tables has been on my to-do list for a long time. At the end of their session, I walked out excited about pivot tables, along with an 11-slide presentation (yep, only 11 slides) that has everything I need to review and practice pivot tables and to move on to the next level. Perhaps, more importantly, I will be rethinking my own technology workshops and aiming to make each one as compact and informative as Todd and Joe's session.
---
Consuming, Connecting, Caring: Embrace New Literacies to Succeed in a Digital World – I ended #ISTE17 with Alec Couros's session, a good choice – as you can see from Alec's accompanying Consuming, Connecting, Caring Resources doc. Like Susan Brooks-Young and Steven Anderson, Alec referenced the need to keep adults up to date with media literacy, and for both educators and students to understand that "information is easy to spread; correcting it – not so easy."
Alec started with a look at today's culture of learning, using 5-year-old Jordan as an example of how kids are teaching themselves about topics they care about.
I'm betting many first grade teachers will have students like Jordan spending the next school year with them. It's hard to imagine Jordan thriving in a classroom that's adhering to publishers' scope and sequence charts or district-mandated curriculum.
A few gems from each of Alec's topics:
Consuming:  On the topic of students as consumers of information, I like the pace and content of John Spencer's The Problem with Fake News (and how students can solve it) video, and the message that "critical thinkers are good for democracy – and that's good for everyone."
Connecting: Leave to The Oatmeal  (Matthew Inman) to provide a conversation/explanation/walk-thru/challenge on "why do we easily soften to some ideas but not others? Why do we gnash our teeth when presented with evidence counter to our beliefs?" You're not going to believe what I'm about to tell you could be a powerful conversation starter – for adults and students.
Caring: How do we teach for empathy? That's a question that's come up in many recent discussions with colleagues. I think teaching, supporting, promoting, and modeling all forms of citizenship (face-to-face, digital, global) is a starting point. Below are the citizenship resources from Alec's doc.
Alec also added the Minimum Max video:
I'm adding Project Empathy to the list (which I believe Alec mentioned during his session). I just started exploring this website and have already discovered an excellent video from Brene Brown on the important difference between empathy and sympathy.
Three weeks later, I am still reflecting on my #ISTE17 experience. Not all the sessions I attended are included in this post, but those included are the ones that have started me thinking about new possibilities and visions for teaching and learning in the upcoming school year. For each one mentioned, I anticipate blogging about the process and impact of implementing one of the shared resources, strategies or tips.
I also had the opportunity to meet Curran Dee, an exceptional young man, who at age 8 gave his first TED Talk (below) and at ISTE gave an Ignite Talk. If I can find a recording of his Ignite talk, I'll add the link. Here's a link to Curran's website. At the top of my #ISTE17 follow-up list is to connect Curran with students in my district to discuss digital/global citizenship. Student-teaching-students – always a powerful, effective model for learning!
Thank you to the ISTE team for a fabulous conference. I can only imagine the countless hours of planning and energy that went into this year's conference. Thank you, thank you!
I'm already looking forward to and planning for #ISTE18 in Chicago.