A highlight of my week was attending the California Department of Education's first Media & Information Literacy Summit here in Sacramento.  Below are my top takeaways from a very full day of excellent keynotes, panel discussions, and a resource fair.
Opening Comments: Jennifer Howerter, California Department of Education (CDE) – Jennifer started by going over a few definitions that would be central to our summit conversations:
Information literacy forms the basis for lifelong learning. It is common to all disciplines, to all learning environments, and to all levels of education. It enables learners to master content and extend their investigations, become more self-directed, and assume greater control over their own learning. An information literate individual is able to:

Determine the extent of information needed

Access the needed information effectively and efficiently

Evaluate information and its sources critically

Incorporate selected information into one's knowledge base

Use information effectively to accomplish a specific purpose

Understand the economic, legal, and social issues surrounding the use of information, and access and use information ethically and legally"
---
Welcome – Deputy Superintendent Tom Adams, CDE – Deputy Superintendent Adams opened by asking "Has the Internet changed the role of the teacher?" He referenced Stanford Professor Sam Wineburg's findings that "we can't assume fluency with media unless we ensure skills of healthy skeptics," and also included several of Wineburg's thought-provoking questions and statements:
"Since 2016, with the barrage of information and instruments for sending the information, do we want pre-selected information? Or do we want to individualize our own? We're in a new context for educators. Students don't lack media skills, they just need to add to the toolkit. With the California Standards, all core subject matter requires an inquiry-based approach."
---
A Superintendent's Perspective – Encinitas Superintendent Tim Baird, Encinitas Union School District – Loved Tim Baird's opening quote:
Great journeys all start with driving questions," … followed by his opening questions "What if we shifted from emphasis on teaching to emphasis on learning? What if we allowed students to Acquire, Analyze, Apply. Rather than start with content, start with process skills….Learning comes first – ahead of teaching. AAA leads to student dreams."
Baird ended his keynote with a reminder that Media/Information Literacy is a basic human right, referencing UNESCO's Five Laws of Media and Information Literacy in critical times.
---
For the Love of Learning – Director of Literacies, Outreach, and Libraries Glen Warren, Encinitas Union School District – I've met Glen Warren several times in the last few years, thanks to Jane Lofton's invitations to attend the Librarian's Dinner at the annual Spring CUE Conference. But until Wednesday's Summit, I had never heard Glen present. Oh, my, he is an amazing speaker, who combines insights into changes needed in education with a wonderful sense of humor. I love laughing while learning!
If you are looking for YouTube examples of satire to include in a Media and Information Literacy unit, Glen shared a few: Blockbuster Offers Glimpse Of Movie Renting Past and New Sony Nose Buds Allow Users to Blast Different Smells into Nostrils.
Right off the bat, Glen had us thinking about the difference between telling student to "Go search that vs. Go research that!" His model for ramping up students' research skills is A E I O U (see graphic below):
Luckily for Summit attendees, in the afternoon, Glen stepped on the stage for a second presentation: Curious Skeptics Formulating Questions.
I couldn't find the same shopping cart image Glen used to symbolize "shopping hungry," which I know (all too well) is never a good idea. But sending students out on the Internet without a list of questions is an equally bad idea. By jump starting the search/research process with an initial list of questions, students start with an intent. I love some of these well-known phrases Glen had us rethinking:
Claim, Evidence, Reasoning – it's the mantra. But how about we start with some good reasoning.  Response to Intervention (high brow) – change to Response to 

Inspiration

.

Essential Question > Essential

Student

Questions

Begin with the end mind > Begin with the

endless

in mind
In short, "we are killing students' capacity to ask questions." This issue is not limited to K-12, as illustrated in the video Glen showed of Stanford students sharing why they don't like to ask questions. (If I can find this video, I'll come back and include it in this post.) 
We also looked at the UC Davis research on how curiosity helps learning and memory.
We need to start teaching and encouraging students to ask questions, a skill that is included across the Common Core Standards (i.e, CCSS.ELA-LITERACY.SL.K.3), NGSS (Asking questions and defining problems in K–2 builds on prior experiences and progresses to simple descriptive questions,
Ask and answer questions in order to seek help, get information, or clarify something that is not understood.), the Model School Library Standards for California Public Schools, and the California English Language Arts Framework  (Students should have many opportunities to
creatively respond to texts, produce texts, develop and deliver presentations, and engage in research
to explore their own questions.)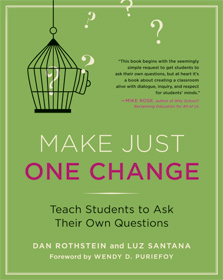 In a nutshell, at every grade level, students need to be asking questions – and we need to be teaching them how to hone this critical literacy skill. Glen referenced the book Make Just One Change: Teach Students to Ask Their Own Questions, published by the Right Question Institute (R?I) The R?I team has developed a method called the Question Formulation Technique (QTF). QTF steps include:
Establish a question focus
Brainstorm 20 questions
Identify closed-ended or open-ended questions
Prioritize your list
Bottom line: "If students are allowed to develop their own questions, they are more likely to be engaged in finding the answers." Such a simple, powerful strategy to teaching and learning – and probably my top takeaway from the summit.
---
California Global Education Project (Subject Matter Project) – Executive Director Emily M. Schell, Ed. D., San Diego State – As a longtime, proud member of the California Writing Project, one of nine Subject Matter Projects across state, I was delighted that Emily Schell would be presenting (in place of Dr. Monica Bulger). She drew the audience in from the start by sharing a story of her own son's learning and career journey, and then presented a compelling case for the need to promote media and information literacy as a pathway to "global competence."

Emily reminded us of the important work done by:
Emily's work with the California Global Education Project (formerly known as the California International Studies Program) builds on the work I am currently doing with digital citizenship initiatives. I am excited to connect with the CGEP group and learn more about their global citizenship projects.
---
Panel Discussions
The summit included three panel presentations, each with different members, with a different set of questions to address. Below is a sampling of questions and responses:
Question: How do we help students work through hyper-partisan media?
Response: From Chris Nichols – NPR created Politifact California as a response. "Trust, but verify" (even when referring to NPR).
Question: How should we be rethinking schools?
Responses: Establish a credential program for administrators that includes information literacy. CHANGE CREDENTIALING PROGRAMS! Teaching thinking should be at the top. Capstone projects should be included at every grade level. Embed research across the curriculum – so no kids miss out.
Question: How does media/info literacy support student engagement and empowerment?
Responses: Media literacy can help bring awareness to a variety of health issues. Kids need to analyze information they're finding online; they need to be "health literate." A Health Framework will be released in 2019. Suicide prevention and mental health issues will be included. Check out the Directing Change contest, a venue for kids to create and share Public Service Announcements (PSAs) about critical health topics.
Question: How can we help students understand bias in media?
Response: Tara Woodall – Have students google a current event (e.g., Colin Kaepernick). How is the same event depicted in different headlines? Here's where connotation comes into play. Writing shouldn't be a formula. Ethical use of information, such as following citation rules, happens naturally when students can carry it into their own writing. Tip: Team up writing teachers with statistics teachers.
---
Resource Fair Breakout Sessions
Common Sense
It's always a treat to join Common Sense's Sue Thotz (Senior Program Manager, Education) at any event. Here's a link to Sue's Summit presentation: News and Media Literacy with Common Sense, which is just the tip of the iceberg in terms of the amazing – and free – resources Common Sense provides for teachers, students, and parents on current topics connected to digital citizenship.
As co-director of my district's Digital Citizenship program, I deeply appreciate always having Common Sense's timely, content-rich lessons and resources to share with teachers. And did I mention that both Kathleen Watt (my #DigCit co-director) and I are both Common Sense Certified – as is our district. 🙂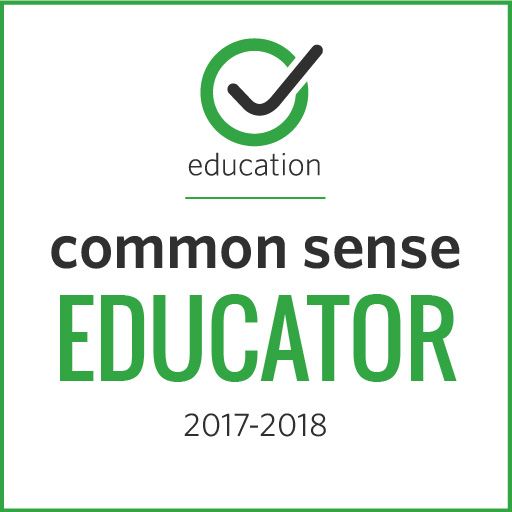 KQED
Like Common Sense, KQED also has a long history of providing resources to engage students (aimed at secondary students) in current topics, via KQED Learn, such as those listed below:
Go Above the Noise

– Students watch a video and read an accompanying article. A great example is 

"Free Speech" vs. "Hate Speech"

Deeper Dive (from Go Above the Noise) – Explore and then reflect. Students are able to share with other students within the KQED community. 
Copyright & Creativity for Ethical Digital Citizens
Although they were not included in the schedule, two representatives from Copyrightandcreativity.org (AKA iKeepSafe) were in the audience and available during the breakout sessions, with a handout that provides a justification for teaching copyright: "In short, because students today are creators and publishers – so they need to understand the basic ground rules around creative work." Check out the website for an excellent set of lessons, starting with kindergarten through high school, including a set of videos for secondary students.
---
Information Literacy Toolkit – Summit coordinator Jennifer Howerter took the stage again to share CDE's newly released Media & Info Lit Toolkit: Collaborate in Common, "a free online toolkit filled with resources and current research that teachers, administrators, and parents can use to help support their efforts to advance media and information literacy and the implementation of California's standards and frameworks." I definitely plan to spend some time exploring this site and adding to the content.
---
What's Next? Media Literacy in our Nation and the World – Tessa Jolls – The closing keynote speaker was Tessa Jolls (President, Center for Media Literacy). Tessa summarized beautifully both the importance of media literacy and the message I will integrate into future workshops:
Media literacy – It's not a new subject to teach – but a new way to teach all subjects. It is a call to action!"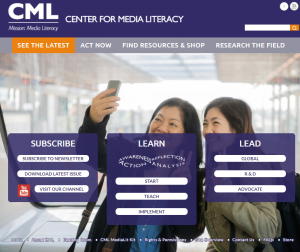 ---
I'm very glad to have had the opportunity to attend the California Department of Education's first Media and Information Literacy Summit. I appreciate CDE's recognition that, increasingly, media and information literacy are critical skills in an age of misinformation. In reflecting on the expertise and energy of the speakers and panelists, the introduction to the Model School Library Standards, and the "Curious Septic" theme, start to finish, the Summit was well worth the $20 registration fee (which even included a box lunch). I am already looking forward to attending the 2019 Media and Information Literacy Summit.
Hope to see you there!