Time to reflect on my top takeaways from this weekend's #EdTechSummit in Roseville (California). If you haven't been to a Google EdTechTeam Summit, this is what they are all about:
The Summits are high intensity two-day events that focus on deploying, integrating, and using G Suite for Education (formerly Google Apps for Education) and other Google Tools to promote student learning in K-12 and higher education. The program features Google Certified Educators, Google Innovators, Google Certified Trainers, practicing administrators, and many local rockstars."
I missed the Saturday sessions, as I was downtown participating in the #WomensMarchSac, but what a great way to spend my Sunday, starting with Jeff Heil and Ken Shelton's session: Equity and Inclusion – You Are the Binder. Before you click on the link to Jeff's session website, you might want to pour a glass of your favorite beverage because you'll be heading down a rabbit hole of  thought-provoking resources.
In the past year, I've attended a number of inspiring PD sessions within my district on the topic of equity and inclusion, but until Sunday, I hadn't thought about the importance of "knowing our own identities to determine how who we are effects institutional inequalities that contribute to the predictability of who succeeds and fails on our schools …If you don't know who you are (your cultural identity), then how can you know who your kids are?" 
Ten minutes into the session, two videos sparked emotions and whole group/table group conversations:
With Jeff guiding the discussion and Ken challenging us to dig deeper into the language of "isms" and racial inequality, we began to explore our own identities through the Personal History of Otherness slideshow. The task was to examine the major categories of isms and then determine whether you are part of the dominant or subordinate group.
Question: How do you tackle and present complex topics in a 90-minute session?
Answer: If you provide your participants with a window into equity issues, as Jeff and Ken did, via a website with powerful resources, such as the Equity and Inclusion – Be The Binder wakelate, participants can and will (I'm sure of it) continue a transformative learning journey beyond the session.
I would love to see the 90-minute session develop into a week-long workshop.
~~~~
I made another good choice for my second session: Projects with a Purpose! Ignite Student Interest with Google's Applied Digital Skills Curriculum!  This was my first time to hear Natasha Rachell present and also my first time to explore Google's Applied Digital Skills Curriculum.  The lessons are correlated to ISTE Standards and integrated with Google Classroom, with an emphasis on digital citizenship – three big selling points!
Lessons range from conducting research and writing a report to creating a budget spreadsheet. I started with the If-Then Adventure Story unit, which fits beautifully into both English/Language Arts as wells History/Social Science.  I love the relevance of the topics and the flexibility of each unit, both for subject area and grade level.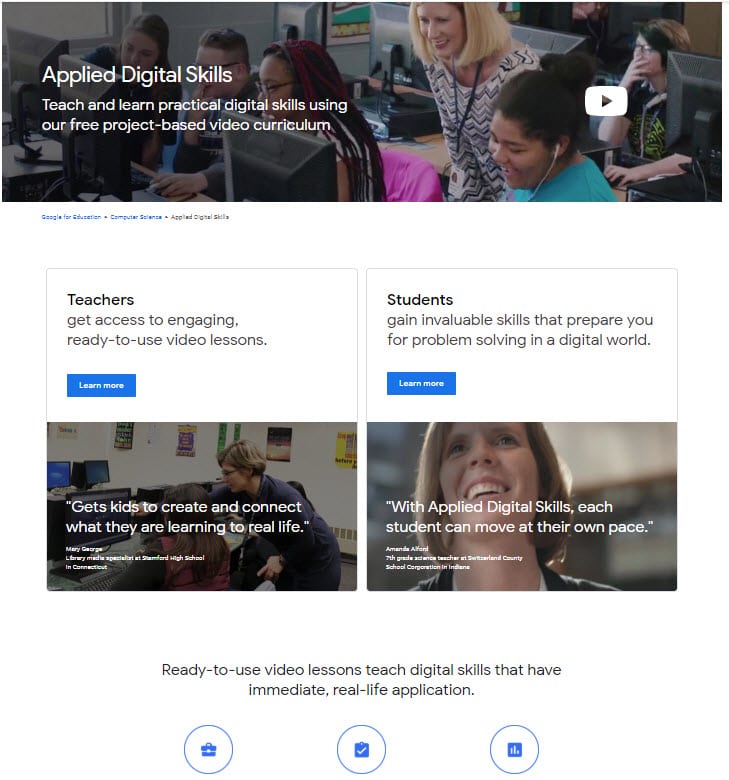 I agree with Natasha's closing statement: "I think we are finally getting to the answer to all teacher's favorite question: 'When am I going to use this in real-life?'"
~~~~
I ended the day with Kimberly Lane Clark's Blended Learning – Shifting the Paradigm session.  I appreciated Kim's emphasis on student voice and student choice being central to blended learning and her accompanying resources:
Voice
Choice (Thank you, Kasey Bell, for one of many, many resources you freely share!)
Using the video below, Kim guided us through a whole-group discussion on the differences between three terms associated with blended learning: individualization, differentiation, and personalization and then gave us time to turn 'n talk about how we might tap into some apps and websites to support a blended learning environment.
Spending Sunday at the #EdTechTeam Roseville summit was a rich learning opportunity, starting with Kim Lane's keynote: Where my Girls At? Shifting the paradigm!  Following on the heals of the Saturday #WomensMarch19, what a timely message:
Computer science is foundational knowledge for all students in the 21st century but a shift in paradigm must happen in order to get ALL students learning about computer science. Even more so there is a huge gap in diversity of women that are learning about computer science. Did you know that Women make up 48% of the workforce, but only 23% hold jobs in STEM! Statistics have shown that there is a lack of women being represented in all STEM fields especially in computer science. In order to change this somber statistic there must be a shift in the mindset of who is represented in STEM fields by involving girls at an early age."
I'm already looking forward to next year's #EdTechTeam Roseville Summit. Thank you, Marie Criste, for bringing this event to the Sacramento region, and thank you, EdTechTeam speakers for sharing your expertise and inspiring all who attended to continue to "explore and connect."