Thanks to an email from a colleague, on Tuesday night, I headed to the Sacramento Library to attend Behind Barbed Wire, a powerful presentation from the Sacramento Bee's Pulitzer Prize winning photographer Paul Kitagaki.
Political cartoonist Jack Ohman, also a SacBee Pulitzer Prize winner, joined Paul on the stage and guided the discussion and presentation.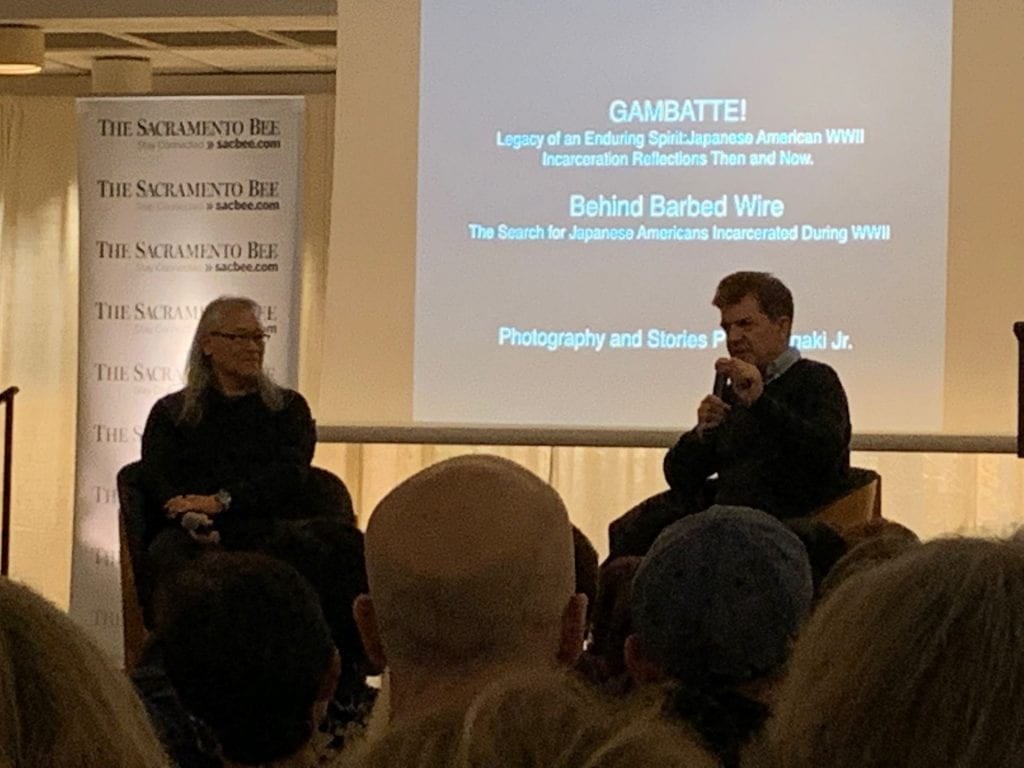 Like so many children whose parents have experienced exclusion and forced removal, Paul grew up knowing nothing of the internment camps. In the 1970's, during a high school history class, he first learned about Executive Order 9066, which authorized the removal of nearly 120,000 citizens of Japanese heritage from the West Coast. He went home with many questions for his parents, but they did not wish to discuss their interment experiences.
By the 1980's, as a young photojournalist in San Francisco, Paul learned that Dorothea Lange had photographed his family in 1942, while they awaited a relocation bus in Oakland, California. He traveled to the National Archives, where he found Lange's photographs of his family. In the photo below, Paul's father is up front on the right side, with his aunt seated between his grandparents. The woman standing in front of the family was a neighbor, who had come to say good-bye and wish them well.
By 2015, Paul made a commitment to search for the children whose images were captured in the iconic photos of Dorothea Lange, Ansel Adams, and others, who traveled to the camps and photographed the internees. By now, these children would be in their eighties and nineties.
If you listen to the video clip below, you will see – and hear – samples from Paul's growing WWII collection. Using black-and-white film and a large-format camera similar to the equipment of photographers in the 1940s, he has mirrored WWII photos to his contemporary photos, adding the voice of former internees sharing a childhood memory captured in the original photo.
Paul and Jack Ohman ended the presentation by inviting the audience to ask questions. The Q&A session was as riveting as the presentation. For every question asked, at least one or two people stood and shared their first-hand or second-hand stories from "behind the barbed wire."
I started this posted by stating that it was through an email from a colleague (Laurie Doane) that I learned about the Paul Kitagaki event. Laurie's father was interned at Heart Mountain. During the Q&A session, Paul mentioned Disney animator Willie Ito, who was also interned at Heart Mountain, where Ito and Laurie's father became friends. One of my favorite takeaways from the evening was learning about a children's book, Hello Maggie, written by Shig Yabu – and illustrated by Willie Ito.
I've blogged before that I co-direct/curate my district's Time of Remembrance Oral Histories Project, a collection of interviews from World War II and the Vietnam War. We will be updating the site soon with a post on Paul Kitagaki's presentation and resources.
If the line had not been so long, I would have left the event with an autographed copy of Behind Barbed Wire: Searching for Japanese Americans Incarcerated During World War II. Next best thing…a trip to Barnes & Noble Folsom, which already has a copy in stock and has ordered a copy of Hello Maggie.
Thank you to the Sacramento Bee for hosting an unforgettable evening and event, a powerful reminder of how the stories from the past connect to the present.