I just returned from a jam-packed weekend at the 2018 Fall CUE Conference in Napa (California's wine country). The challenge at any CUE Conference is trying to decide which of the many enticing sessions I should attend. I think I made some great choices.
Saturday Sessions
Empowering ELLs in the Google Age – I loved starting the conference with Abby Almerido's session. Although the focus was on ELLs, the speaking and listening activities were applicable to all students. If you check out her presentation, you can see that visual literacy – a must-have 21st century skill for all students – is at the heart of her work.
Using her slides, Abby challenged us to team with another person and:
View a fuzzy photo (slide 6), form an opinion, and provide 3 support statements as evidence.

View 4 images (slide 7) and come up with a common theme to connect theme. 
Come up with a question that invokes some tension (slide 9).
Consider the power of using moving images (slide 10).
Such simple, yet powerful, strategies to not only build speaking and listening skills but to also scaffold students into writing activities. Loved all the shared conversations from this session!
Painless Privacy: Empowering Educators to Safely Create Content  – If you are a classroom teacher, I recommend that you go through the entire presentation from Calif. Dept of Ed's Geoff Belleau and Elizabeth Wisnia. I know how frustrating it can be for teachers to start a lesson, only to find that a website they wanted students to use is now being blocked, sometimes for inappropriate content, but often for student privacy issues – another 21st must-have skill.
Some issues and terminology we all need to be aware of:
Phishing and Whaling (slide 8) – "Whaling," a new term for me, refers to scams that tackle organizations. "Ransomware," which is usually generated based on click-bait, can quickly set off encryption all your personal data. A good reminder to back up your work!
Teens & Social Media report (slide 16) – From Common Sense – If you are looking for resources for a Parent Night, this is a great resource. I like the video because it includes both negatives and positives of social media.
Future Ready Schools (slide 18) – Kudos to the California Department of Education for developing the Future Ready Framework, a format for "thinking holistically about the challenges and possibilities of technology in K-12 spaces," and sparking conversations on ways to enhance and maximize data privacy and technology efforts. I appreciated Geoff's recommendation to not get overwhelmed by all 7 gears; instead, start off by choosing two gears to focus on. Framework implementation can be done at district and site levels.

K-12 Cyber Incident Map (slide 19) – If you haven't visited  https://k12cybersecure.com/map/, this is a wake up call! The map includes  "D Dos (Denial of Service) attacks" (red pins), which any teen can activate by paying a small fee to a 3rd party that is able to flood a school's network and shut it down, for instance, so students will not have to take an online test scheduled for their next class period.
Think Like A Cat (slide 22) – If you haven't already seen Common Sense's excellent videos on student privacy, head back up to slides 36-38. Then check out the Think Like a Cat video, part of a PBS series, that shows how news can be manipulated.
Shorty Awards – The Best in Social Justice (slide 44) – Cannot wait to share out about this award, which "honors a program, project, or initiative that seeks to address and dismantle systemic structural and interpersonal inequities based on race, class, gender, sexual orientation, age, ability status and any intersection(s) thereof." A great tie-in to digital citizenship initiatives!
So glad I attended this session. Teaching students about the importance of protecting their online privacy is one of four themes my district focuses on for our #DigCit program. Love having all these resources in one place.
Lunch Break with PORTS – Can't think of a better way to spend a tech conference lunch break than
with the California Parks Online Resources for Teachers and Students (PORTS) team. PORTS is  one of my favorite resources for bringing California's parks into the classroom virtually. Although it's a little hard to see the screen behind us in this photo, Ranger Ben Fenkell  and I are connecting live with Ranger Parker at La Purísima Mission State Historic Park (near Santa Barbara). This California Mission videoconference is one of the latest offerings in the growing PORTS options for bringing grade-level appropriate history, geography, science, and architecture virtual field trips into your classrooms – for free. And, of course, I have to boast a little that the 3rd grade Gold Rush videoconference on the PORTS landing page features an amazing teacher from my district, Cathe Petuya, and her students.
Information Overload: Media Literacy When Fake News Is a Thing – I joined Scott Padley's session, hoping to take away a few new thoughts and resources on teaching media literacy. And I did. It's truly a challenge to pack such a dynamic, challenging topic into one hour, but Scott did. His Teaching Truth site and his slideshow, are both treasure troves and include:
 MIT's research on fake news – a fascinating article and video with MIT's findings that "fake news spreads further, faster than real news."
Ladder of Inference – I had not seen this infographic before. Scott explained how it illustrates the thinking process that we go through, consciously or unconsciously, to move from a fact to a decision or action.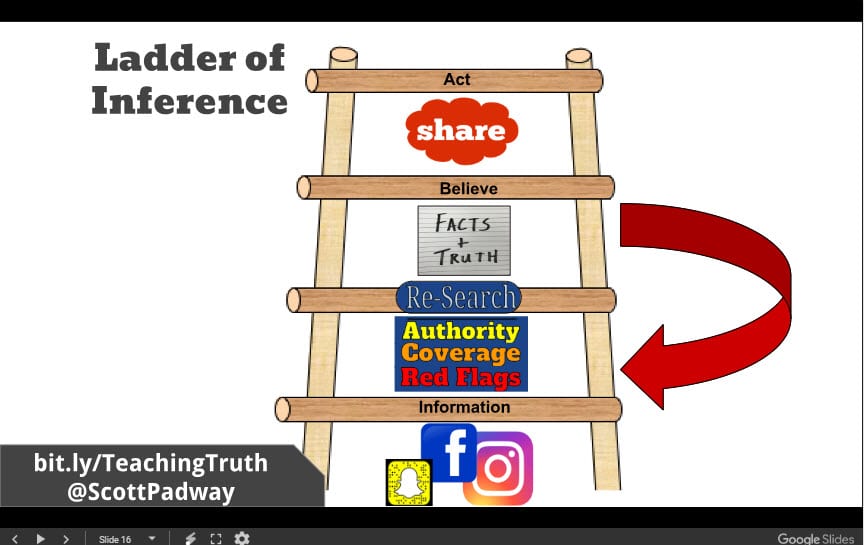 Search Tips: "It's all about algorithms which reinforce our biases." Part of stepping out of our "filter bubbles" is to recognize how our Google search returns are quite possibly reinforcing our biases.
What could be better than attending Scott's media literacy session? Having Scott join Kelly Mendoza and me for our Sunday morning session. 😊
Sunday Sessions
Adding to the awesomeness of the Fall CUE experience, I had the pleasure of teaming with Common Sense's Kelly Mendoza for two sessions:
Thinking Critically About the (Fake) News – Here's the link to our digital handout.
Can I Use That? Teaching Creative Commons, Copyright & Fair Use to the Remix Generation – digital handout
If you weren't at Fall CUE, but will be attending Spring CUE in Palm Springs, we'll be doing both sessions there. Please join us or stop by to say hello.
Make Digital Citizenship the Norm…Not the lesson –  Nicole Nadiz's session title captures my #DigCitCommit for the 2018-19 school year. Nicole's expertise and resources made for a highly interactive, thought-provoking hour, and some wonderful takeaways:
"Educating staff has to be part of the process of rolling out digital citizenship." As co-director of my district's digital citizenship program, I email and post regular updates to our school site #DigCit coordinators with new resources for them to use with students. With Nicole's quote in mind, from now on, those emails will include tips and resources for site coordinators to include in staff meetings.
Collaboration in Common – I learned about the CiC resource last May while attending Sacramento's first Media & Information Literacy Summit. With support from California's Department of Education, CiC "allows teachers to discover and share resources and to connect with educators from across the state in virtual communities focused on the topics that matter most for teaching and learning." I #DigCitCommit to being a regular visitor and contributor to CiC, and look forward to connecting with and learning from other California educators around media literacy topics.
I recently blogged about Nicole in my "Hacking" the Learning Standards post. Given that she also lives in the Sacramento area and that our paths seem to be crossing on a regular basis, I am fortunate for the face-to-face opportunities to learn from her. The good news is that anyone, anywhere can learn from Nicole by visiting her blog 3 Rs 4 Teachers: Promoting Rich, Relevant and Rigorous Teaching and Learning.
Sparknado – Ending my Fall CUE experience with Brandon Schut's fast-paced, humor-infused session was a good call. Although the digital handout for his session is on a Google Site (one of my favorite tools), the session was all about Adobe Spark, Adobe's fantastic tool for "transforming your ideas into stunning visual stories." My big takeaway from this session was an advantage for students of Adobe Spark over Google Sites: the built-in image library includes the Creative Commons citations, which are automatically added when you embed an image. And the citations will also be listed at the bottom of a Spark page.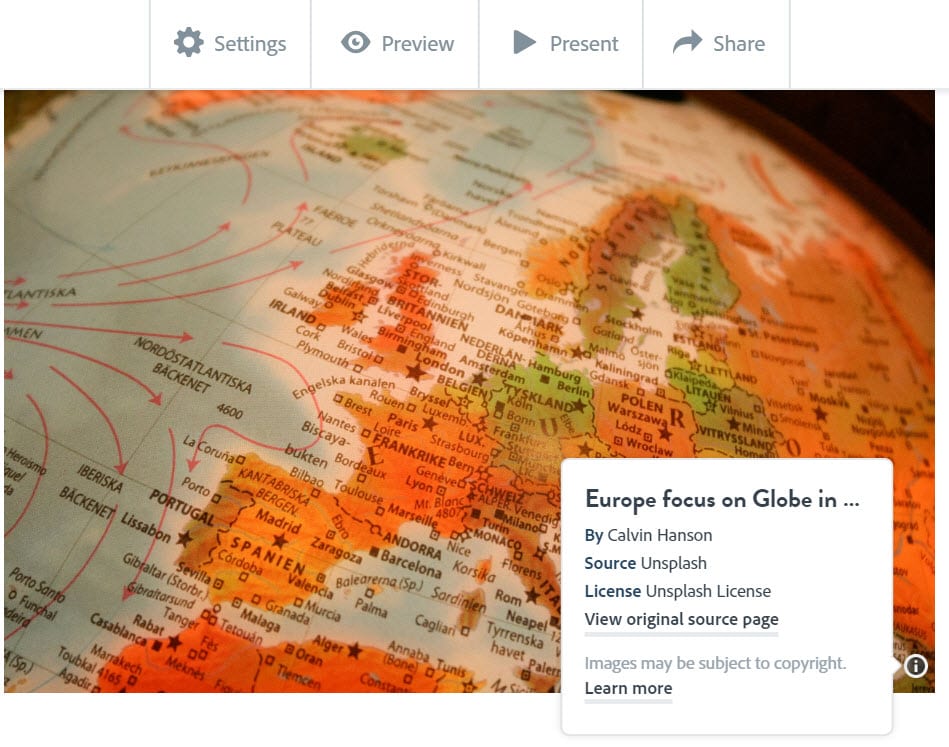 Although Google Sites are automatically filtered to find images licensed as CC0 or Public Domain, which means attribution to the creator is not required, creators most likely appreciate the recognition – and you eliminate possible copyright questions your readers might have. Although you can track down attribution information on images found in a Google search or insert, having the credits already populated in accordance with Creative Commons' recommendation for "ideal attribution" is a time saver.
I think Greg Eiler's Tweet and gif (below) will give you a bit of window into Brandon's energy and dynamic presenting style.
You're missing the Sparknado badgician work his magic! Get here! #FallCUE @NodnarbTuhcs pic.twitter.com/sBA9tPVCsG

— Gregg Eilers (@greggeilers) October 14, 2018
A huge thank you to the CUE staff for putting together an outstanding event. As you can see from my post, the Saturday/Sunday event was well worth the trip to Napa. Thank you also for providing delicious box lunches both days (along with a coffee stand/truck that even sold kombucha). The lunch breaks were a perfect opportunity continue conversations sparked by the Fall CUE 2018 innovative presenters.
Apparently, it's not to soon to start the countdown to Fall CUE 2019, as the logo is already being widely shared. See you there.