In recognition that we are living in a "post-truth" era, rampant with "fake news," and that we all need media literacy skills, I've been gathering resources, collaborating with colleagues, and creating presentations geared to both students and staff. I'm adding to my Media Literacy site almost daily, with a weekly featured resource.
For the past 10 years, I've been co-directing my district's digital citizenship program with my colleague Kathleen Watt. We've recently been discussing ideas for merging media literacy into our digital citizenship resources, with possibly a new logo coming soon.
A recent article by Keegan Korf, Embracing Our Digital Footprints and Guiding Students to Curate and Reshape Their Own, has us rethinking how we've been rolling out our program. Until now, our focus has been solely on students. While we provide a wide range of resources for teachers and parents to use with their students and their children, Keegan's infographic (below) serves as a timely reminder that we should also be providing resources to help adults be aware of the need to be role models and to build and maintain positive digital footprints.
It's not difficult to find excellent videos for students, such as Netsmartz' 2 Kinds of Stupid, on how quickly your online reputation can destroy future job opportunities, scholarship options, and more.
But what about digital footprint videos for adults? I'm wondering how many talented, young teachers applying for positions in school districts across the nation will not even make it to the first interview due to something they've posted on social media. TED Talks such as Megan's You Posted What?! could help "xennials" or anyone just entering the job market to stop and think before posting, retweeting, etc.
I appreciate the stellar work ISTE has done in developing (digital) citizenship standards for educators.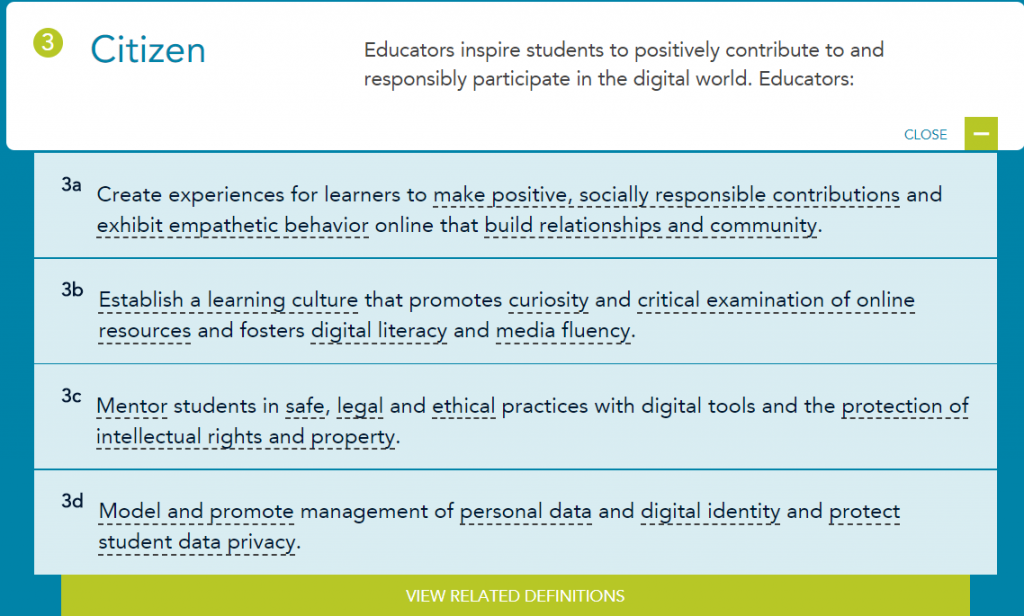 Over the next few months, I would like to gather examples of the many ways educators are modeling Standard 3 – with a special focus on 3a. If you have stories, infographics, TED Talks, lessons, articles, etc., to illustrate how an educator is actively making "positive, socially responsible contributions and exhibiting empathetic behavior online that build relationships and community," please share by leaving a comment.