A few NECC conferences ago, I attended a session with Chris Lehmann. He introduced the word "prosumer,"  a combination of consumer and producer.  Chris predicted this word would soon make its way into the English language.
I am fortunate to work with a number of teachers who actively, consciously structure a students-as-producers model of learning. Each time I listen to Marco Torres talk about students as receivers of information vs. creators of information,  I realize the importance of showcasing the work of these innovative teachers, so that their colleagues and administrators will begin to consider the price students who are locked into year-long test-prep programs will pay for being denied access to our increasingly participatory culture.
One resource I've used for the past few years to start conversations around new definitions for 21st century literacies is B.J. Nesbitt's A Vision of K-12 Students Today (an adaptation of Michael Wesch's A Vision of Today's  (College) Student) – a plea from students to become creators and producers:
I now have a new resource to add to my students-as-producers toolkit: the 2010 Horizon Report. This annual report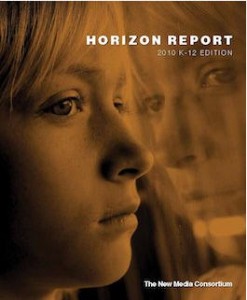 from the New Media Consortium's Horizon Project "describes emerging technologies likely to have a large impact on teaching, learning, or creative inquiry on college and university campuses within the next five years."
If you don't feel like reading it in its entirety, it's very easy to skim through, thanks to the navigation-friendly format.  You might want to start with Key Trends and then move on to Critical Challenges.
Want to see what's on the horizon? Check out these sections of the report:
If you wish you had a presentation that you could tomorrow with your colleagues, the CoSN group has created a teacher kit, complete with PowerPoint, waiting for you to download from their site.
I truly believe that one small step towards meeting the critical challenges listed in the report could be a commitment at all sites to shift at least some of the school day into a create/produce mode.
I would love to join – or co-facilitate – a conversation on making the shift from consumer to producer! If you have resources on the topic, please add a comment!