Just returned from CUE 2017, three jam-packed days of sharing, collaborating, learning, rethinking, and celebrating in the beautiful California desert setting of Palm Springs.
For those of you #NotAtCUE17, here are my top takeaways:
Keynote Speakers – Oh my!
Lucky me! I was able to attend all three:
Jo Boaler: The Mindset Revolution – A shout out to CUE for having Dr. Jo Boaler as the kick-off keynote. A visit to her youcubed website will give you an idea of Jo's commitment to moving students – and teachers – past a "fixed mindset" of "I'm not good at math" to "offering mathematics as a growth subject, filled with opportunities for creativity, discussions, and multiple perspectives."
I've heard the term "growth mindset" before, but hearing Jo Boaler present research-based findings on its importance had me leaving the keynote wanting to learn more. This snippet from her recent Scientific American article, Why Math Doesn't Add Up in the U.S., will give you a window into her findings:
Brain research has elucidated another practice that keeps many children from succeeding in math. Most mathematics classrooms in the U.S. equate skill with speed, valuing fast recall and testing even the youngest children against the clock. But studies show that kids manipulate math facts in their working memory—an area of the brain that can go off-line when they experience stress. Timed tests impair working memory in students of all backgrounds and achievement levels, and they contribute to math anxiety, especially among girls. By some estimates, as many as a third of all students, starting as young as age five, suffer from math anxiety."
I recommend spending the next 16 minutes watching CUE Live's interview with Jo and then head to her youcubed site:
A few quotes from Jo Boaler:
"Let's get rid of speed math…Speed does not equate to intelligence or better math understanding."
"Parents should know that nobody is born a math person – and should never give that message to their kids."
George Couros: The Innovator's Mindset – If you're not already following George Couros on Twitter, you should be. As a long-time follower and fan of George Couros, AKA Principal of Change, I already knew his keynote would be a great takeaway (although I didn't know it would a good idea to have Kleenex available, as he regularly interjected short but powerful, often emotional, video clips to illustrate his points). His  fast-moving, highly engaging keynote included 8 Characteristics of an Innovator's Mindset, which the wonderful Sylvia Duckworth has put into an infographic:
Moving from a "fixed mindset" to an "innovator's mindset" requires embracing change, learning from failures, and being OK with the fact that implementing change will probably require all 8 of the above characteristics. So, yes, you may have to explain to colleagues that "if you ask when you'll find the time, you're already giving up."
George also posed a question on school vs. learning, and shared an infographic with common differences between the two:
About those video clips I mentioned that George injected throughout the presentation to bring home every point … he's posted them to his website. These are gems to include in your growth/innovator's mindset toolkit.
A few favorite quotes from this inspiring keynote:
"The best person to teach students about space is not you; it's an astronaut." – One more argument for opening classroom walls via videoconferencing!
"Social media is like water. You can either let us drown, or teach us to swim." – Will share this one with district-level administrators.
"We need to make the positive so loud that the negative is hardly heard." – Don't shut down learning sites/sources because of misuse by a few students."
"The biggest game changer in education is not the technology; it's the teacher." – Will remind curriculum adoption folks about this sometimes forgotten fact.
Cathy Hunt: The Art and Soul of Education – How fun to end the #CUE17 Conference with a  national (Australian) and international award-winning (tons!) art instructor. Don't think you can do art? Head to Cathy Hunt's website and get ready for another "growth mindset."
Loved the lessons she demoed, especially Picasso's Portrait pieces, which starts with students taking selfies (which we all know students love to do) and then layering pieces of a Picasso painting over their selfies (which definitely qualifies as transformative use if you are wondering/worrying about fair use issues).
My favorite quotes from Cathy Hunt:
 "If you want to increase divergent thinking in your classroom, make some art."
 "To make, to create is to be fully human."
---
Some Great Session Takeaways
Mark Ray: Future Ready Is Greater Than Digital – Scroll through Mark Ray's presentation and you'll be ready to start the Future Ready conversations at your site/district on Monday. In addition to serving as Director of Innovation and Library Services for the Vancouver (Washington) School District, Mark is also working for the Alliance for Excellent Education in Washington, D.C., with a focus on the Future Ready Librarians initiative, part of  "a national effort to connect school libraries and librarians to innovative instructional practices." The graphic below includes the eight categories/gears of the Future Ready Framework through a librarian's lens.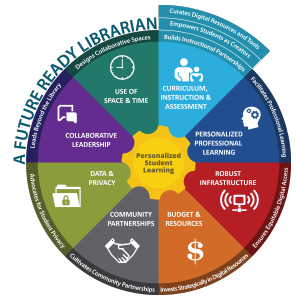 Knowing from a first-hand perspective the vital role librarians play at their school sites, I love that the Future Ready initiative is tapping into their expertise.
Mark introduced four important shifts required to truly be future ready:
Ownership – from teacher to student. Students need to have personalized learning paths.

Consumer to Creator – In the old days, somebody else wrote the textbook. Today students and teachers should be designing and creating products.

Local to global – Students need authentic opportunities to connect with other students, even if it's just the school down the road.

Shift from fixed to mobile – Let's recognize that students carry learning opportunities in their pockets.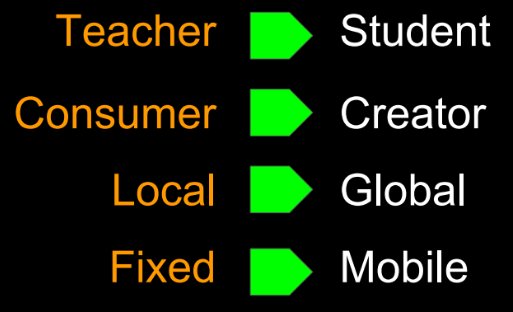 Mark's tip for making the shift happen: Start by putting together a Future Ready Admin team.
Mark Archon: Student Data Privacy – What You Don't Know Might Hurt You – If you are a teacher who is frustrated by (the many) websites your district blocks, read through Mark Archon's presentation and you will have a window into your tech administrator's world. If you are an administrator wishing you had a presentation at your fingertips to explain student data privacy concerns and laws to teachers, Mark Archon just gave you a timely gift.
Since the passage of California's AB 1584, a bit of my day (as a technology integration specialist) typically goes to tracking down vendors to have them sign my district's legal document before I can approve software purchase requests. So I was very excited to learn that CETPA, in collaboration with the Ventura County Office of Education, is going to make the software approval process much easier by compiling a listing of AB 1584 compliant software on their Student Data Privacy Alliance page. Yay! 
CETPA, the law offices of Fagen Friedman & Fulfrost, and Common Sense Media have collaborated on a short video, Ask Before You App, to give you a few tips on how to responsibly evaluate and use educational apps.
My favorite quote from Mark's session comes from the Future of Privacy Forum:
Anyone who handles data should know how to protect that data. Human error is a factor in 95% of data security incidents." 
I also liked his much needed reminder that, in terms of online programs:
Nothing is free. The currency is you."
Mark Ray: Compliance to Self-Reliance –  Rebooting Digital Citizenship – Mark jumped right into the topic by asking: "Are you and I hypocrites when it comes to digital citizenship and digital behavior?" He followed up his question with a link to a self-assessment quiz. I do a lot of digital citizenship workshops, which from now on will start with "an adult digital user quiz." As Mark's session made clear: How can we teach digital citizenship if we don't model it ourselves?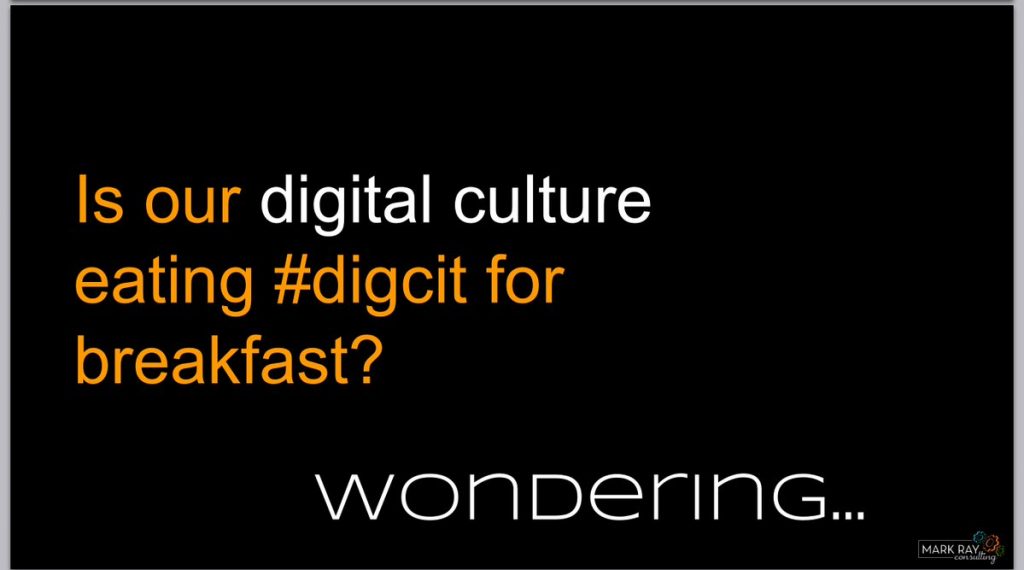 Sabrina Goldstein, Sam Castellano, Darlene Moreno: Crack the Code: Connect Scratch to Your Language Arts Classroom – This talented team of elementary teachers did a great job of introducing MIT's Scratch program, sharing compelling examples of student work, and bringing the audience on board by having them create their own Scratch animations. I also learned a new term: "kinetic storytelling," which is storytelling that incorporates timing, color, location, transitions, and font. This short video will show you what kinetic storytelling looks like:
For our elementary students, Scratch offers multiple ways, for instance, for students "to demonstrate knowledge of figurative language and promote creativity and critical thinking skills through the use of backgrounds and coding commands."  Check out this elementary sample on figurative language to get you thinking about how Scratch can take language arts lessons to new levels.
Gail Desler and Jane Lofton: Can I Use That? Exploring Copyright, Fair Use, and Creative Commons – This is the third time I've had the privilege of co-presenting with Jane Lofton.
We were fortunate to have a wonderful group of teachers joining us early Saturday morning for this session, many who remained afterwards to ask questions sparked by the presentation. If you were #NotAtCUE17 or not in our session, here's a link to our digital handout: bit.ly/UnlockMediaLiteracy. And if you're looking for a hyperdoc lesson on copyright, fair use, and Creative Commons to use on Monday, here it is: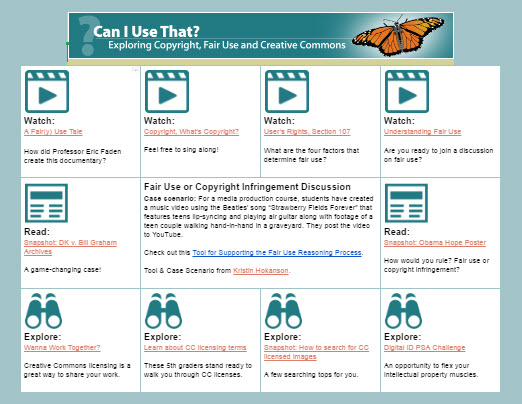 With over 6,000 educators in attendance, it is hard to imagine the amount of planning that must go into a CUE Conference. I'd like to thank the ever-amazing Mike Lawrence and his incredible team for three-days worth of inspiring/energizing "future ready" learning experiences, perspectives, tips, resources, and conversations.
I'm already looking forward to #CUE18.