Personalization of Learning through Digital Content – Each year that I've attended ISTE, I check through the program for Cheryl Lemke, knowing that I'll leave her session with research that will inform my practice and guide me through the next school year. The session write up from her Metiri group stated that she would " present a framework for understanding the types of digital content pertinent to schools, approaches to lesson design that leverage digital content; how to curate digital collections for and with students; and policy and digital learning environment considerations. " She delivered.
The good news is that Cheryl's session was pre-selected as a an "Executive Summary,"  meaning it was recorded and will soon be available on the ISTE website "Cliff Notes style…turning the content from the session into concise, documented, actionable insights" ($.99 for 1; $9.99 for all 15). Cheryl also said she would post the PowerPoint, a great resource for starting district, school, and grade-level discussions on the meaningful integration  of technology. "Technology needs to be ubiquitous and necessary."
Throughout the presentation she shared examples of sites for differentiating and personalizing learning. Here are a few that were new to me:
I'll update this post when Cheryl's presentation resources are available online.
Copyrights? Teaching Fair Use Reasoning to the Remix Generation – I had the pleasure of joining Kristin Hokanson, Ginger Lewman, Sandy Hayes, and Lisa Parisi as part of this panel discussion.
My interest in "strengthening my fair use muscles" started several ISTE Conventions ago, when I traveled to Philadelphia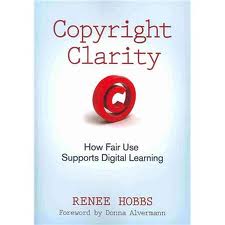 for the all-day Sunday session with Kristin and Renee Hobbs.  I blogged that session, stating that if it were the only session I could attend, I already had my money's worth.
A year later, I traveled back to Philadelphia to participate in another all day workshop with Renee and Kristin. Having made the switch from the "10% of this; 30 seconds of that" approach to teaching copyright and fair use, I now wanted the background to turn around and help teachers and students in my district make the mind shift to fair use as a case-by-case argument – and a critical component of digital literacy and citizenship.
In the past school year, as I worked on updating my district's 3-year Technology Plan, I wove Copyright Clarity: How Fair Use Support Digital Learning (Renee's book) into the plan narration and bibliography. I have also included the book as well as Kristin's link to Fair Use Reasoning Tools on the Digital ID project.
What a treat to be a part of the ISTE's Copyrights? Teaching Fair Use Reasoning to the Remix Generation panel! As the hour ended, I left with a renewed commitment to continue teaching this "messy" topic back home in my region and district.
ISTE Unplugged – Digital ID Project – In a couple of weeks, I'll be joining my project co-curator Natalie Bernasconi on a trip to Redmond, WA, where we will compete in Mirocosoft's Partners in Learning 2012 US Forum.  We'll be joining 100 other educators from across the US for what I already know will be an extraordinary experience. As part of the event, Natalie and I will be pitching our Digital ID project to a team of judges – in hopes of taking the project one step and location further: the November International Forum in Athens, Greece.
Given the above, when our NWP friend and mentor Paul Oh suggested we sign up to do an Unplugged session, we decided a 15-minute pitch + 5 minutes of Q&A might be an excellent practice run. Thanks to the tireless efforts of Steve Hargadon, pretty much all we had to do was show up. Steve had a screen, projector, microphone, and wireless already set up for the ISTE Unplugged sessions. Now all we have to figure out is how to condense our pitch into 5 minutes for our US Forum pitch;-)
Google in Education – I entered the Exhibition Hall and wondered into the Google booth in time to hear Elizabeth Calhoun's presentation on Digital Literacy and Citizenship… just as she was referencing the Digital ID project as a great starting point for teachers looking for resources, strategies, and tools for rolling out digital citizenship programs at their school sites.  Now this was definitely an ISTE highlight for me and my Digital ID co-curator, Natalie Bernasconi:-) 🙂 :-).
Implementing Digital Citizenship: Lessons Learned from the First Year – Common Sense Media's session, facilitated by Kelly Mendoza, was a great opportunity to hear stories from the trenches from elementary teacher Audrey Stokes and a middle school teacher Jeff Brain.  Like everyone in the crowd, I too was there to let Common Sense Media know how much educators appreciate the phenomenal free content posted to their website – with more on its way, such as the soon-to-be-launched Digital Passport Program (for grades 3-5).
Sadly, in order to catch my flight home, I had to leave before hearing the DeforestACTION closing keynote, so I'm hoping others have blogged the session.
Start to finish, ISTE 2012 was a fabulous experience (and only a direct, non-stop flight away;-).