Thanks to George Lucas's release of Red Tails, the story of WWII's Tuskegee Airmen, students and teachers have a wonderful new resource for celebrating African-American History Month.
I know a Tuskegee Airman. His name is Alexander Jefferson. I met him 4 years ago at the Denver Airport. He was on the same flight from Sacramento to Denver. I spotted him at the baggage pickup zone.
It probably seemed like an idiotic question, but seeing an African-American gentleman wearing a Tuskegee Airman jacket, I had to ask, "Pardon me, but were you a Tuskegee Airman?"  He was actually on his way to present to students in one of Denver's public schools (saw his picture a day later in the Denver Times as he stood surrounded by young students). Our 10-minute conversation was absolutely the most worthwhile time I have ever spent waiting for my luggage.
Alex was one of 32 Tuskegee Airman to be shot down over Germany, and the only one to have written about the African-American experience behind barbed wired in a German prison camp: Red Tail Captured, Red Tail Free. From NPR's recent interview, you can get an idea of his energy, his resiliency, and his commitment to fighting for social justice.
One month after meeting Alex, thanks to the coordinating efforts of  Janine Lim and our Sacramento Educational Cable Consortium (SECC), we were able to record Alexander Jefferson as he connected from Michigan with students at two Elk Grove school sites (Ed Harris Middle School and Monterey Trail High School) – bringing a "living voice" into their U.S. History class discussions: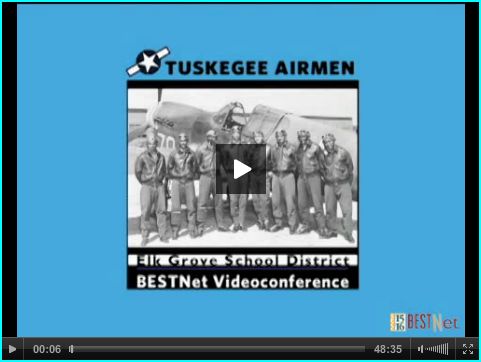 With the opening of "Red Tails," I thought teachers might be looking for a range of primary sources to frontload the historical context of the film – and to ignite a passion for learning more about the Tuskegee Airmen and our nation's pre-Civil Rights era. Here is a starting list:
Tuskegee Airmen – A Proud Heritage – A teacher's guide from the Museum of Aviation.
From Tuskegee to Jim Crow – An interview with Sacramento's George Porter, a mechanic for the Tuskegee Airmen – recorded during a Civil Rights discussion in high school history teacher Martin Billings' classroom.
Red Tails Trailer – According to YouTube descriptor, this is the official George Lucas trailer.
I'll be adding to the list throughout the month, so if you have any resources to share or activities you'll be doing to commemorate the challenges and accomplishments of the Tuskegee Airmen, please jump in and leave a comment:-)