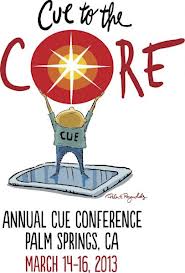 Just returned from the 2013 CUE Conference, a 3-day event jam-packed with educators initiating conversations and sharing resources and best practices on innovative, effective technology integration.  This year the Common Core State Standards were at the core of the conference.
Here are a few of my take-aways from Thursday, Day 1:
Session 1 – Collaboration Around the Common Core Using Brokers of Expertise – Eddy Avelar walked us through the layout and resources of the California K12 High Speed Network's (K12 HSN) Brokers of Expertise site. I'm looking forward to connecting with and learning from the California CCSS group.
Session 2 – Digital Tools for the ELA Common Core – Jonathan Brubaker has posted his session slides on sqworl.com, a new tool for me. Not only can you view his slides, but each tool he introduced for building students' academic vocabulary is shown on his sqworl site.  I really like Big Picture, which features photos from flickr.com, and " lets you view and share photos in the style of The Big Picture, Boston.com's excellent photo blog."
Jonathan reminded participants that "text complexity" cannot be based on lexile alone. The Grapes of Wrath, for instance, has a 4th grade "quantitative level" but the "qualitative level" is much higher. One comment really resonated with me: "Text complexity should be a conversation  – don't use it as an excuse for Readicide. Reading has to be the point – not lexile" (e.g., AR).  He ended the session with a huge shout out to Touchstones Discussion Project guides for building critical thinking and powerful classroom discussions.
Session 3 – Making your (Google) Voice Heard – If you still haven't created a Google Account,  Brandon Wislocki's session would convince you to drop everything and set one up so you can start using Google's free Voice program and app. A big advantage for teachers is being able to use Google Voice as an alternate number for students and parents to call.  But there are so many more possibilities! The fact that the messages are saved as embeddable mp3's and are translated into text is just a starting point. Think of the possibilities for extending learning beyond the school day, especially for your ELs!
Session 4 – Online Writing that Meets the Common Core – Jason Saliskar started his session by laying out via grade levels what CCSS Anchor Standard 6 for Writing looks like by grade level. I love that it's all there on his presentation link! A favorite take-away from Jason's session is that in teaching writing in the Common Core era,  "writing short is going to matter as much as writing long" (from Pam Allyn). Loved the videos Jason included, such as a Teaching Channel look at poetry, technology, and CCSS from an elementary language arts teacher and the 3-minute video embedded below on Explaining the Common Core State Standards:



Keynote Session – Ending Day 1 with Catlin Tucker's inspiring keynote was a perfect close. Her session was recorded, so as soon as I have that link I'll add it to this post. In the meantime, I encourage you to subscribe to Catlin's blog and to follow her on Twitter (@CTuckerEnglish). In stating that "Technology can't be an add-on – it has to replace and extend what we already do," Catlin presents compelling ways to take powerful fiction, such as To Kill and Mockingbird and connect it real world issues, such as the death penalty. For high school English teachers who fear that CCSS means letting go of the classics, you definitely want to connect with Catlin Tucker. She takes 9th grade English, technology, and the Common Core to new levels.
I'll be back soon with some CUE Day 2 take-aways.