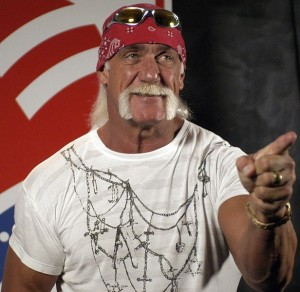 My son was a late reader.  He entered 2nd grade already a grade level behind in reading. That changed one Saturday afternoon when he stood next to me at a checkout stand at a convenience store. He spotted a wrestling magazine with his hero Hulk Hogan featured on the cover. As he handed the magazine to me with the plea of "Please, Mom. It's Hulk Hogan," I put aside minor concerns of appropriateness for a 7-year old and purchased the magazine. Within the hour, as I listened him begin the article on Hulk, I saw, with each sentence, his fluency, confidence, and energy level escalate . In less than 60 minutes, Hulk Hogan transitioned my son from a "reluctant reader"  to a reader.
As a teacher, in the years since witnessing first hand the power of sports literacy, I am always on the look out for resources that bring reluctant readers or disengaged students on board with literacy. I found a great one this morning via the National Council for Teachers of English Teaching and Learning Forum: Alan Brown's Sports Literacy blog. Alan Brown is an assistant professor of English education at Wake Forest University in Winston-Salem, North Carolina. Aimed at middle and high school, the Sports Literacy Blog provides an array of  resources and literature recommendations for integrating sports-related topics and readings across the curriculum. With the Common Core Standards' emphasis on informational reading, sports literacy would be an easy cross-curricular connection.
In November, I am hoping to attend the NCTE's 2013 Annual Conference in Boston. It is always a fabulous conference, worthy of the travel expenses. With National Writing Project (NWP) and NCTE members like Troy Hicks, Sarah Kjader, Bud Hunt, Paul Oh, Sandy Hayes and Kevin Hodgson leading sessions, I always leave with new understandings of  the power and possibilities of digital learning. This year will be no exception. Alan Brown has proposed the following session:
The Intersection of Literacy, Sport, Culture, and Society. The session will include keynote speakers, reactants, and round table leader,s all focusing on a wide array of sports and literacy connections."
If I make it to Boston, I promise to blog the session!