Friday night I headed over to Cosumnes Oaks High school to attend an amazing event: Hype Dance Showcase.  For two hours, I sat mesmerized by the choreography, costuming, high energy, obvious passion, and jaw-dropping talents of the student dancers. I promise to update this post as soon as school's video team uploads footage to their website.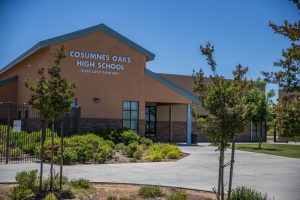 Friday's event was my third visit to COHS in the past two weeks. I blogged last week about the Digital Kids, Digital Classrooms Saturday Seminar, which was also hosted by COHS. A few days before the seminar, I had an appointment to meet with our tech support team to check out the rooms reserved for the seminar. It was close to 4:00 when I made it over to the campus. The school day officially ends at 3:00.
Oh my, oh my, to hear the band practicing for an upcoming competition and to walk by classrooms with students choosing to stay after school to participate in a variety of clubs and meetings was pretty inspiring. I wish I had taken some photos of the stunning art exhibit several students were putting the final touches on. And come to think of it, I also recently blogged about a writing assignment from a COHS teacher a colleague had shared with me.
There are 64 other schools in my district. Could I find at least three activities, lessons, and/or events to boast about at each of those sites? Yes.
Wonderful things happen in our public schools. #PublicSchools