Thank you Roseville High School (via the awesome Marie Criste) for hosting this weekend's Google Summit. Start to finish, what an awesome way to spend a weekend! Below are a few of my favorite takeaways:
Technology, High Expectations and the Art of Relationships – Having Jeff Heil kick-off the Summit with his opening keynote was an inspiring start. I had the good fortune to first meet Jeff at the 2012 Google Teacher Academy in Mountain View. We were in the same group/team (led by the amazing Jenny Magiera), so I already knew that Jeff is both brilliant and hilarious. But I did not know about his commitment to using technology as a tool for achieving educational equity, a passion ignited from his time spent working with homeless youth. I am still thinking about Jeff's question/challenge: "How can  the creation of something as simple as a relationship transform student achievement?"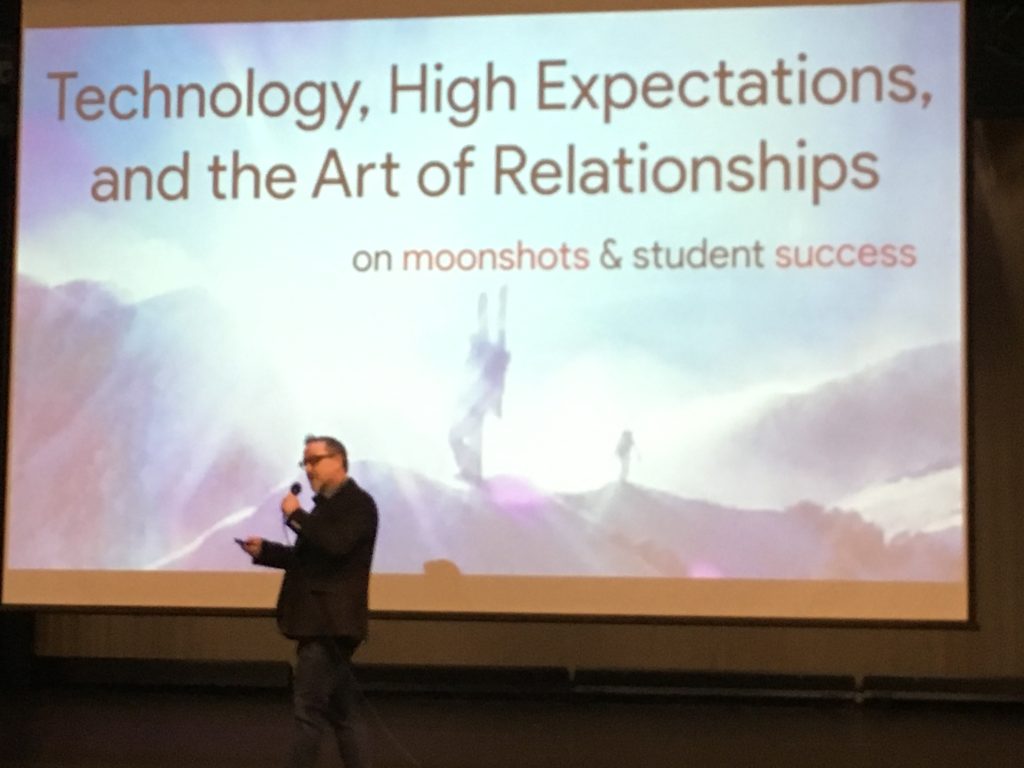 Create Accessibility: Accessible Design for Classroom Creators – If Melissa Oliver's engaging, hands-on session had been the only one I attended, it would have been well worth the drive to Roseville. As educators in a digital age, we all need an understanding of how to make content we post online – including student-created works – accessible to our readers. Visitors to our online sites, whether they be blind, deaf, colorblind, or elderly, deserve equal access to the content.
Melissa started her session with an easy accessibility first step: adding "alt text" to all images. "Alt text" is an abbreviation for "alternative text." When you add an "alt text" to an image, screen readers for the blind and visually impaired will read out your text description, thereby making your image accessible. If you are a G Suite district (AKA Google Apps for Education district), I think you'll appreciate that Google understands the importance of accessibility and has created a very helpful guide. In Google Docs and Slides, for instance, you can find the "alt text" option by selecting the image, clicking on Format, and scrolling all the way down to the last option. In Google Forms and the new Google Sites, select the image, click on the three vertical dots, select "Add alt tag," and add your description.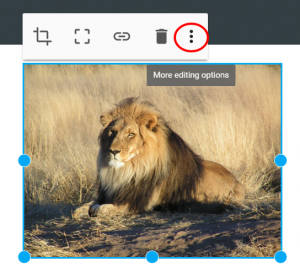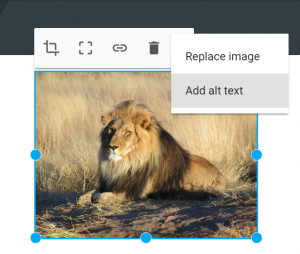 Closed captioning (CC) was the second big item on Melissa's agenda. We've been discussing this requirement recently in my district – and feeling a little overwhelmed. Given how many teachers embed or include links to videos on their websites and in digital lessons, I hope their reaction is not to delete all videos.
I am also hoping that students who are creating their own videos will not find the task of adding closed captioning too daunting. Since many teachers require a script before students start the filming process, they may already have text they can copy and paste into a closed captioning program. If not, they can use YouTube's auto-generated captions and then edit them (and the auto-generated captions will need editing, but at least it's not like starting from scratch).
In addition to three tips for closed captioning in YouTube, Melissa also shared Caption Creator for Google Drive. You will need to review and give permission to open the program first, and then select a video. What I love about this program is that as soon as you start to type in a caption, the program stops the video and waits for your next pause before continuing where you left off. Easy to use + free = a great combination! Closed captioning student video creations seem like a worthy collaborative project for parent/grandparent/community volunteers or even older students to tackle.
Given that my district was recently served notice by the Office of Civil Rights informing us that we need to make our homepage and all department and school websites (we have 66 schools) and teacher websites (tons!) accessible, my goal in attending this session was to gather useful resources and join a conversation on accessibility issues, solutions, and best practices. Mission accomplished!
Docs Confidential – I learned a few nifty tricks from Jeff Heil's Google Docs session:
How to keep other tabs open when in the presenter view of Google Slides: While in the edit view of your slideshow, click on the URL. Towards the end of the URL, where you see /edit, select and replace with present. You're good to go!

How about adding a hyperlinked table of contents (TOC) in the footer of your Google Doc? Sure, you can add a TOC at the start of a Doc, but it doesn't travel with you as you move down through pages. It's all about Bookmarks. Start by selecting the words or phrases in your document you would like to be hyperlinks in your footer; then click on Insert > Bookmark. When you've finished setting up your Bookmaks, go back to Insert and add them to your footer. Type whatever corresponding text you'd like in your footer, select it, go to Insert > Bookmark. I've just added a hyperlinked footer to my On Coming to America HyperDoc. Love it!
Exploring Google Expeditions with Cardboard – If you have any extra smartphones you no longer need, I would love to have them … to insert inside Google Cardboard … and expand on the world of virtual field trip possibilities. Jim Sill's packed session was a wonderful introduction to Google Expeditions! As we stepped into a very breathtaking 3D climb up Yosemite National Park's El Capitan, I thought about a teacher in my district who recently took his 5th graders on a virtual visit to Yosemite through a videoconference with our National Parks. The videoconference was an extension to a story the students had read about John Muir and Teddy Roosevelt. I think a teacher-led Google Expedition of Yosemite would be one more powerful way technology can open the walls of the classroom (especially in our Title 1 schools).
Revenge of the Sheets: Learn to Google Sheets the Jedi Way – This was my first time to attend one of Jesse Lubinsky's workshops. He shared a number of great tips for ramping up your Google Sheets skills. A new one for me was the Mapping Sheets add-on, a visual way to let data tell a story:
I also really appreciate Jesse's comprehension digital handout, which includes links to his various presentations. Each presentation includes links to take you into, through, and beyond a specific Google tool. Thank you!
HyperDoc Design School – This was not my first time to attend one of Lisa Highfill's incredible sessions … so I already knew to get there early because she always shares inspiring videos (she is known as the "video whisperer") before she even delves into her session. Examples: What is your hope and Seeing things differently/Perspectives.
Back to HyperDocs…As I watched Lisa create a HyperDoc* from scratch on how she might teach students the correct use of there, their, and they're,  I found my session takeaway: Google Story Builder. I've known about Story Builder for a long time, but it hadn't occurred to me what a powerful tool this could be for letting students build their writing skills.
*  "HyperDoc is a term used to describe a Google Doc that contains an innovative lesson for students- a 21st Century worksheet, but much better." From What Is a HyperDoc?
Student Agency EDU – Coming full circle, I ended my Roseville Summit weekend with Jeff Heil, this time joined by presenter/author Trevor McKenzie. They quickly had me immersed in an interesting topic: mastery vs. grades. What if we required students to reach for an A, rather then allowing them to slide by with a B, C, or D? The best way to make this shift happen is to allow students to explore topics and develop projects that they care about. But students will need some scaffolding to take them to this level/goal/expectation. I will definitely be sharing Trevor's graphics, including the one below, to make visible what the process of moving from teacher-led to student-initiated inquiry looks like: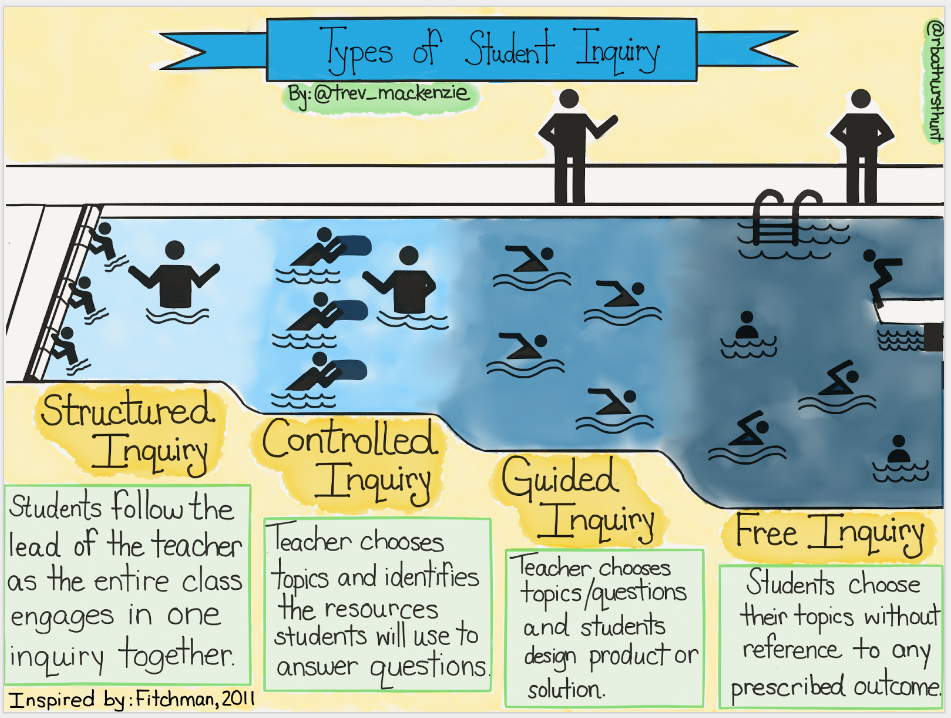 What a well-spent Saturday and Sunday! With much appreciation for all the planning, vision, and energy the stellar EdTechTeam puts into a Google Summit, I am already looking forward to the 2018 event.