As of this week, the need to "shelter in place" is now being widely practiced across districts, states, and the nation. I greatly appreciate my district superintendent, Governor Newsom, and all the organizations that took the threat of the Corona Virus seriously from the start.
Last week, colleagues within and beyond my district were seeking resources for kids to use at home for independent learning. I've started building the Resources for At-Home Learning /#RemoteLearning Google Doc for that purpose, keeping student data privacy in mind.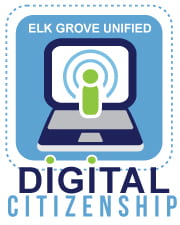 Part of my district job (technology integration specialist) is to promote best practices in digital citizenship. I have the privilege of collaborating on this responsibility with my talented colleague Kathleen Watt, who keeps our Digital Citizenship website updated, designing new graphics as needed.
As more and more organizations and companies offer students free access during this time of school closures, this post is, in part, a reminder about protecting student privacy.
We include more tips and resources on our EGUSD Student Data Privacy site, with links to Common Sense Education tips and tools and this short video (2 min 30 sec) from iKeep Safe:
Enough on privacy.
This post is also a HUGE shoutout to Common Sense Education, iKeepSafe, PBS/KVIE, and all the regional and national organizations listed on the Google Doc that have shared amazing free resources for students and their families.
If you live in the Sacramento (Calif.) region, I hope you know about the Sacramento Cable Consortium (SECC) Call to Action: Share Your Story.
If you live in California, you might enjoy taking a virtual field trip to a state park, via the California PORTS Program. Through their FaceBook page, the PORTS teams will be hosting special events three days a week (Tuesday-Thursday) you can access from home. Here's the schedule:
9 am: K-2nd grades

10 am: 3-5th grades

11 am: 6-8th grades

12 pm: 9-12 grades
If you live anywhere – inside or outside  of the United States – I encourage you to read – and then share with your children and/or students – Kelly Gallagher's Building Better Readers and Writers: CoronaVirus Unit, "an extended lesson plan designed to encourage students to capture this moment in history."
I know many of our students are enjoying some at-home time for pleasure reading. On my morning hike, I walked for a while with a mother and her children – social distancing by keeping on the other side of the trail.  One of the daughters, probably 13ish, shared that she had just finished reading a wonderful book: The Secret Life of Bees, by Sue Kidd Monk. I loved that book too and I agreed with her that the book was better than the movie.
I recommended Jerry Craft's New Kid.  Wish I had mentioned all the authors who are doing online read alouds, such as those listed on Kate Messner's site and the We Are Teachers site. I hope our paths will cross again so we can continue our book talks.
When it's finally safe to return to work, I'm pretty sure, I'll still be checking in on Wellington the penguin and rereading Lockdown, a poem written by Brother Richard Hendrick (and read by CNN's Anderson Cooper). Hope all of you are keeping safe, enjoying family time, and never taking a beautiful sunrise or sunset for granted.