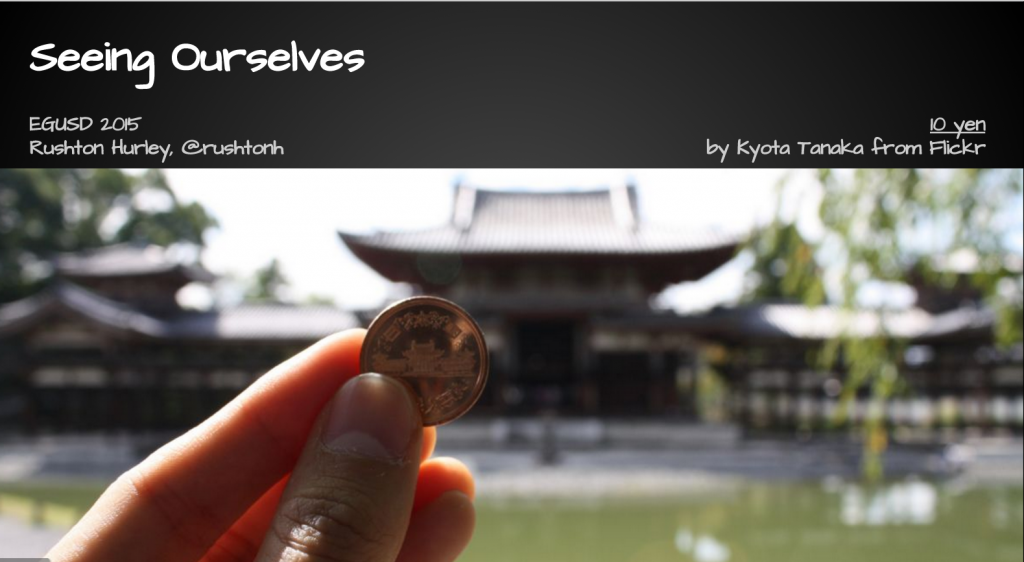 On Saturday, technology visionary Rushton Hurley blended educational insights, humor and inspiration in his opening keynote for my district's September Digital Kids, Digital Classrooms event. Rushton shared a number of thought-provoking tips during his Seeing Ourselves presentation:
How to avoid C.I.S. (Comparative Inadequacy Syndrome) by reminding yourself "The only person who you need to compare yourself to is the you who you were yesterday."

When students are supported in creating content for an authentic audience, their question changes from "Is this good enough?" to "Is this good?"

We need to change our question to students from "What do you want to be?" to "What problem do you want to solve?"
Starting with his opening keynote slide, Rushton also subtly promoted and modeled respect for intellectual property by crediting the image to photographer.
On the his second slide, Rushton made it clearer yet that he was respecting the Creative Commons licensing the photographer chose when sharing his work on Flickr.
As a huge fan of Creative Commons, I loved that a nationally/internationally known presenter, from start to finish, promoted the importance of respecting intellectual property through proper attribution.
Following his keynote, Rushton facilitated The Magic of Digital Media for Powerful and Engaging Learning workshop. Once again, he started with modeling respect for intellectual property in his opening slide..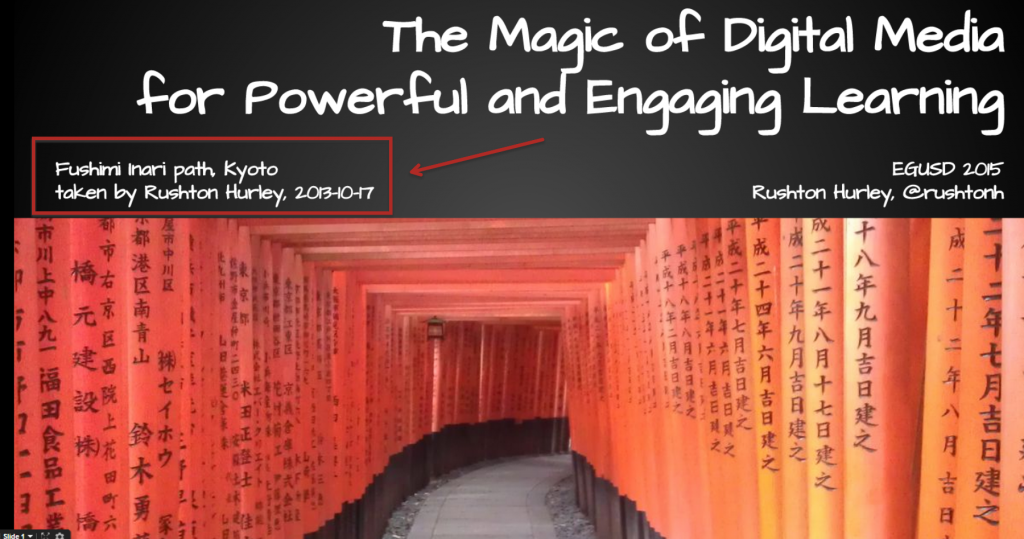 …and on his second slide …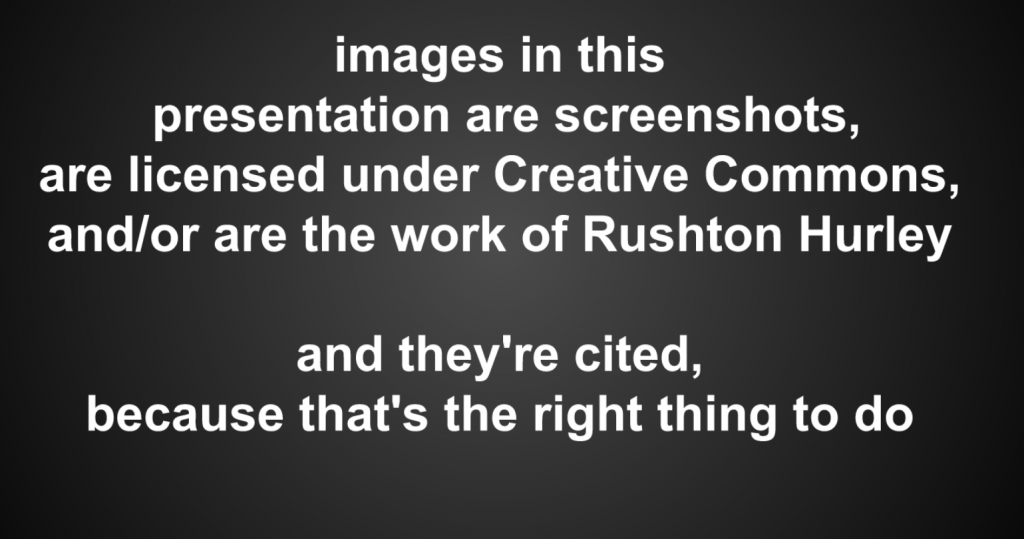 …and then moved on share the power of images via simple teaching tips (EX: start class by projecting a photo and having students team up to generate three possible explanations for the photo – or asking them to explain how the photo connects to yesterday's lesson).
Besides sharing Search Creative Commons (my favorite way to find CC licensed works), he shared several more options for finding Creative Commons licensed images.
PhotoPin – I like PhotoPin's layout, with the Creative Commons photos below a line and fee-based photos above (what Rushton referred to a "business model"). What I really like is the option to filter for "Interestingness."
Tackkr – Tackkrs helps you to create presentations in a webpage style rather than slides. Rushton explained there are 3 versions of Tackker, one of which is free and doesn't require a login. I'll have to play around a bit more with Tackkr. If the free version looks like an easy way for students to find Creative Commons licensed images, I'll add it to my Can I Use That? A Guide to Creative Commons document.
Haiku Deck – Haiku  Deck helps you build beautiful presentations. You can sign up for the free version – and it comes with Creative Commons licensed images.
Just want to say one more time, how cool is that when your keynote speaker and workshop presenter seamlessly weaves digital citizenship into his sessions?!