Five Octobers ago, I gave a Saturday workshop for our Sacramento Educational Cable Consortium (SECC) on A Case for Filmmaking in the Classroom. On October 20, I'll join SECC videographer Doug Niva at the Alliance for Community Media's Regional Conference: Merging Local Voices and Digital Technology.  Our session is on …. A Case for Filmmaking in the Classroom. This morning I visited the original 6-slide presentation to see what has changed over the past few years and what remains the same.
Slide #1 – Addressing the ethical use of the Internet – needs updating. Although students are still filming and uploading locker room and school yard fights, the "ethical use of the Internet" now has a broader title: Digital Citizenship. Five years ago schools were starting to address "Internet safety, " with "stranger danger" at the heart of new legislation.  Legal mandates have evolved over the years to CIPA's July 2012 requirement that all districts applying for e-Rate discounts must now actively be teaching students  "about appropriate online behavior, including interacting with other individuals on social networking sites and in chat rooms and cyberbullying awareness and response."
Slide #2 – Promoting critical media consumption – needs an additional resource.  The images below are from a 2007 keynote address from the National Council for Teachers of English's  Ernest Morrell, who elaborated on the NCTE's then newly released definition for literacy in the 21st century by explaining a critical need to provide students with first-hand opportunities to explore and manipulate media so that they might become as skilled in reading and interpreting images as they are with decoding traditional text.
Today, I would add to the mix Renee Hobb's research on the importance of media literacy:
"To fulfill the promise of digital citizenship, Americans must acquire multimedia communication skills that include the ability to compose messages using language, graphic design, images, and sound, and know how to use these skills to engage in the civic life of their communities. These competencies must be developed in formal educational settings, especially in K–12 and higher education, as well as informal settings. The inclusion of digital and media literacy in formal education can be a bridge across digital divides and cultural enclaves, a way to energize learners and make connections across subject areas, and a means for providing more equal opportunities in digital environments."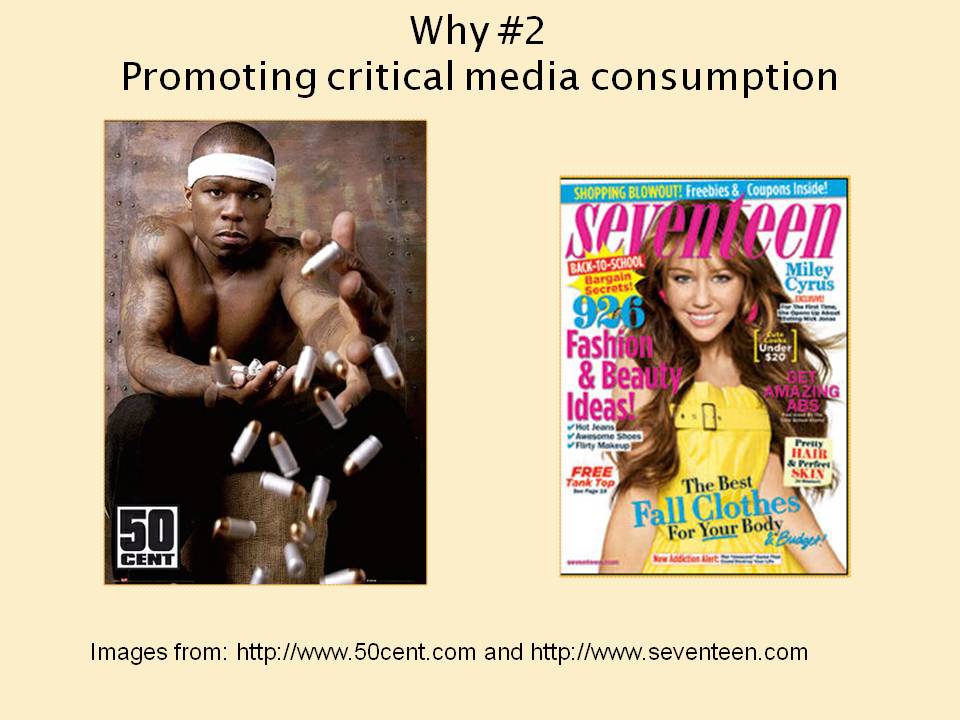 Slide #3 – Providing students with multiple ways to access the core curriculum  – I'll be leaving interviews with an elementary school SEVA film producer and a middle school SEVA film producer, who share their perspectives on how the process of filmmaking translates into learning venues. But I'll be replacing CogDogRoo's (Alan Levine) 50+ Ways to Tell a Story  with first graders explaining a math problem via video and 12th grade AP Stats students filming and editing their teacher's lectures and then uploading them a class blog to provide students, and a worldwide audience, with 24/7 access to the lesson. Wonderfully, the sample bank of student-created core curriculum content and concepts continues to grow!
Slide #4 – Supporting a collaborative learning environment – I'll be replacing reference to filmmaker Nikios Theodosaki' (The Director in the classroom: How filmmaking Inspires Learning) quote that "Filmmaking is a collaborative art, requiring dozens of passionate craftspeople to bring about a focused vision onto the screen.  Each brings with them their own experiences and insights and makes the final film richer and truer than the director originally imagined" (p 7) with Common Core Anchor Standards for Comprehension and Collaboration:
CCSS.ELA-Literacy.CCRA.SL.1 Prepare for and participate effectively in a range of conversations and collaborations with diverse partners, building on others' ideas and expressing their own clearly and persuasively."
Slide #5 – Responding to current research – Will be eliminating this slide.  Between the research of Renee Hobbs and what's gone into the Common Core in defining what students need to be career and college ready, I will have already referenced the research several times.
Slide #6 – Engaging students – I'll replace the original SEVA Awards night clip with a more recent one. The new clip shows a student stepping up to accept an award – and having to give a completely impromptu acceptance speech….a student, who within one school year "walked the red carpet" for the first time… and also moved from "Far below basic," almost passing beyond "Basic" and into "Proficient." If I were limited to one justification for filmmaking in the classroom – including Title 1 sites – it would be for the impact of taking student voices beyond the walls of the classroom. When student see their work as valued by and having an impact on a genuine audience (beyond) their teacher, they are empowered and motivated to created and share content that makes a difference.
So five years later, filmmaking in the classroom remains alive and well – with Common Core Standards supporting the argument. I rest my case.