"What you do next is what defines you." Rwandan saying
I frequently return to a blog post I wrote four years ago: Rwanda – Looking for the Good. Joining Carl Wilkens for the 2016 trip to the "land of 1000 hills" was truly life-changing. I thank Seth Altman for encapsulating the experience in a single sentence, "I may be leaving Rwanda, but Rwanda will never leave me."
Each day, as we visited sites where evil things happened during the 1994 genocide and talked with survivors, we stood back in awe of the many ways Rwandans were moving forward, willing to forgive – or confess to – unspeakable acts (often inflicted by or on their own neighbors). We also found inspiration in the stories of those few who crossed the line from bystander to upstander.
"Our family's story could have ended that Thursday night, April 7, along with the stories of so many Rwandan families who lost their lives, but we are alive today because mothers, aunts, and grandmas stood up for us. And to think they were armed only with stories." Carl Wilkens
On Tuesday, April 7, our Rwandan group, AKA Peter's Passengers  (Peter drove our van across valleys and over the hills of Rwanda), and others who had traveled with or worked with Carl, joined him for a Zoom call. April 7 is Rwanda's Day of Remembrance, the day the genocide of Hutu against Tutsi was ignited.
We began the conference with a moment of silence in commemoration.
Each day of our Rwandan journey we stood in silence at sites and monuments where so many lives had been taken or forever changed. And each one of those heart wrenching stops was followed by an opportunity to "look for the good" – from a visit to the Sweet Dreams ice cream shop (first female owned and operated business) following our morning at the Murambi Memorial…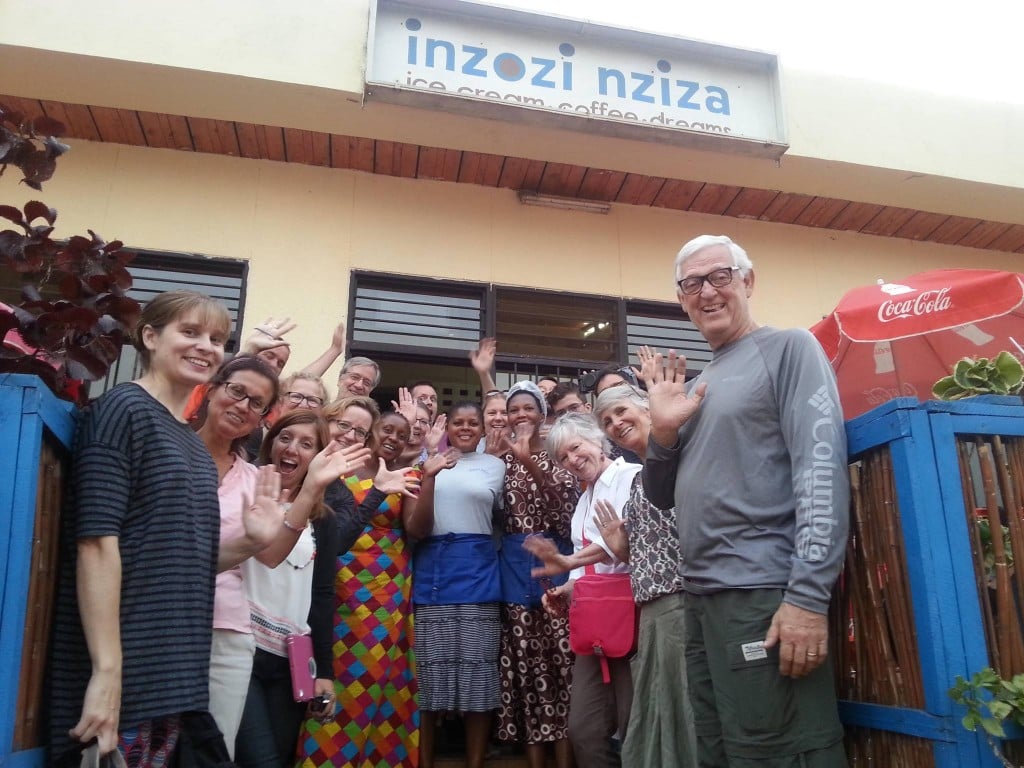 …to standing off on the side of the road and cheering on the Rwandan men's bicycling team following our morning at the Mahama Refugee Camp.
Every day, every stop, every minute, "looking for the good" was integral to our travels with Carl.
And so with our Tuesday Zoom call, our moment of silence was then followed by so many events to celebrate since our trip: marriages, parenthood (even grand parenthood), and births – including the joyful news and photos of Johnson, who survived the genocide as a young orphan, and this week celebrates the arrival of his son, Rumuri ("Light"):
To our Rwandan Family, Teresa and I send our love and Prayers as we remember the 1994 genocide against the Tutsi.. The loss of so many innocent lives has overwhelmed us at times. I want you to know that your lives, your stories have gotten me back up on my feet again and again. I have learned so much from your courage, your patience, determination, and your creativity! Your Home Grown SolutionsYou have shown me again and again what it means to not give up. And beyond not giving up you have shown what it means to love. I will never forget the day when some of you said, "It is our pain that drives us to deeper love". And I had to think about that. I had not thought about love in that way before. Love as a life raft, as a rescue boat. Practicing love, a radical love, as a way for saving ourselves from drowning. Thank you for that!Very dear friends of ours just had a beautiful baby boy in Kigali yesterday. – Such joy really stands out in this month of April , these 100 days. While his dad and I were excitedly sending messages back-and-forth on WhatsApp, I have to admit that I was also thinking that so many family members were not there to welcome this little guy – But their legacy of love and integrity is welcoming him through his mom and dad.His dad said today, "Since the arrival of Rumuri (light), everything has changed!"The legacy of Love and integrity will never be snuffed out. And that is why we remember, we remember the love and courage and the wonderful legacy of those who were needlessly killed.And in the remember must unite, unite during this pandemic and unite during this time of remembering.And the renewal comes, the renewal comes. Different time tables for different people.We must come out the other side of this pandemic renewed just like you our family in Rwanda has shown us that out of the worst experiences in life we can find renewal. Thank you for your example.Courage and blessing to each member of our Rwandan family, We love you and are holding you very very tight in our hearts!

Posted by Carl Wilkens on Tuesday, April 7, 2020
And throughout the conference, just like during the trip, our group shared words to live by whenever or wherever we find ourselves in trying or unprecedented times:
"Rwanda is a pathway to teach students about hope." Leigh-Anne DeDario Hendricks
"Don't send your anger into the next generation." Rwandan survivor at the Kigali Memorial – Shared by Megan Helberg
"Remember not only the families lost, but also their legacies." Carl Wilkens
"One evening, when we were already resting on the floor of our hut, dead tired, soup bowls in hand, a fellow prisoner rushed in and asked us to run out to the assembly grounds and see the wonderful sunset. Standing outside we saw sinister clouds glowing in the west and the whole sky alive with clouds of ever-changing shapes and colors, from steel blue to blood red. The desolate grey mud huts provided a sharp contrast, while the puddles on the muddy ground reflected the glowing sky. Then, after minutes of moving silence, one prisoner said to another, "How beautiful the world could be…" Holocaust survivor Viktor Frankl, Man's Search for Meaning – Shared by co-facilitator of the Zoom conference, Robbie Ross
"Look for the good – or create it." Carl Wilkens
What had been scheduled for a 60-minute call extended to over 90 beautiful minutes. Carl brought the call to a close with an invitation to virtually join the group conversations every week till the corona virus has been conquered.
One of the Zoom participants reminded us that "Rwanda survived the genocide; it will survive the pandemic."
And so will we.
Stay well. Stay safe. "Look for the good – and create it."