Resilience: an ability to recover from or adjust easily to misfortune or change. Merriam Webster 2020
Although I like the conciseness of Merriam Webster's definition of resilience, I believe resilience often includes the ability to recover from more than misfortune. In the case of genocide, for instance, resilience requires the ability to recover from not only bad luck and an unhappy situation, but also the unthinkable, the unspeakable.
Two stories that meet my evolving definition of resilience stem from two separate events: the Holocaust and the Rwandan genocide (which happened just 26 years ago, with nearly 1,000,000 people murdered over the course of 100 days).
The stories of Irving Roth and Carl Wilkens go beyond dealing with misfortune and adjusting easily.
The Holocaust
I first met Irving Roth in 2008, when I traveled to New York City to participate in the TOLI (The Olga Lengyel Institute of Holocaust Studies and Human Rights) Summer Institute. Over the course of two weeks, we (25 teachers) joined Holocaust survivors and scholars to think creatively and collaboratively about how to teach the Holocaust, genocide, and social justice issues.
Irving joined us at Olga's table on Day 2 of the Institute. As he shared memories from his childhood, his experiences in Auschwitz, a "death march," and his last days in Buchenwald, I wondered how did he do it? How did he survive unthinkable, unspeakable events and still find the strength, will, and even humor to move on and build a new life in America? Each time I listen to his interview, I stand in awe of Irving's unwavering resilience. (Click on the image below to access Irving's interview.)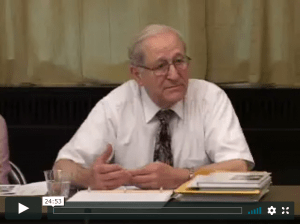 Last week, I connected again with Irving, this time via a Zoom call, three days after his 90th birthday. Yes, he continues to redefine resilience, ending the session with a call to action. #NeverForget #NeverAgain.
Rwanda
The summer of 2016, I joined humanitarian Carl Wilkens on a life-changing trip to Rwanda. Carl was the only American to remain in Rwanda during the 1994 genocide. As we traveled across the country, visiting key sites and memorials and meeting with genocide survivors, we marveled at Rwandans' ability to forgive and to rebuild their neighborhoods, communities, and country. We saw resilience redefined and at the forefront of everyday actions as such as village members coming together on a Saturday morning to work on a community project (gacaca) or the Rwandan men's cycling team in training for upcoming competitions:
Thanks to Zoom, I'm able to reconnect with Carl and our fellow travelers for a weekly call. We are currently watching Ghosts of Rwanda as part of a collaborative discussion.
The film provides a timeline and a window into the genocide – including the role Carl played, remaining behind to help in any way he could, while the rest of the world turned a blind eye.
During our trip, we had the good fortune to have Johnson with us. Each day Johnson helped us step back in time to 1994, when as a 9-year old, he witnessed what no child should: the brutal murder of his mother and baby sister, slain by soldiers bearing machetes, as Johnson hid behind nearby bushes.
Thanks to the Gisimba Orphanage and a courageous act by Carl, Johnson survived the genocide, went on to complete his secondary schooling, as well as college, with a year spent at Texas Christian University. He now works for the Rwandan government, has married, and recently became a father.
Resilience
Like Irving Roth, Johnson and Carl do not define their lives based on the past (the unthinkable, the unspeakable), but rather on their ability to look to the future and to look for the good – and create it.
Drawing from their stories, I define resilience as: an ability to recover, over time, from misfortune, including the unthinkable/the unspeakable, by remembering and learning from the past while looking to and working towards the future.
#NeverAgain #NeverForget #Look4theGood #resilience
"Moving on is to forget; moving forward is to learn from." Pastor Seraya, Rwanda 2016