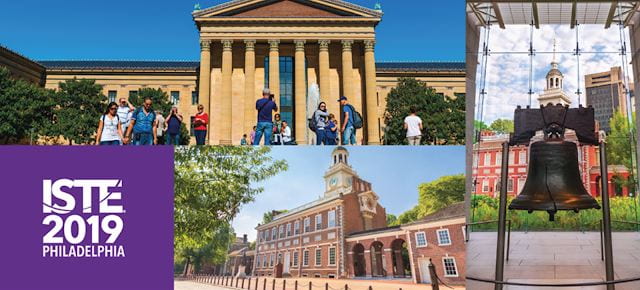 Oh my, #ISTE19, so many great sessions, presenters, and takeaways! Due to a fractured right hand (the result of a bike accident in Holland), my notes are a little sketchy, but, hopefully, will provide you with a window into this year's amazing annual technology conference for educators.
Day 1 (Sunday)
Listen to This! Tech Tools for Listening/Speaking – Katherine Goyote: This year, a conference priority was to bring back resources and tips for boosting students' speaking and listening skills (which are now included in my district's new elementary report card). Katherine's session was outstanding and her presentation is one of my top takeaways.
Did you know that, via your device's microphone, you can now enable closed captioning while presenting with Google Slides? What a powerful option, not only for hearing impaired students, but also for our ELs.
Throughout the session, Katherine stressed the importance of listening as an active activity and that listening must be purposeful, with opportunities to interact. She encouraged us to explore speaking and listening tools such as Screencastify and resources like Eric Palmer: PVLEGS. How about a YouTube video to illustrate what active listening does NOT look like:
Be sure to checkout Katherine's blog: WonderExploreLearn.
B.Y.O. Digital Citizenship: Hands-On Pathways to Drive Change – It was a privilege to join Dr. Mike Ribble (author, ISTE DigCit PLN), Dr. Marty Park (Chief Digital Officer, Kentucky Dept.of Ed.), Dr. Kerri Stubbs (BrainPop), Mike Jones (Illinois State University- Lab School), and students from Kentucky's Bourbon High School for this dynamic panel discussion on digital citizenship resources. What a great audience we had, including teachers from Mexico City and Guadalajara.
My big takeaway was Kentucky's Digital Driver's License program. Thanks to Marty Parks' vision, teachers and students in Kentucky school districts need to complete the DDL requirements before signing out a school laptop. The goal is for students and staff to move from digital literacy to digital fluency. I'm excited to learn more about the collaborative efforts of Marty and Mike Ribble to seamlessly integrate digital citizenship into the school day and subject areas.
Beyond the Slideshow: Unleashing Student Creativity With Google Slides – Eric Curts: I've been a long-time fan of Eric Curts. His generosity in sharing and posting technology tips and resources is much appreciated by a broad national audience (34.4K followers on Twitter). Eric's session slideshow is the most complete walk thru of Google Slides I've ever seen. Did you know Google has recently made it easier to embed audio in a slide? Yay!
When are Facts Not Facts? Media Literacy in 2019 – Susan Brooks-Young: Susan's ISTE 2018 session on media literacy was one of my favorites, so I hurried across the convention center to join her 2019 session. Although she did not share her slideshow, here's the link to her resources. Just added CBC Deep Fakes Explained Video to my #MediaLiteracy bookmarks.
Day 2 (Monday)
Creative Storytelling With Adobe Spark – Claudio Zavala: I became an instant fan of Adobe Spark earlier this year when I realized this free, high-quality Adobe presentation product automatically attached Creative Commons licensing to any images inserted from their Unsplash/Pixabay/Noun Project collections. Claudio Zavala, logically and stunningly, used Adobe Spark for his session presentation. He is a wonderful presenter and is right up there with Eric Curts in sharing and posting resources and tutorials on his website. Here is the link to his Adobe Spark tutorials playlist.
Becoming an Awesome Digital Citizenship Leader – Dr. Mike Ribble and Dr. Marty Park: The link to Mike and Mark's presentation will give you an idea of the scope and sequence of their session and their combined wealth of knowledge and resources. I'm looking forward to conversations back in my district on how to promote #DigCit leadership at our school sites. Kathleen Watt (co-director of our #DigCit program) and I are hoping that by opening our Digital Citizenship workshops to faculty and staff (not just our site coordinators), we will leave no grown ups behind in understanding and tapping into what it means to be a contributing citizen in a digital age.
Digital Citizenship: 3 educators, 2 frameworks, 1 shared vision – Dr. LeeAnn Lindsey, Dr. Kristen Mattson, Nancy Watson: Loved having three of my major #DigCit role models presenting together, with each posting a page of great resources. I recommend starting with Nancy's Everyday DigCit App: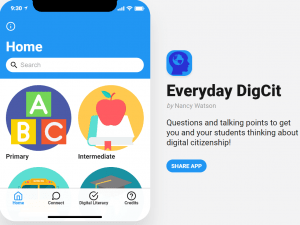 An important session takeaway: Social Emotional Learning (SEL) and #DigCit should go hand-in-hand across the school day.
"Not all adults in our students' lives are positive #digcit role models. We can be that role model." Nancy Watson
Real or Fake? Strategies for Truth Finding – Dean Shareski: Although Dean did not share his presentation, the websites he shared for teaching media literacy were some of my best #ISTE19 takeaways:
Monday Night Highlight: National Writing Project Reunion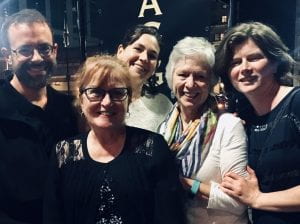 A wonderful #ISTE19 memory: An after dinner walk with Troy Hicks, Sandy Hayes, Erin Wilkey Oh, me, and Christina Cantrill = 13 years of a shared #NWP digital writing learning journey.
Day 3 (Tuesday)
Going Rogue With Microsoft — Complete With Tips and Tricks – Leslie Fisher: I'm excited about the multiple ways MS Office 360's new tools take Word, Excel, and PowerPoint to new levels for accessibility, creating, and presenting. Thank you, Leslie, for sharing your session presentation.
I recommend clicking on every single one of Leslie's hyperlinks for insights into extending teaching and learning via MS Office 360, starting with the immersive reader tools for Word and the Presenter Coach in PowerPoint:
Beyond SAMR: 6 Design Questions for Empowered Teaching and Learning – Alan November: Over the past 10 years, I've had the privilege of hearing Alan November present at a number of conferences…and every time I leave with new takeaways:
Bing VS. Google – Just a reminder not to limit searches to Google. Try using http://bvsg.org/ to see Bing and Google search results side-by-side.
MathTrain.TV – Students teaching students has always been the most powerful model for learning. "The evidence is overwhelming that students will watch student-created videos over & over."
PRISM – "Prism was created by novice student developers in the Praxis Program. Prism is a tool for "crowd sourcing interpretation. Users are invited to provide an interpretation of a text by highlighting words according to different categories, or 'facets.'Each individual interpretation then contributes to the generation of a visualization which demonstrates the combined interpretation of all the users. We envision Prism as a tool for both pedagogical use and scholarly exploration, revealing patterns that exist in the subjective experience of reading a text."
Common Sense Education #ISTE19 Booth – As a Common Sense Ambassador and long-time fan of the innovative, continually updated ways Common Sense "supports K-12 schools with free, timely, research-based tools that take the guesswork out of teaching in the digital age," I loved joining the team in the vendor's hall for a couple of hours to meet and greet the many educators who stopped by to learn more about Common Sense resources or who just wanted to thank this dynamic organization for its on-going commitment to supporting digital citizenship and media literacy education.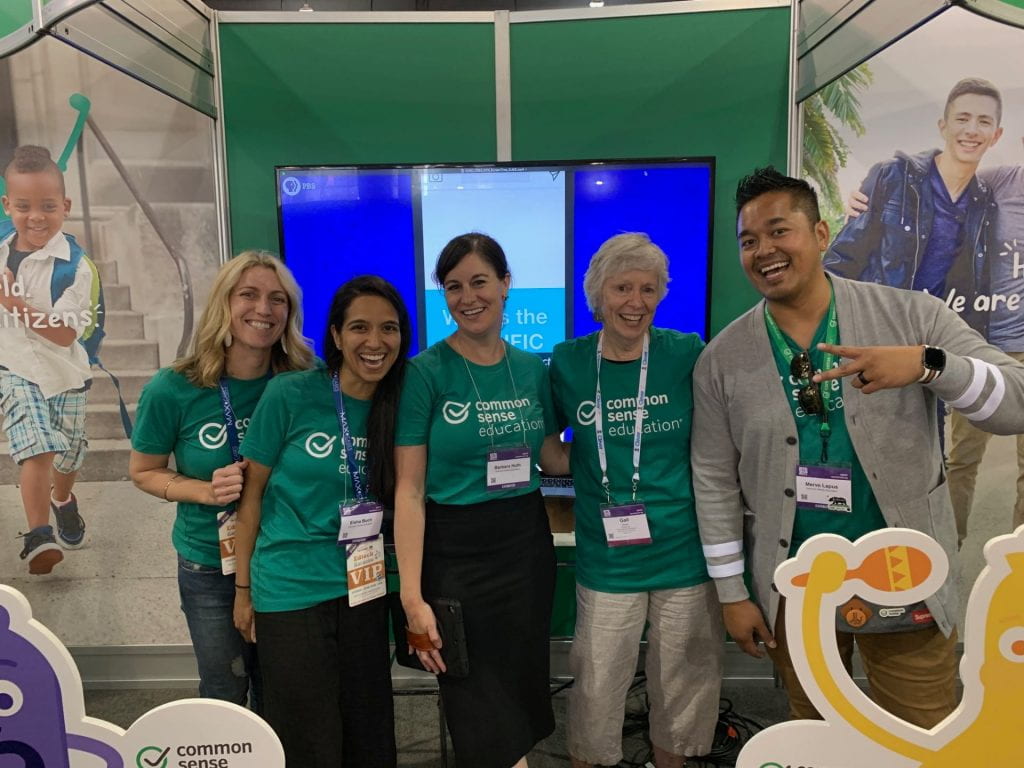 Day 4 (Wednesday)
Hey Google … Take Me on a Trip – Tricia Louis: I loved this session. Tricia Louis delivered on her program description: "Explore tools that focus on how to use maps and other geographical-based information in any content area. Tools that will be shared will be Google MyMaps, Google Tour Builder, Google Earth, Google Tour Creator/Poly, Google Story Speaker and GeoGussr."
Over the past few years, I've dabbled a bit with most of these tools, but Tricia's beautiful presentation is the motivation I need to revisit some of my travel posts, such as Holland with Hannie, and transform them into interactive explorations.
Conscientious Creativity: Where Creation and Copyright Intersect – Dr. Monica Burns, Kerry Gallagher, Kristina Ishmael, Lynn Kleinmeyer: Copyright and fair use are topics I teach and follow with great interest, always on the lookout for new resources and insights. I've been sharing Kerry Gallagher's Educator's Guide to Creativity and Copyright in my workshops, so it was fun to hear her present this resource. And I've become a big fan of Monica Burn's work with Adobe Spark – a free program for teachers and school districts that automatically includes Creative Commons licensing with any images uploaded from their collections (drawn from Unsplash, Pixabay, and the Noun Project) – a built in digital citizenship lesson.
Besides the infused humor, pace, and inter-activeness of their presentation, I loved the simplicity and design of their session slideshow.
ISTE Author Spotlight: Fighting Fake News: Teaching Media Literacy in the Digital Age – Darren Hudgins: I ran across 3 buildings to catch the last few minutes of Darren Hudgins' ISTE Authors Spotlight session. I left this last #ISTE19 session not only with an autographed copy of Fact VS. Fiction: Teaching Critical thinking in the Age of Fake News but also with a copy of the Fighting Fake News Jump Start Guide. (Note to Self: Find funding to purchase the Jump Start Guide as a give-away for upcoming Media Literacy workshops.)
---
Thank you to the ISTE Team and all who presented and generously shared  insights and resources – and especially to Sandy Hayes and my @WritingProject colleagues – for making #ISTE19 an unforgettable learning experience. Philadelphia, I miss you already.