I really like the way the CTAP4 folks have organized resources for learning about and teaching all aspects of digital citizenship. They've included links to PowerPoints, workshop wikis, and even this wonderful poster. I think much of the credit for this valuable website goes to at&t's Linda Uhrenholt.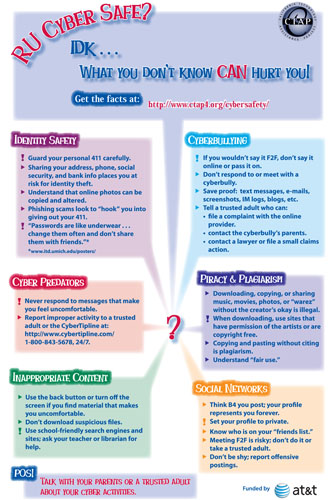 I also appreciate Doug Johnson's sharing his Cyberbullying and How to Avoid It student guide and poster – and Nancy Willard's willingness to allow him to incorporate information from her website.  Doug will send the Word version to educators wanting to adapt the guide to meet their school or district's guidelines.
And for our elementary students, I like McGruff's Shrink the Cyberbully activity.
OK, in appreciation of all who are contributing resources to promote digital citizenship, I have one to give.  Many of the teachers and administrators attending my iSafety workshop ask for additional explanations of some the terminology that comes with Web 2.0.  I've been working with our district webmaster, who co-teaches the iSafety workshop, on developing a Cyberspace Glossary.  I can send the Word version to anyone who wants to tailor it for their own site.