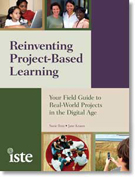 How do we justify project-based learning (PBL) in a test-driven climate? I'm sitting in a session with Jane Krauss and Sylvia Martinez, who are discussing the reality that you have to make some adjustments to your curriculum in order to fit PBL into your curriculum. Fact: Thinking takes longer than multiple choice. Fact: "PowerPoint does not a project make" (Jane).
So how do you translate authentic assessment to measurable numbers? "You can do it; it just takes a little longer" (Sylvia). But since we tend to teach the way we were taught, how to we change our ways? Idea: have a tech-using, PBL-oriented teacher come demo a lesson using another teacher's students – with that teacher in the room as an observer – who will no longer be able to say "Oh, my students could never do that." This model = "embedded professional development."
How do we provide the evidence (research)? Start blogging your classroom practice. Blogging = self-reflection and … action research.