Last night I joined students, parents, and teachers as we filled the Crest Theater in downtown Sacramento for the 2009 SEVAs (Student Educational Video Awards). For the third year in a row, I sat back in complete awe of the video projects K-12 students have produced under the four categories of PSAs, documentaries, instructional, and school news.
It has been my privilege this year to support a number of teachers through my EETT grant in their efforts to bring filmmaking into the 4th grade curriculum.  In a test-driven climate, many teachers and administrators view filmmaking as an after-school activity or when-testing-is-over activity.  I think if they could sit in on a session or two, they would see that, unlike the daily worksheets, as students delve into their projects, a major shift happens.  They typ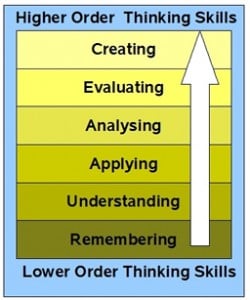 ically begin a project with the idea of "completing an assignment." And then the shift happens: they see themselves as producers of content that others could benefit from.  They have – with much enthusiasm and pride – ascended to the top level of Bloom's Taxonomy (as revised in 2001 by Anderson and Krothwahl).
Over the next few weeks, I'll be gathering interview clips from the EETT SEVA teachers and their students to document their journeys into filmmaking. My goal is to write an article, modeled after my NWP colleague and mentor Peter Kittle's multimedia style, that teachers can use as a resource and/or argument for justifying "time spent away from test prep."
But back to last night's event.  In a word – magical. What about the digital divide?  Were Title 1 schools able to compete with their more affluent counterparts? Yes!! Some differences were visible, though. The Title 1 projects, for instance, were filmed on site, not at home using personally owned video equipment. And unlike their more affluent counterparts, many whom arrived in shorts, jeans, tee-shirts, flip-flops and other casual attire, the Title 1 students were dressed to the nines.
The six young filmmakers who sat with me (driven to the theater by their amazing principal) were without words for much of the evening, starting with their walk down the red carpet. Only one had the courage to speak into the microphone as various "paparazzi" attempted to interview them. They filed into their seats, where they sat mesmerized by the work and acceptance speeches of other students. But when the PSA finalists for grades 4-6 were announced, and they saw footage from their Blog Safely video, and were then asked to come on stage to accept an Honorable Mention Award, each one stepped up to the mic and into the blinding light to give thanks for those that had helped them on their journey to walk the red carpet.
A Case for Filmmaking in the Classroom …who could argue against it?!?
Note: Bloom's image copies from http://www.techlearning.com/article/8670