I spent Day 1 of Educon 2.2 at Philadelphia's Science Leadership Academy visiting classrooms, chatting with students and staff, and pretty much standing back in awe of what teaching and learning look like when a school site believes that:
Our schools must be inquiry-driven, thoughtful and empowering for all members
Our schools must be about co-creating – together with our students – the 21st Century Citizen
Technology must serve pedagogy, not the other way around
Technology must enable students to research, create, communicate and collaborate
Learning can – and must – be networked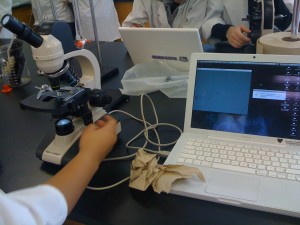 In every classroom, it was clear that students were maximizing the school's 1×1 laptop
program.  In the chemistry class on the left, for instance, students were working on creating a movie series about their microscopic findings. In Mr. Kay's  English class,  students delved into a thought-provoking discussion about the impact of the environment on the actions of four characters in Octavia Butler's novel Kindred, drawing from their online journals when they needed time to clarify their own thinking.
From the moment I entered SLA and throughout the day, I could feel the positive energy generated by students' taking ownership of their own learning. But I'll let SLA student Matthew tell you why he values his SLA education.
Looking for examples of what's working in public education? Spend a day at SLA.