A huge shout out to Microsoft Silicon Valley, the Santa Clara County Office of Education, and Project Cornerstone for sponsoring the FREE May 30 digital citizenship summit! And thank you to abc's David Louie for including the event in the news clip below:

 Anne Collier, Co-Director of ConnectSafely, opened the event with an excellent keynote that included such gems as:
We have no data on what really works in teaching digital citizenship. (I'm hoping this will not be the case for much longer.)
Digital citizenship is a verb; you have to practice it. Districts need to stop building fences to block social media.

Citizenship experiment – NetFamilyNews.org (also one of Anne's organizations) – The pillars of digital citizenship (infrastructure, practice, guidance, agency) require practice – online practice. More schools need to allow social media use in school day – combining digital citizenship and literacy is a connected way. Kids need digital environments/spaces to practice: interaction, problem solving, etc.

The Digital Citizenship Minute – Inspiring blog post by 5th grade teacher Marti Weston, via Teaching  Tolerance.
Compassion Research Day – An annual January event sponsored by Facebook and Greater Good Science Center. Facebook will also be working with ADL on women's issues
We need to focus more on self-protection, resilience – we need to showcase more on good things happening with kids.
Panel Discussion – With David Louie moderating, Anne Collier was joined by Microsoft's Jacqueline Beauchere, FOSI's Jennifer Hanley,  and Sunnyvale PD's Public Safety Offcier Holly Lawrence.
All panelists agreed that the one trend that needs to be addressed with youth and adults is the over-sharing of information.
Stop, think & connect as adults – don't over react to an incident – think it out with youth, non-confrontationally,

Anonymity –  We need to address the disconnect between responsibility & accountability
Breakout Session 1 – I'm very glad I attended Project Tomorrow's Julie Evan's session on Speak Up 2012 National Results: The Student Vision for Digital Learning. A big take-away was the invitation to districts to participate in the 2013 surveys, with sections for K-12 students, teachers, librarians, principals, district administrators, technology leaders, parents, business partners, and community members. What a great way for districts to gain insights from students and all stakeholders about the role of technology for learning in and out of school!
Breakout Session 2 – I've been a fan of Kelly Calhoun since she was the technology director for the Folsom-Cordova School District (my neck of the woods). So it's no surprise that she's gone on to do great things as the Chief Technology Officer & Assistant Superintendent for the Santa Clara County Office of Education. Kelly teamed with her SCCOE colleague (and Google Certified Teacher) Elizabeth Calhoon for their ONtheLINE: The California 21st Century District Initiative session.
With the goal of "making navigation through the complex issues surrounding technology in education SIMPLER for districts and county offices of education," anyone who deals with technology-related policies at any level will want to learn about – and then discuss with colleagues – this important, ever-changing topic. Besides regularly visiting the website, I recommend starting with the video presentation of her session (linked below). Such a simple, brilliant approach to creating/revising Internet use policies!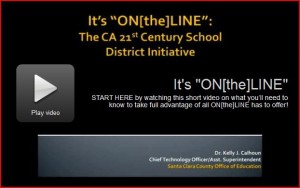 I'm already looking forward to next year's Digital Citizenship Summit. Thank you again to all who helped make this event a reality.