The October issue of entrsekt, ISTE's quarterly journal, immediately caught my attention – with the cover boldly featuring Jennifer Snelling's "A Culture of Civility: The New Tenets of Connecting in the Digital Age."
In a highly contentious election-year atmosphere, I really appreciate having at my fingertips the research, examples, and reminder that "Civility and citizenship come from understanding alternate viewpoints and being able to have conversations and respectful debates." 
When ISTE released the 2016 Standards, I was delighted to see Digital Citizenship as an integral component. In reading "A Culture of Civility," I was struck by the connection between Digital Citizen and Global Collaborator, and how both standards promote "vital skills to empower students to thrive in an uncertain future."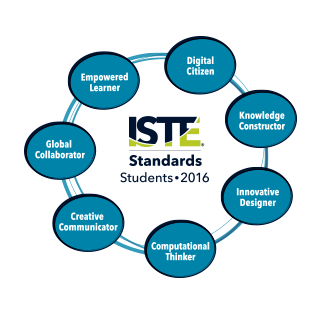 In my day job, I serve on a district committee tasked with making sure teachers have access to a wealth of high-quality resources, such as Common Sense Media, for teaching and modeling digital citizenship skills with their students. Initially the topic tended to be taught in isolation, as part of an homeroom advisory period or in a computer class, for instance – too often without providing students with opportunities to put their digital citizenship skill set into practice. The arrival of Chromebooks and Google Apps for Education has thankfully brought technology integration into the core curriculum – along with the need to make sure all students are firmly grounded in what it means to be a positive, contributing digital/global citizen.
One of the many note-worthy quotes from Snelling's article is from psychiatrist Dr. Helen Riess, who stresses the importance of developing listening skills, a first step in building empathy:
As soon as there is a culture of disrespect for opposing opinions, we lose the art of not only listening but also of compromise and negotiation, and that's what's contributing to this polarized society."
In response to Dr. Riess's concern, I'd like to share that, occasionally, when visiting classrooms in my district, I enter just as a student has apparently posted something inappropriate online. Instead of taking away the Chromebook, I love how teachers are tapping into technology misuse incidents as teachable moments on how to respectfully disagree. It is inspiring to watch students come to understand that being proficient in the genre of commenting is a non-negotiable, must-have skill for the digital age.
I am bundling the "Culture of Civility" article (which does require an ISTE membership in order to access) with two of my favorite digital citizenship resources on teaching the art of commenting as a genre:
From Linda Yollis's 3rd graders: How to Write a Quality Comment
With interactive technology tools such as Google Docs, blogs, wikis, and videoconferencing making it so easy to take student voices beyond the classroom, creating a culture of civility is an essential step in empowering students to listen to and learn from a mix of shared and alternate viewpoints.
If you have resources to add to the topic and conversation of promoting a culture of civility, I warmly invite you to share them by leaving a comment.