I loved Saturday, January 21, 2017! Thanks to two events in the Sacramento region, I think I've stepped out of my post-election slump.
Event #1: EdCamp121 – Thank you CapCUE and Folsom High School for hosting Saturday's EdCamp.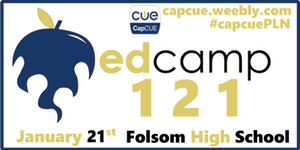 From the moment I entered the multipurpose room, I could feel the combined energy of the awesome CapCUE team and the group of attending educators from across the Sacramento region, all looking forward to a day of sharing and learning about ways to enhance student learning and engagement through technology and best practices.
So if the EdCamp concept is new to you, here's how it works:
Participants start the morning by jotting down whatever they would like to learn about on a post-it note and then posting their notes on a wall.
The CapCUE team then sorts through the post-its and assigns the most requested topics to  designated classrooms.
The day's program is then shared on a Google Doc. Here's a link to Saturday's EdCamp program.
Participants head off to whatever sessions best suit their interests. Although there will be a room facilitator, there is not a main presenter. All are invited to share their knowledge and/or ask questions about the topic or tool.
EdCamp Session 1 – I joined a group of teachers interested in discussing ways to use blogging and podcasting to promote student voice. Typical of EdCamp sessions, our group consisted of several teachers already very proficient with and excited about blogging tools, a number who had just started dabbling with blogs, and several who had not yet started their blogging journeys. All were also interested in learning more about podcasting with students.
As a long-time blogger, I really enjoyed being part of this conversation and was able to share a few resources on the Padlet site (which the CapCUE team had set up for each session as an easy way for participants to share resources).
As for the podcasting component, although I'm familiar with several audio recording and editing tools, such as Audacity, I haven't used any of the growing number of programs/apps you can download to your phone. We were lucky to have Ryan O'Donnell join the session. Ryan and the equally awesome Brian Briggs produce the Check This Out with Ryan and Brian podcasts. Here are some of Ryan's recommendations for podcasting apps:
Blogging and podcasting … oh the possibilities!
EdCamp Session 2 – I joined the Virtual Reality group. With the dynamic duo of Brian Briggs and Ryan O'Donnell as room facilitators, this session was mind-blowing! Be sure to visit the session Padlet to learn about the apps that were shared.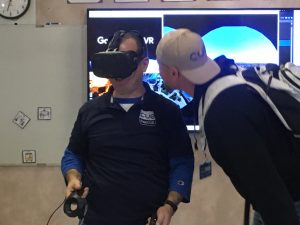 I started dabbling a bit with virtual reality (VR) at the previous weekend's EdTechTeam Summit by attending Jim Sill's session on Google Cardboard Expeditions. So I was excited to learn about even more VR options. My plan is to little by little explore each of the sites and resources posted to the session Padlet. But, really, if I never venture further than Expeditions, I could already open the walls of the classroom exponentially.
A few months ago, Larry Ferlazzo asked me to contribute to an EdWeek article on how to prepare students for field trips. I recommended that teachers incorporate videoconferencing in preparation for, or as follow up to, or even (due to school budget constraints) instead of a real time field trip. From the California State Parks PORTS program to NASA's videoconferencing options, students can easily take virtual field trips to national and even international sites. No more permission slips, paying for transportation, hoping it won't rain, etc.
But if I could rewrite my article for Larry, I would be adding VR as a powerful follow-up to videoconferencing.  I've been thinking about a teacher in my district who recently took his 5th graders on a virtual visit to Yosemite through a videoconference with our National Parks. The videoconference was an extension to a story the students had read about John Muir and Teddy Roosevelt. I think a teacher-led Google Expedition of Yosemite would be one more powerful way technology can open the walls of the classroom (especially in our Title 1 schools).
Thank you again, EdCamp Team, for an engaging, energizing morning. I apologize for not being able to stay for the afternoon – especially since you included a delicious lunch from Olive Garden as part of this FREE event – but I needed to get to downtown Sacramento for the 2nd event of my unforgettable Saturday ….

Event #2 – Sacramento #WomensMarch – It will be a long time to come before I forget Sacramento's #WomensMarch. To join 20,000 other marchers for this uplifting, unifying, inspiring event filled me with hope and a renewed commitment to hold our nation's leaders accountable for their words and actions.
Start to finish, I am grateful for every minute of January 21 and appreciate all who added to the day's events in so many ways. It's a substantial list of shared ideas, innovative thinking, and hopes and dreams for the future of our schools, communities, and nation.