I can't think of a better place to be in mid-March than Palm Springs – attending the CUE 2018 National Conference, spending three jam-packed days of connecting, learning, sharing with hundreds of educators from across the nation.
Now the challenge to is condense the experience into a short blog post by focusing on my top takeaways, which I've listed below:
Designing for Accessibility with G Suite and Google Chrome – Adina Sullivan has curated and shared a wonderful collection of resources. If your district, like mine, has been served with a letter from the Office of Civil Rights regarding the need to make all district websites and online materials accessible to all readers, I recommend you spend some time going through Adina's slides, starting with the No Coffee app. Given the wide range and degree of visual impairments, this app gives you an idea of what it must be like to have a number of common visual challenges. The YouTube video below is a great introduction to the app:
Through Your Child's Eyes, another powerful app, offers parents and educators an opportunity to step into a number of learning challenges:
"It's one thing to read about learning and attention issues. It's another thing to see them through your child's eyes. Experience firsthand how frustrating it is when your hand won't write what your brain is telling it to. Or how hard it is to complete a simple task when you have trouble focusing. Use these unique simulations and videos to better understand your child's world."
In addition to apps, extensions, and websites for experiencing and learning about accessibility issues, Adina also includes tips for making your own online creations more accessible to all your students. From using heading levels, to labeling all images via "alt text," to left alignment instead of justified, Adina's resources are a treasure trove. Her presentation was also a reminder that those OCR letters are driving much-needed positive changes in the process of making learning more accessible to all students.
---
Hyperdocs + YouTube – Learning the Art of Creating, Packaging, and Delivering Digital Lessons – If you have not followed Lisa Highfill or attended one of her sessions, you might not know that she is known as the "video whisperer." Whatever topic you are wanting to introduce to students via a video, Lisa will leave you thinking about how to pair videos with books and lesson components that will spark exploration, inquiry, and creating projects that matter.
Just have to share a few samples from Lisa's presentation so that you have an idea of the amazing span of videos she curates on her Highfill Crew YouTube channel (and you will want to pour a class of your favorite beverage before you head down this rabbit hole:-):
Lisa is also credited with creating the term hyperdoc. Be sure to checkout the growing bank of hyperdoc lessons. Her tip on ramping up your lessons by including videos: "Find it – Playlist it – Pair it – Package it!"
---
Thinking Critically About Fake News – Rob Appel's media literacy session was awesome not only for the thought-provoking questions raised but also for the great conversations shared by participants, starting with the first "turn and talk," sparked by a quote from the New York Times publisher, A. G. Sulzberger:
"There was a reason freedom of speech and freedom of the press were placed first among our essential rights. Our founders understood that the free exchange of ideas and the ability to hold power to account were prerequisites for a successful democracy.

Misinformation is rising and trust in the media is declining as technology platforms elevate clickbait, rumor and propaganda…jeopardizing even the foundational assumption of common truths, the stuff that binds a society together."
Rob and I have started collaborating on our media literacy presentations. One switch I will be making to mine is rather than talking about Stanford's recent study, I'll play the NPR's interview with Professor Sam Wineburg.
I'm looking forward to upcoming opportunities to co-present with Rob on this rapidly exploding topic of media literacy!
---
Much Better Staff and Team Meetings – Rushton Hurley has been a long-time, big-time mentor to me on the meaningful integration of technology into classroom practices. What a great session topic because who doesn't wish for better, shorter staff and team meetings?! These three easy tips could make all the difference in attitudes and making every minute count:
Tip #1: Prep staff for meetings by encouraging everyone to share ahead of time, or anytime, cool things happening at your school. Keep in mind that not every teacher is comfortable broadcasting a great lesson they created and taught – but you can jump in for them and share about their work. Google Forms is a perfect tool for acknowledging and promoting ideas and accomplishments and jump-starting conversations at your next meeting.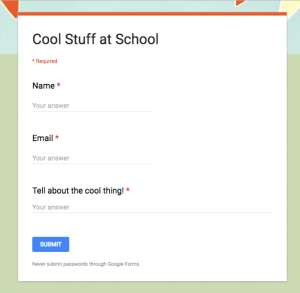 Tip #2 – Start with a great video –
"Videos that speak to the heart get people past the little things they sometimes bring to staff meetings."
Checkout sites like https://amplifiededu.com/video-of-the-week/ or https://www.youtube.com/user/highfillcrew or Rushton's NextVista for Learning to find videos with an emotional pitch.
Tip #3 – Build an exploratory culture by including time for teachers to delve into new resources and strategies. "Time is a message. How you choose people to use time, sends a message."
I left Rushton's session actually looking forward to planning an upcoming staff meeting. 🙂
---
11 Ways to Add Media Literacy Mojo to Your Classroom – This CUE session was my first time to meet professor and author Julie Smith. And I completely lucked out … I was the first to arrive at her session, so I went up to the podium and introduced myself … and walked away with a complimentary, autographed copy of her book Master the Media. If you wade through her extensive CUE slideshow, I think you too will want a copy of her book. The book is only 160 pages, but includes sets of QR codes to expand your media literacy skills and toolkit.
I agree with fellow participant and sketchnote creator Kristin Welch, Julie's Media Literacy Mojo was an "eye-opening, engaging session."
---
Thank you to these amazing presenters. And thank you to the CUE team for the tremendous effort and commitment you put into making #CUE18 a fantastic experience! I'm already looking forward to #CUE19. Hope to see you there!