Over the past year, I have looked at literally hundreds of teachers' report cards, from kindergarten to 12th grade. They have questions stemming from my district's new student information system (SIS). In order to troubleshoot an issue, I need to actually access their grade books. In the process, I am realizing what an individual concept grading is. Even at the same school site and grade level, teachers can have very different approaches to determining student grades. The one constraint they do have in common is that ultimately they need to be able to transfer student grades to district-adopted report cards.
In my years as a classroom teacher (elementary and middle school), which included four different districts, I don't remember ever sitting through a faculty meeting or training that mandated a particular way to grade. Grades were simply due by a given date. You might have to explain to a parent or two how you arrived at a grade, but, other than that, overall grading practices weren't driving faculty conversations.
One thing I always appreciated about the freedom to choose my own grading practices is that I could easily modify or change my approach as new ideas and resources came my way. Although I no longer have my own class, I still find grading practices a fascinating topics, which is why Trevor McKenzie's recent Tweet on report cards caught my attention.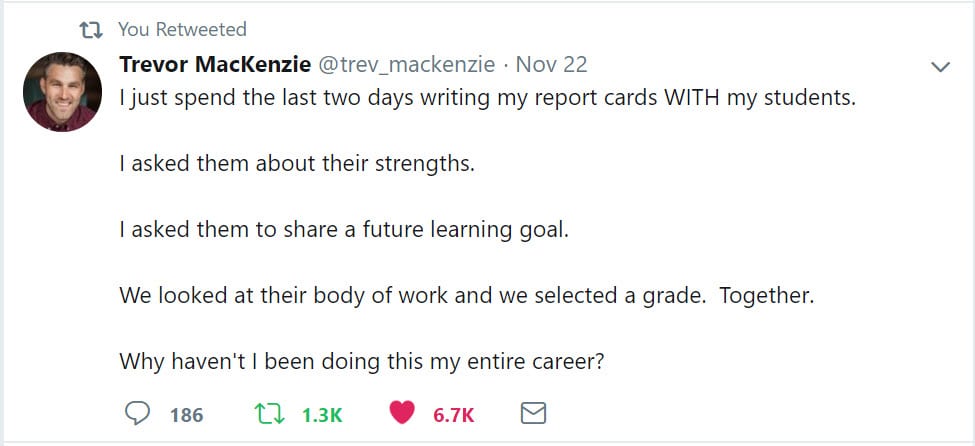 If I were still in the classroom, I know I would adopt Trevor's collaborative process. So simple, yet reflective and action-based.
Besides retweeting Trevor's message, I also bookmarked it via Diigo, tagging it with the category Grading. I was surprised to see that, despite my interest in this topic, Trevor's Tweet is only my 3rd item in that category. The other two are blog posts, and also equally thought-provoking:
Three is always a good number, but I'm betting there are more great articles on strategies for grading practices that promote student agency, encourage next steps, and spark on-going conversations. You are warmly invited to leave a comment with any resources and/or recommendations you might have.