"In every freedom and social movement, music has been at the center as a tool for communication." Marcus Shelby
On February 22, in honor of Black History Month, SFJAZZ Education hosted its annual School Day Concert, featuring award-winning bassist, bandleader and community activist Marcus Shelby and his quartet, along with vocalist Tiffany Austin and poet Paul Flores. This year's theme was a celebration of the 70th anniversary of the Universal Declaration of Human Rights, with a focus on the abolition of slavery and the civil rights movement.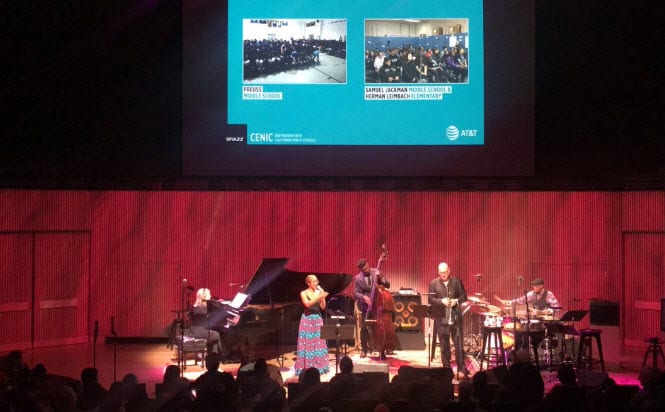 Marcus Shelby and SFJAZZ Education are committed to bringing rich music experiences and appreciation into classrooms, especially in low-income communities, by providing interactive performances infused with history and social justice themes. This year's performance featured pieces that played a central part in our nation's struggle for human rights and for civil rights, showcasing the work of Bessie Smith, Louis Armstrong, Duke Ellington, John Coltrane, Nina Simone, and more.
Over 800 students from schools in the San Francisco Bay Area traveled to the SFJazz Miner Auditorium to attend this free event.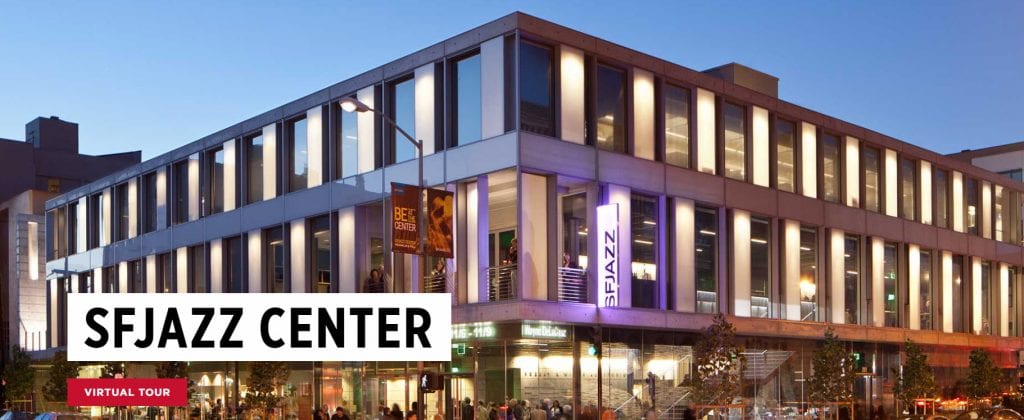 Thanks to an ongoing collaboration between SFJAZZ and California's High Speed Network, three California middle schools were able to attend the concert virtually: Preuss Middle School in San Diego, Edna Brewer Middle School in Oakland, and Elk Grove Unified's Samuel Jackman Middle School.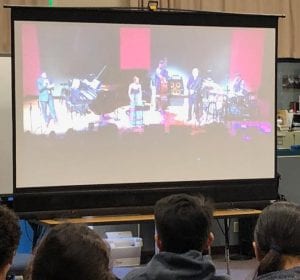 Throughout the hour, the performers encouraged the audience to join them by clapping and singing along. They also intermittently called out to the Samuel Jackman and Preuss students and projected their rooms onto the large screen. (Brewer Middle School had to cancel at the last minute.) The performers ended the concert by inviting students to ask questions. Based on the number of students lined up in the SFJAZZ Center and at Preuss and Jackman, the concert organizers will probably want to allow more time for Q&A during their 2020 concert.
Setting up for the concert definitely involved a time commitment on the technology end, as the schools would be connecting with Ultragrid, a newly developed, high-quality video conferencing program from the Czech Republic. In Elk Grove, Technology Services and the Sacramento Educational Cable Consortium (SECC) started testing connections weeks earlier and continued troubleshooting right up till the day before.
Their efforts paid off. From start to finish, both the audio and video connections were excellent, making it possible for close to 1,000 middle school students (in-person + virtual) to enjoy, learn from, and interact with a highly talented group of professional musicians.
A huge shoutout to SF Jazz! Their Celebrating the 70th Anniversary of Universal Declaration of Human Rights Concert was a remarkable event and a powerful example of using technology and bandwidth to bring innovative learning experiences directly into the classroom.
 Spending the morning with Jackman band teacher Benwar Shepard and his students was as inspiring as the concert itself. As the concert came to a close, Shepard summed up the importance of bringing jazz into our classrooms:
"Jazz education…and jazz as a style itself… is America's truest art form. The seeds of jazz have led us to where we are today."