I've just returned the 2019 California League of Schools / CUE Technology Conference in beautiful Monterey, California. This was my first time to attend this annual event – well worth the beautiful drive ( 4 hours down Hwy 99; 4 hours back on Hwy 101). It was a wonderful opportunity to co-present with Rob Appel and to attend some great keynotes and sessions.
Below are a few of my takeaways:
FRIDAY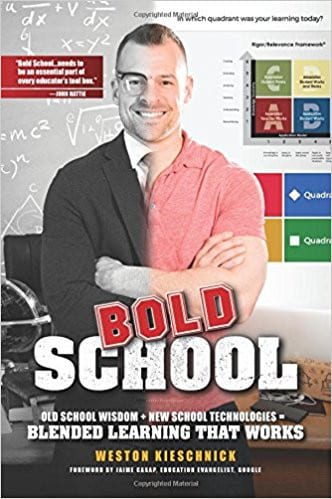 Opening Keynote: Go Forth and Be Bold: Educating for the Future – Weston Kieschnick
If you're looking for a dynamic, engaging keynote speaker to bring to your district, I would recommend Wes Kieschnick. It's rare at a tech conference for a keynote speaker to not necessarily promote technology. But Wes repeatedly reminded the audience of something I strongly believe: "Wisdom informs innovation. We must not abandon the wisdom of the past for new tools, but instead, bring the wisdom of the past into the future."
One of Wes's opening slides included an image of a primary source document from the Huntington Library, which he challenged the audience to read.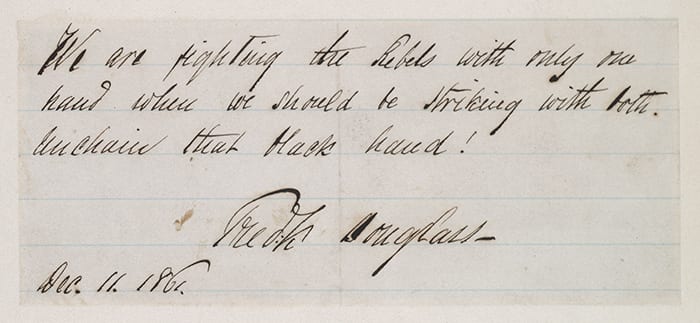 Those of us in the audience old enough to have been taught cursive writing could read this powerful statement from the past:
"We are fighting the Rebels with only one hand when we should be striking with both. Unchain that black hand!  ~ Frederick Douglass    Dec. 11, 1861
Not everyone in the room could decode the message. Wes again reiterated: "It is a dangerous game when, in the name of innovation, we determine that the skills of the past have no purpose in our future."
If you are at an elementary school that no longer teaches cursive writing, you might ask your colleagues and administrators to rethink this trend. Because I have a letter dated 1915, sent from my grandfather (whom I never met) to my grandmother, I made sure that my own children learned to read cursive so they could decode the lived experiences of their great grandparents. A few years back, I was accepted for a summer fellowship at the Library of Congress, where much of our nation's history is documented through cursive writing. 
During a turn 'n talk part of the keynote, I learned about the work of educational researcher Professor John Hattie and his book Visible Learning  Based on Wes's recommendation, enthusiastic endorsements from several teachers in my turn 'n talk group, and Hattie's 2013  TED Talk, I just ordered a copy – along with a copy of Wes's book Bold School – Old School Wisdom /New School Technologies – Blended Learning that Works. Both should be on my nightstand by Friday.
 "We need to be as excited about pedagogy as we are about technology."  Weston Kieschnick, #clstech19

---
Think, Pear, Share – Denise Douglas
I really enjoyed the short time I was able to spend in Denise Douglas's session. (I had to leave about 15 minutes into her presentation to answer a few work-related phone calls and emails).  It's always powerful to hear presenters who are classroom teachers, "speaking from the trenches." Seriously, every session on the #CLSTech19 program sounded relevant and exciting, but Denise's session description included a component central to my teaching:
Come learn how to use the PearDeck Addon for Google Slides and give every student in your classroom a voice."
Based on my 15 minutes with Denise, I look forward to learning from her on Twitter and hopefully catching her at another conference (Spring CUE?).
---
SATURDAY
Opening Keynote: Learning Is Like a Rubber Band – John Eick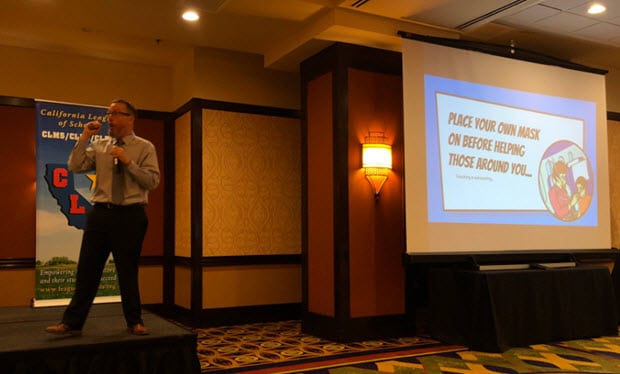 How to capture in words John Eick's super high-energy, hilarious presenting style … that is the challenge! I'll start with the program description:
Using high energy, laughter, and his 20+ years of #Edu-Experience, John Eick will launch a day of exploration at CLS Tech 19 – inspiring every one of us to stretch our learning. From the stage, John will foster each of our passions for establishing a classroom culture of creativity. Focusing on empowered growth for students and staff, attendees will gain not only inspiration to engage in the lessons offered during CLS Tech 19, but useable techniques that help to bridge learning from the conference directly to the classroom."
John definitely delivered on the program description!
Below are a few of my favorite quotes from his keynote: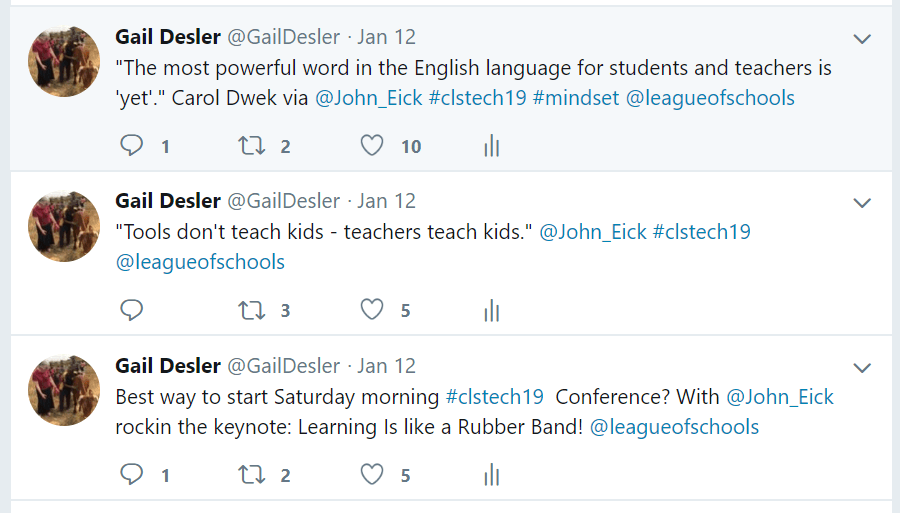 To learn more about John's work, visit his blog Learn with John Eick. If only I could figure a way to bottle his energy! But lucky me, John is also from the Sacramento area and a lead learner for CapCUE, so I know I can anticipate joining future keynotes and workshops.
And one last quote:
"Technology is awesome. Teachers are better." John Eick, #clstech19
---
Connect to Students' Brains through Their Hearts – Mike Lawrence and Delaine Johnson
Mike Lawrence and Delaine Johnson led an information-loaded, super fun-packed, thought-provoking hour! The video below (that's me, up front on the left) will give you a window in the energy  and positivity ignited in this session.
I appreciated that Mike and Delaine provided the link to their slideshow because, given the speed of the session, I love that I can revisit it and delve a little deeper into their message.
I also will be sharing with colleagues other resources from Mike's Maverick Learning/HeartMind website, starting with the California Department of Education's Multi-Tiered System of Support (MTSS ). In a nutshell, MTSS provides a framework for "aligning initiatives and resources within an educational organization to address the needs of all students."
Mike has also included a number of straight-to-the-heart resources, such as the Thurston Middle School Back to School 18 Video – Hamilton Style.
Coincidentally, my friend/co-presenter Rob Appel attended Thurston.
The closing challenge to the audience: "Reclaim the teacher's lounge – make it a space of positivity and support."
---
Don't Sleep on the Google Keep – Jennifer Young
I can't imagine a day that does not include tapping into the power of the Google tools and even though I've given workshops on Docs, Slides, Forms, Sheets, Drawings, Sites, search skills and more, somehow I've skipped over Google Keep. No more. Jennifer's session was a great reminder of all "the endless possibilities that Google Keep has to offer"
---
Thinking Critically about the (Fake) News – Rob Appel and me
Rob and I connected on the topic of fake news and media literacy at last year's CUE Conference. This year, besides presenting at #clstech19, we'll also be presenting at the March CUE Conference. Almost weekly, we send each other new resources, tools, and breaking news items that have made us very aware of the critical need to be providing students and staff with media literacy skills. We will continue to update the digital handout we shared with our participants. If you missed our presentation, we hope you can join us at CUE.
---
A huge thank you to the California League of Schools for hosting #clstech19. The location was spectacular, including – but not limited to – the panoramic view of the Monterey Bay from the 10th floor. The CLS staff was there on the spot to help when needed – special shout out to Kandy!!
I hope this year's CLS event will be my first of many to come.