It was my privilege to join NWP's Paul Oh, Common Sense Media's Merve Lapus, CWP's Jayne Marlink, and my Digital ID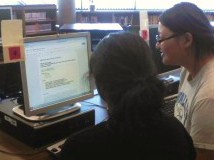 co-curator Natalie Bernasconi for last night's NWP Radio Talk Show discussion on California's first-ever Digital Citizenship Month. The highlight for me was sharing the microphone with Valley High School seniors Joyce Joseph and Frendely Vang – two outstanding upstanders, who were willing to participate in the event – even though it was the night before their last day of high school!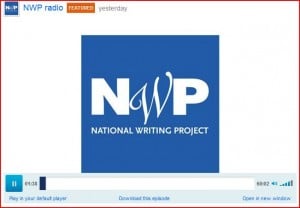 Joyce and Frendely are upstanders in all the communities to which they belong.  From sharing their stories on the Upstanders, Not Bystanders VoiceThread to assisting with and participating in the making of the very powerful Teen Dating Violence PSA, these two cross the line on a regular basis to speak out for themselves and for others.
Like many of their classmates, Joyce and Frendely have had their share of challenges, challenges that are all too common in tougher neighborhoods and school communities.  They are both passionate on the importance on converting bystanders to upstanders. They have have made a difference at Valley High School.  They will make a difference as they move on to life after high school. Lucky me for having the opportunity to meet, work with, and co-present with Joyce and Frendely!