I love it when a city unites to celebrate the accomplishments of a group of students – especially when those students have overcome the odds to reach a goal. And so it was on Tuesday when the City of Sacramento cheered on Grant High School's Pacers, the underdogs who had just defeated Long Beach Poly High at the state football championships, as they set out on their victory parade from Del Paso Heights to City Hall where our newly elected Mayor Kevin Johnson presented the team with the keys to the city.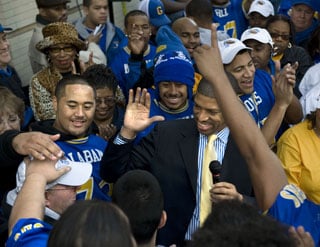 While probably less than 20 miles from Grant High School to downtown Sacramento, the distance traveled is more than just miles when you consider the high dropout rates, the gang-related violence, and extreme poverty levels this group of student atheletes has clearly not allowed to stand in their way.
Now that Grant High School is in the limelight for its sports accomplishments, I would also like the public – especially Mayor Johnson and his frequent advisor Michelle Rhee – to know about a group of English/Language Arts teachers, whose passion for teaching and dedication to providing Grant students with an achievable and academically rigorous program may have a subtle but more important impact. While I am sure Grant has similar groups of remarkable teachers across the disciplines, I know this particular group first-hand through their inspiring leadership at the Area 3 Writing Project (part of the National Writing Project). Year after year, they share at a regional, statewide, and national level, lessons and strategies that have made the California High School Exit Exam (CAHSEE) attainable for "at risk" students.
But this group has also vowed to provide all students with the background, scaffolding, and requirements that will move them considerably past the CAHSEE and prepare them for the level of academic writing required to succeed at the university level. Each year, through the A3WP and California Writing Project, this team of teachers guides participating teachers through the highly successful ISAW program.
With Arne Duncan, Michelle Rhee, and others in top educational positions promising "to shake up education" and advocating merit pay for teachers , I suspect – and I certainly can understand why – a number of effective teachers, for monetary reasons, will transfer to wealthier school districts. But the Writing Project teachers at the heart and soul of Grant High School's English Department, well…I hope not.