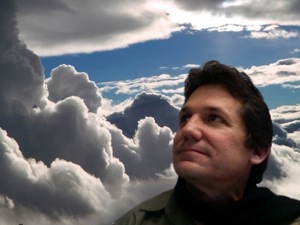 I walked away from media teacher  Vernon Bisho's Thursday night SEVA session Understand > Care > Feel > Learn with a whole new understanding of the art of creative non-fiction writing for video.  Vernon provides his high school students with the scaffolding needed to produce award-winning entries.  But his program could easily be adapted to elementary and middle school students.
I'm betting that if I roll out Vernon's strategies with 4th and 5th grade filmmakers, particularly tips for interviewing, they too will gain a better understanding of this genre,  and very likely improve their media literacy skills in the process.
In a nutshell, Vernon believes:
"If you don't understand, you won't care.  If you don't care, you can't feel.  If you can't feel, you won't learn."
He embeds this philosophy in his non-fiction idea web/brainstorm worksheet, which includes the reminder: "Must capture  your audience's attention in the first 15 seconds: interesting B-roll, music, or a catch lead line is key."  And just in case we weren't familiar with the term B-roll, Vernon shared a YouTube explanation.
So here's how Vernon's students move through the process of creating a non-fiction story:
Part 1 – Start with the back-story (who, what, where, when, why + how). The back-story clarifies the reason for the story. It is the first step in helping the audience to UNDERSTAND the problem. Connect Part 1 to Part 2 by explaining the goal or the motivation for the story – building the transition for your audience to CARE.
Part 2 – Introduce the specifics about the reason for story and the process (obstacles – or moral premise). Create tension and deal with feelings.  Between Part 2 and Part 3, introduce the lowest point or emotional high. Your audience needs the emotional impact in order to FEEL.  And the most important thing in telling a story is to make people feel.
Part 3 – Make visible the lesson learned/payoff.  Where do we go from here? As your audience makes connections between the story and their lives, they LEARN.
How can your students begin practicing and applying the above  concepts? How about by viewing samples of creative non-fiction video clips, such as CBS's High School Hero comforts Kids with Cancer or a sample from one of Vernon's students: Gabe Lock, Rising Star.
Elementary teachers and secondary content area teachers often struggle with how to include media literacy within their programs. Why not start the day/period with a recent TV news interview, local or national, which most likely will run no more than 3 -5 minutes (about the time needed to take attendance, etc.), and ask students to identify how the producers provide the audience with the opportunity to understand, care, feel, and learn? Such a simple way to help students make those inter-textual connections that lead to higher literacy levels!
Vernon has posted a number of his handouts to our newly formed Digital Media Communit (which you are warmly invited to join):
As soon as he posts his 2-column storyboard for non-fiction and his overview handout, I'll add them to this post.
I'm heading into the SECC site to find the date for the next SEVA training event!