The front page of the Sunday Sacramento Bee features the first of a three-part story that I wish every educator – across the state and nation – had access to: Tackling Life – South Sacramento Raiders. Bee staff writer Jocelyn Wiener has followed former team members of the 1992 south Sacramento Raiders Junior Midgets football team to see what paths their lives have taken in the 15 years since the photo was taken. For the most part, their stories are filled with obstacles associated with living in low income, crime ridden neighborhoods, starting with dysfunctional, broken, or nonexistent family ties, moving on to the pull of escalating gangs and peer-related drug dealings, and ending all too often in incarceration and/or early death.
The story is played out in the Elk Grove Unified School District (my district) and Sacramento City Unified School District (Alice M's district), but I think the two areas featured in the article could easily and accurately be replaced with countless other urban school districts nationwide. When I look at the annotated map of the south Sacramento area that Wiener has included in the article, I am sure thousands of students in similar social-economic areas could create compelling stories using Google maps to make visible to an online audience what poverty really looks like. I say this after four years of connecting high school classrooms across the state and nation through blogging and interactive videoconferencing in projects that invite students to share, discuss, and ponder social actions revolving around challenges they face on a daily basis in their local communities. For students living in communities such as south Sacramento, the challenge is not so much how to survive four years of high school, but rather, how to survive four years of traveling to and from school, along with the in between weekend events and confrontations.
I am wondering if any of the survivor or success stories from the 1992 team are due to a teacher – or two – along the way who made a difference. For the many that dropped out of school, I'm sorry they never had the opportunity to learn from dedicated, talented teachers such as Bob LeVin, an English teacher at Florin High School, one of the high schools a number of the 1992 Raider members would have attended. Bob LeVin is a teacher who understands the enormous challenges faced by many of his students just getting out the front door each morning to attend class. He cares deeply about their present realities and tries to offer a curriculum that is engaging, while at the same time challenging and geared to preparing students to live, learn, and work in the 21st century. Always looking for new ways to package literacy skills, in the 2003 school year he invited me to his classes to introduce the students to Enrique's Journey, a blogging project that connected his Florin students to a group of high school students in Lompoc, a small farming/military community in southern California. Pleased with the way the Enrique project offered a voice to many students who rarely participated in the face-to-face environment, Bob was definitely up for continuing the journey. And we did, with the 2004-05 Youth Voices Coast to Coast project.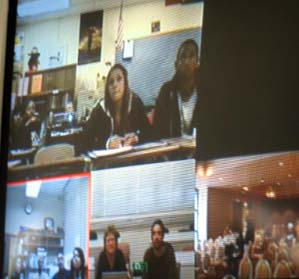 To illustrate how this project took students beyond the walls of the classroom and the confines of the Florin community, I've included a picture from a videoconference session during which Bob's students joined students from San Francisco's Galileo High School to co-present with me to a group of educators at the 2005 CUE Conference about the Youth Voices project. I've also included some clips from the session so you can hear first-hand how Web 2.0 technologies directly impact students and teachers: one student's take on the project, another student's take on blogging; Bob LeVin's wrap-up.
In addition to involving last year's students in the 2006-07 iteration of the Youth Voices project, Bob also introduced filmmaking into his English classes, empowering students to document local histories and events. Within months of putting cameras into their hands, many of his students submitted entries in local and regional film competitions. All finished the year with an appreciation and understanding of multimedia literacies.
But the deal is Bob LeVin mainly teaches 12th graders. Regardless of whether they are in the Elk Grove or Sac City School District, I hope the members of the 2006 south Sacramento Raiders Junior PeeWees will have the mentors, supporters, teachers, and positive school experiences necessary to ensure that they stay in school all the way through to their senior year.
I want to acknowledge Jocelyn Wiener and her team for documenting and sharing a story that needs to be told. With schools re-opening over the next few weeks, I think this series is an timely reminder of how important it is for every student to feel that he/she is a valued member the community, especially the school community. I look forward to Part 2 and 3 of Tackling Life.
Note: 1995 and 2006 team photographs by Bee photographer Anne Chadwick Williams.
Technorati Tags: sacbee, south_sacramento