The art of blogging is something that few can understand unless they've experienced it for themselves. All the reading in the world, all the conversations with bloggers, and all the conference sessions can only give you so much. The practical side, the "street smarts" as some would say, comes from engaging in the process. While it is possible to offer great resources, suggestions, and even approaches without ever blogging, the key to making blogs a transformative part of the classroom requires an intimate knowledge of blogging not just the knowledge gained from "sitting on the sidelines." Ryan Bretag
I stumbled onto the gold mine this morning when I checked the NCTE Talkies ListServ and clicked on Ryan Bretag's responses about student bloggers. Ryan explains, "…my work with teachers and students on transformative blogging/connective writing/whatever 🙂 starts with reading and commenting." In reading his TechLearning article Get off the Sidelines and into the Game and his extensive reading list for bloggers, I thought about the one-day workshop I did last week for EDCOE on blogging. As has happened many times before, yet another group of teachers set up their Edublog sites as a class website. But I'm ok with that because at least they have taken a first step.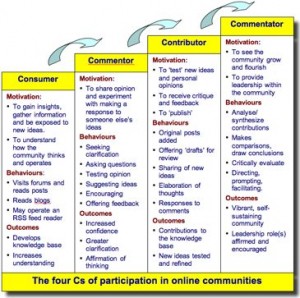 I currently offer a two-hour workshop for my own district entitled Blogging for the Absolute Beginner, during which teachers read blogs and do some commenting. I'm thinking of extending it to a full-day workshop, so that after they've had a few hours to read and comment on other educators' blogs and to reflect on the personal and professional benefits of blogging, I would then introduce them to Google Reader, so they would leave the workshop with a self-selected community of blogging mentors. Day two would be the Going Live with Edublogs workshop (currently just a 3-hour session) – with breaks throughout the day to check their Google Reader.
The good thing about Edublogs, for instance, is also the bad thing because as Ryan points out "Blogging is challenging yet blogs are easy to setup. IMHO, this is part of the challenge because the needed investment in learning and potentially rethinking our thoughts on teaching and learning are passed by in the excitement to just get a tool in the classroom." But that's exactly how I entered the blogosphere. I was fully into three-years' worth of facilitating student blogging projects before I became a blogger. It was a post by Wes Fryer that brought me on board. Suddenly I got it – that I could truly be a part of – and contribute to – conversations in ways not possible before "getting off the sidelines and into the game."
*Image from Derek Wenmoth via Ryan's blog.