What I most value about Web 2.0 are the multiple opportunities to join groups of like-minded colleagues and to craft and continually expand my own personal learning network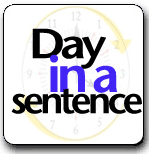 . The Day in a Sentence community is one of my favorite communities. To begin with, it stems from my friend Kevin, whose enthusiasm, expertise, and sense of digital adventure tends to be infectious. When Kevin takes a blogging vacation, he passes the DIAS weekly postings on to others. This week, for instance, educator and writer Deb Renner Smith, whose blog I've just added to my RSS feed, is hosting DIAS. The DIAS rules are simple. The idea is to wrap up your day or your week in a sentence. But you're allowed to break the rules. If you need two sentences, no problem. If you can summarize in just a phrase, or an image, or even a poem, that works too. And we're a global community too. With the new school year now under way in most districts, many, many of my colleagues putting in tons of extra hours in hopes of making this the best year ever for their students. But this week my DIAS comes from a student perspective:
This week my son, who has more than once dropped out of school, called me as he enthusiastically headed off for a new semester at a local community college, and he left this message: "So much depends on getting a good teacher."
To my son's comment, I'd like to echo a thought posted today by Bud the Teacher inviting all of us to "go do good things" as I head back in to re-read a related post on Two Writing Teachers.