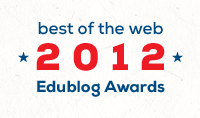 As much as I look forward to opportunities to showcasing good teachers and good teaching, this year's Eddies deadline kind of crept up on me. I am therefore not nominating in every category, just the ones where a nominee jumps right out at me.
Best individual blog – dComposing – Paul Oh continues to provide thoughtful reflections on education trends and resources
Best group blog – Youth Voices – supported by the National Writing Project, a great online community for students to connect with and write with other students on shared interests and passions.
Best class blog – Mr. Bentley's Class Blog – a great resource for teachers hoping to weave movie making into the core curriculum.
Best ed tech / resource sharing blog – Richard Byrne's Free Technology for Teachers blog is a treasure.
Best teacher blog – Kevin's Meandering Mind – For more than a few year's, Kevin Hodgson continues to be a key contributor to my online PLN.
Best library / librarian blog – Sheldon High School Library blog
Best individual tweeter – For the 3rd year, I nominate Jackie Gerstein – https://twitter.com/jackiegerstein – every tweet is a valuable resource, tip, or insight.
Best twitter hashtag – #UnfollowBullying
Best free web tool – Twitter (90% of my PLN)
Best educational use of a social network – Teachers Teaching Teachers – I try to logon to this Wednesday night event as often as possible – and always end the hour rethinking best practices.
Lifetime achievement – Paul Allison – Year after year, he is the guiding light behind the Teachers Teaching Teachers community.