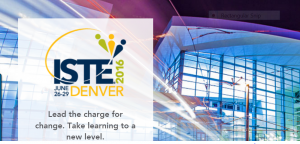 I'm back from the ISTE 2016 Conference, somewhat rested, and ready to reflect on and share my top takeaways.
For a starter, having futurist Michio Kaku as the opening keynote was a wonderful, energizing kick-off for the 4-day ISTE adventure. Brilliant + hilarious is always a winning combo.
Before Michio took the stage, ISTE introduced their new Technology Standards for Students. Love that digital citizenship is in the mix.
Favorite Session Takeaways – Some Resources, Tips, and Quotes
Given that there were over 1,000 sessions, the daily challenge was to narrow it down to one pick per time block. I did pretty well 🙂
Digital Literacy for Teachers & Students – Kyle Pace and Lise Galuga were a great team, with Kyle covering search basics and Lise bringing critical thinking into the search process with Beyond Google Search. Loved the opportunity to explore Ngrams.  Quote from LIse: "Ngrams  = Wordle through time based on Google search frequency over time. It's graphical interface."
Hands-On Geography – I registered for Warren Apel's session because I'm working on a new workshop (Mapping Our Journeys, digital handout and slideshow coming soon) and wondered what I might add to MyMaps, Google Tour Builder, and Google Street View.  The combination of Gap Minder and Google Sheets to create a Choropleth chart (a map that uses shades of color to display data) was a great takeaway – definitely a WOW factor!
What Can You Do With Google Drawings? – I'm also adding Google Drawings to workshops I'll be teaching this year, so I waited in the long line for the Google EDU session by Chantell Manahan and Lance Yoder. In this very short (15-minutes) session, Lance and Chantell surveyed the audience via a Google Form to select top 2 choices to demo: creating a customized banner (Page Setup to select inches or pixels; WordArt for logo) and creating a collaborative Padlet-like cork board (Insert Image to search for cork board and Post It notes). I agree with Lance's answer to the session title question: What can't you do with Google Drawings?!
Talk Less and Get More with Google Classroom – As a huge fan of Alice Keeler, attending her Google Classroom session was a conference highlight. My favorite takeaways:
Get student feedback. When you open an assignment, take advantage of the send private comment feature. This option is way more effective than adding a comment on paper because it's a conversation ("A comment is not a comment; it's a conversation!"). Create a culture where students are comfortable asking a question.
Tap into keyboard shortcuts. Use Ctrl Alt M to insert comment/feedback; Ctrl + enter saves comment; Ctrl W – closes tab  and puts you back into Classroom. Sort in G Drive by "last opened by me" so you can quickly move on to next student.
How about grading on the conversations, not the outcome. This mindset shift will encourage students to ramp up their challenge level.
Choose Your Own Adventure – Loved Michelle Armstrong's fun, highly interactive, insightful session! I've dabbled a bit in Google Forms with logic branching (AKA Choose Your Own Adventure) but haven't actually taught this incredible option yet in my own workshops, mainly because it seemed easier to set up in the old Google Forms than the new Forms, which Michelle confirmed: "Granular control in old Forms is better (font, header, image). You don't have a built-in search option, but you can head out and search for images." Her short slideshow is a gem! Slides 4, 5, and 6 include links to walk you through the process via samples, video, and Google Slide graphic organizer:
Beyond the Headlines – Lise Galuga's quote "Newspapers provide access to an event as it is unfolding – way better than a Google Search" set the tone for this thought-provoking session. If you're not familiar with Google's Newspaper archive, the collections range from 1738 to 2009, which is when Google bought PaperofRecord.com. Unfortunately, the legal contracts between Paper of Record and Google not transferable, so there's a halt right now in digitizing, but Google is leaving the collections until they able to resolve the legal limitations. But, oh my, what a treasure – over 200 years worth of primary sources. If you go through Lise's slideshow, you can see how digital newspapers can even transform the traditional grade school family tree project from a parent-created task to a time travel adventure.
Next Steps for the Next Wave – A Plan for Rethinking Schools – Will Richardson – Of all the sessions, this was the one I wish all school administrators could have attended. It was also my biggest Conference takeaway. Ten years ago, I bought Will's Blogs, Wikis, Podcasts, and Other Powerful Web Tools for Classrooms, a book I still recommend and refer to (especially when writing grant narratives. Will's session was the icing on my ISTE cake. 
Opening question/statement: What to do when kids are learning, but it looks nothing like the classroom … The question is not how do we do it better, but how do we do it differently?
Answer: Try to move from the right-hand column to the left-hand column
To see the  context for this chart, I highly recommend watching Will's 16-minute TED Talk The Surprising Truth About Learning in School – the next best thing to attending his ISTE session.
But in looking at the above chart, how do we transition from the right-hand column to the left-hand column and create modern schools for our kids? Will suggests that we LEAD (learn, educate, articulate, do it) 
Learn – building your own personal capacity . "There has never been a more amazing time to be learning." Seymour Pappert, 35 years later, still relevant. How are you connected to other educators from around the globe who share your passions? To learn – you have to teach yourself. Take on the disposition of an 8-year old.
Educate – CCSD59 – educating the community http://www.ccsd59.org/ – constantly putting information out front. We need a maker culture, not a maker space (like building a computer lab)
Articulate – What is your intentions as a school (mission). Vision – how do you do that? Finland refocusing based on impact of PISA scores. Mt Vernon Norms : start with Qs, Fail up, share the well, assume the best, have fun. SLA's mission/vision; Albemarle County Public School (work based on beliefs & context). "Our mission is to teach everything that anyone is interested in learning
Do it – Create the left column.
Oh … and not to forget the Poster Sessions and Exhibitors Hall …
My favorite poster session =  The Smithsonian's Learning Lab – "Digital Creation with Real Substance" – Five years in the making, the Learning Lab is a fabulous free resource not only for finding primary sources, but for also curating your own collections. Check out the video for a window into the Learning Lab.
My biggest takeaway from the Exhibitors Hall = Amazon Inspire. This Open Education Project will allow K–12 schools to upload, curate, and share open education resources (OERs). Amazon hopes to go live with Inspire in two to three months, This free platform/service will allow educators to rate and review content, add self-published work to their collections, and upload "a school's entire digital library that is open and freely available online." I signed up for early and am really looking forward to exploring Inspire's resources and possibilities. You can sign up too by clicking on this link.
A huge shout out to the ISTE planning team for an outstanding event!
No, it's not too soon to start planning for ISTE 2017. I'm looking forward to again sharing the adventure – and hotel room – with the ever-inspiring Sandy Hayes and Cathe Petuya (who has already booked our hotel:-). San Antonio, here we come!